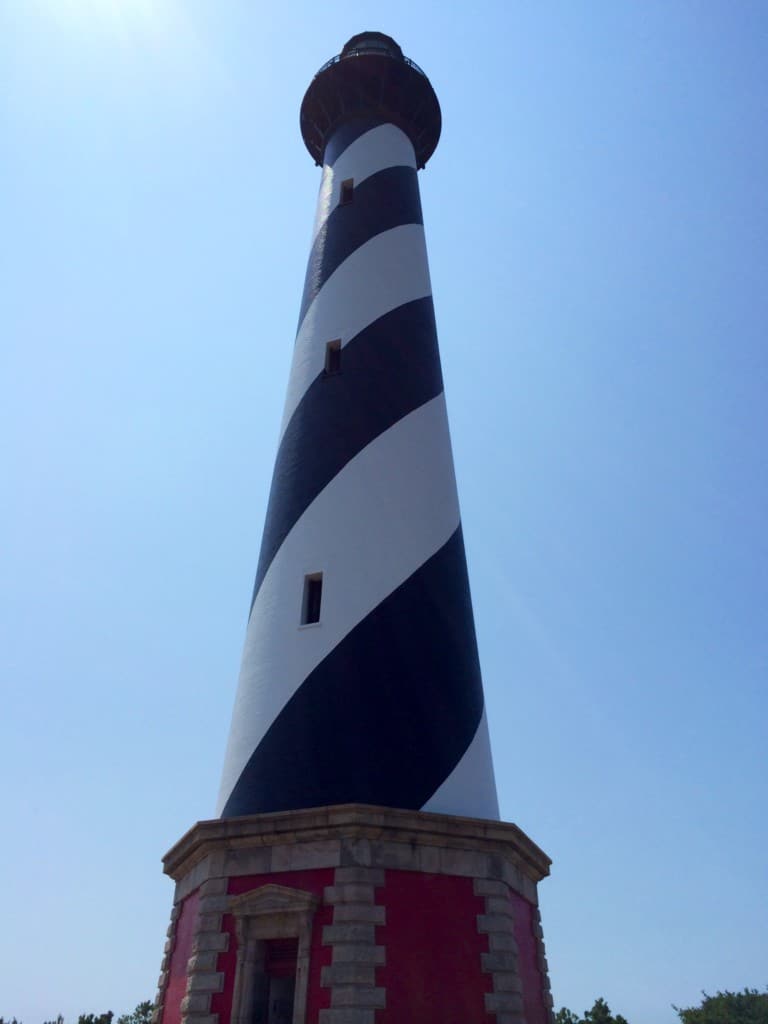 This past week I had the pleasure of going on vacation to Cape Hatteras,NC with Jake, my mother in-law Vicki, and Jake's step dad Kerry. We had SO much fun at the beach and none of us wanted to come back! This was also Jake and I's first married vacation (aside from our honeymoon)!
Everything about the Outer Banks ( OBX) is very calm and relaxing and you can see this attitude reflected in a lot of the locals ( which are super friendly!)
Just because we were on vacation doesn't mean we were going to give up on being healthy and active! Yes, we took our dumbbells, medicine ball, and barbell poolside and worked out in the mornings and jogged beach side 🙂 I loved working out poolside!
Jake and I searching for shells after a thunderstorm
It thunder stormed one night so of course we got up bright and early to see if we could find any good shells! I found a partially whole whelk shell and some huge clam shells! ( I might have to make a glass centerpiece with them soon!)
Besides going to the beach every day we also took a whack at one of the awesome looking mini golf parks that is down there! By the way, we totally suck at mini golf! Jake beat me but our scores were shameful of 66 to 60....yes its sad. But we still had so much fun!
Later in the week we decided to go climb the Cape Hatteras Lighthouse which happens to be the tallest lighthouse in North America! It was so much fun and the view was incredible!
On the way back we stopped by Orange Blossom Bakery and Cafe that Kerry told us about and we could tell this was a VERY popular location as there was quite the line but is was SO worth it! They are known locally for their "Apple Uglies" which I had a bite of Jake's and it was delicious! It was the combination of an apple doughnut and a fritter! I highly recommend stopping at this place if you are ever in the area!
On the way back home we always stop by our favorite farmer's market to stock up on some fresh produce!!! Everything here is so fresh and delicious!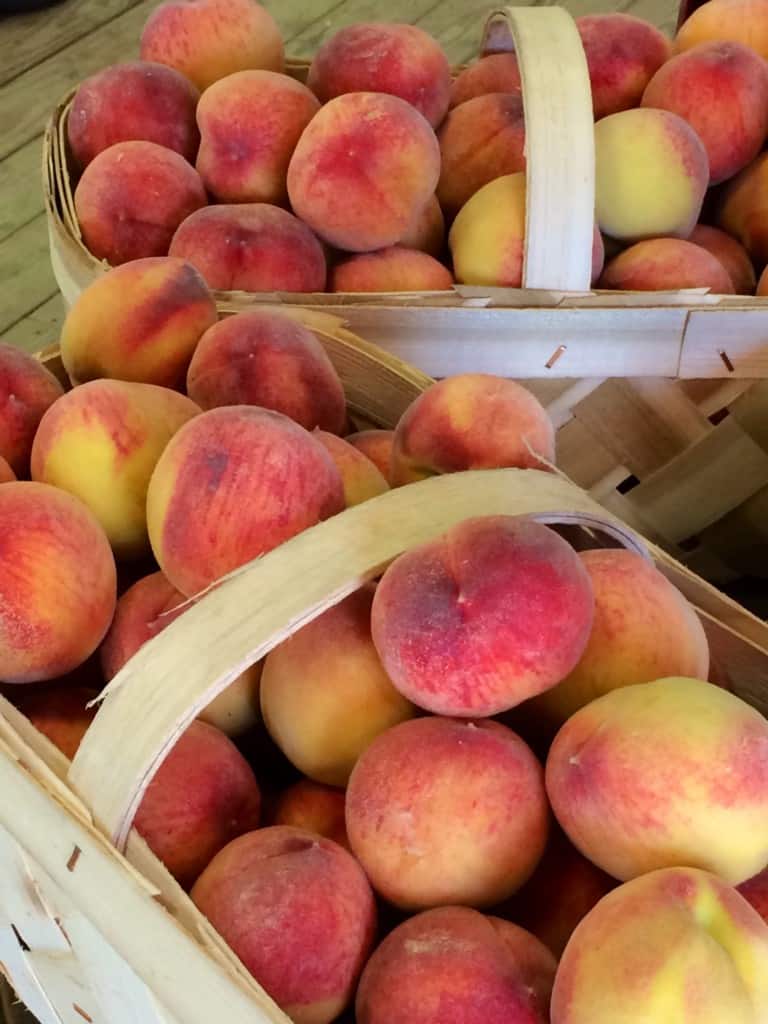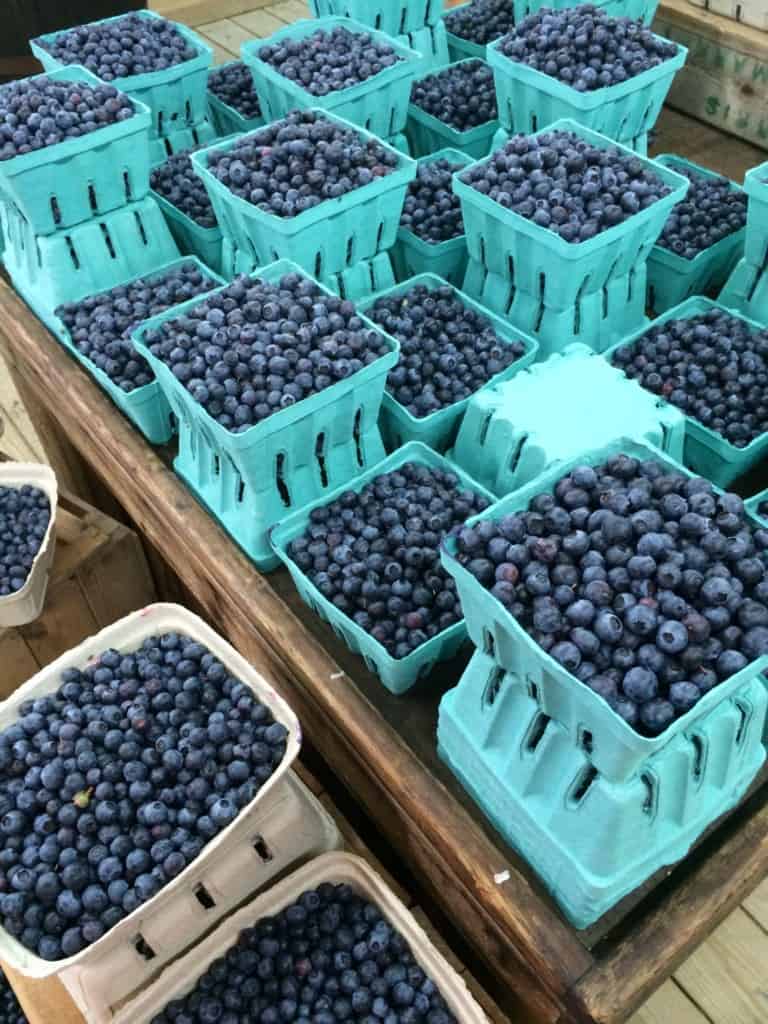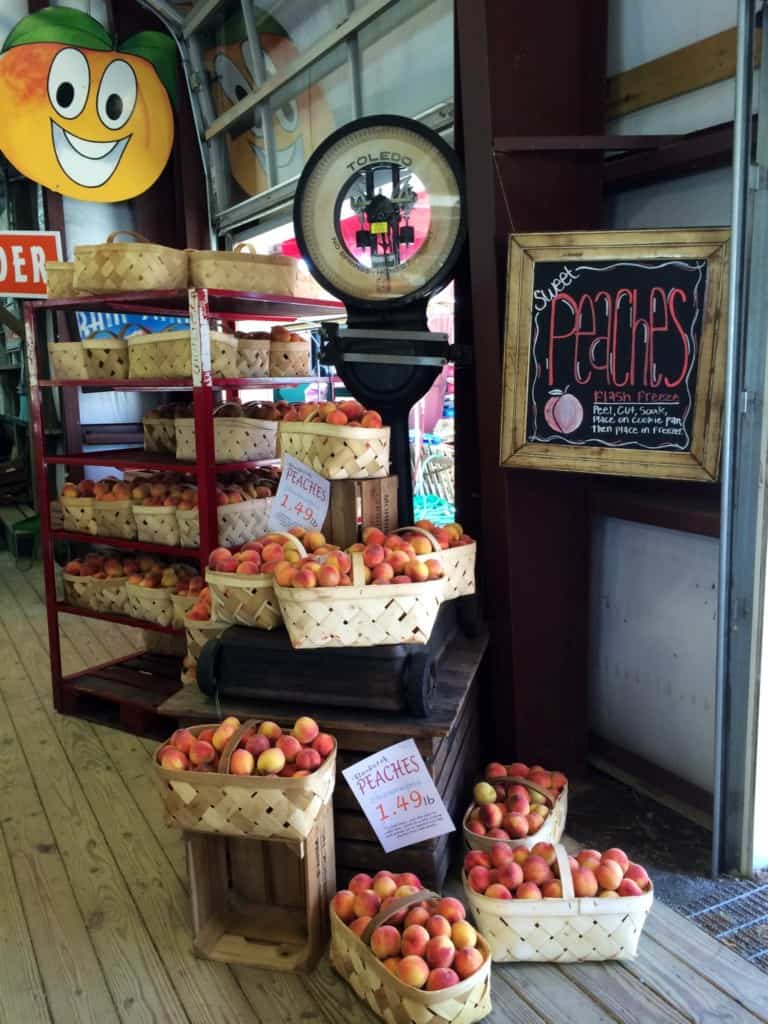 I made an amazing smoothie with those peaches that I will share later! 😉
We had such an amazing time and will be back next summer!
During the week I made these chicken tacos that came out perfect! And I couldn't wait to get back and share it with you guys! I premade naan dough before we left ( and like pizza dough it will keep for a few days) and it came out great to be made into tacos! I stayed pretty true to the naan's original recipe except the addition of 3 minced garlic cloves!
Chicken breast is marinated in a margarita inspired blend, baked, placed in naan, and topped with fresh mango salsa and cilantro!
You Need:

For Tacos:
- 5-6 boneless skinless chicken breasts
- ¾ cup of orange juice
- the juice of 3 limes
- ¼ cup of tequila
- a blend of salt, pepper, and paprika
- naan dough ( see recipe link above)
For Salsa:
- 1 mango diced
- ¼ cup of diced red onion
- 1 jalapeno diced ( seeds removed)
- fresh cilantro chopped
For Garnish:
- lime wedge
- fresh cilantro
- non fat Greek yogurt
Directions:
Mix orange juice, lime juice, and tequila in a large bowl or gallon ziploc bag and place chicken in to marinate for 2+ hours ( the longer it marinades the better it tastes)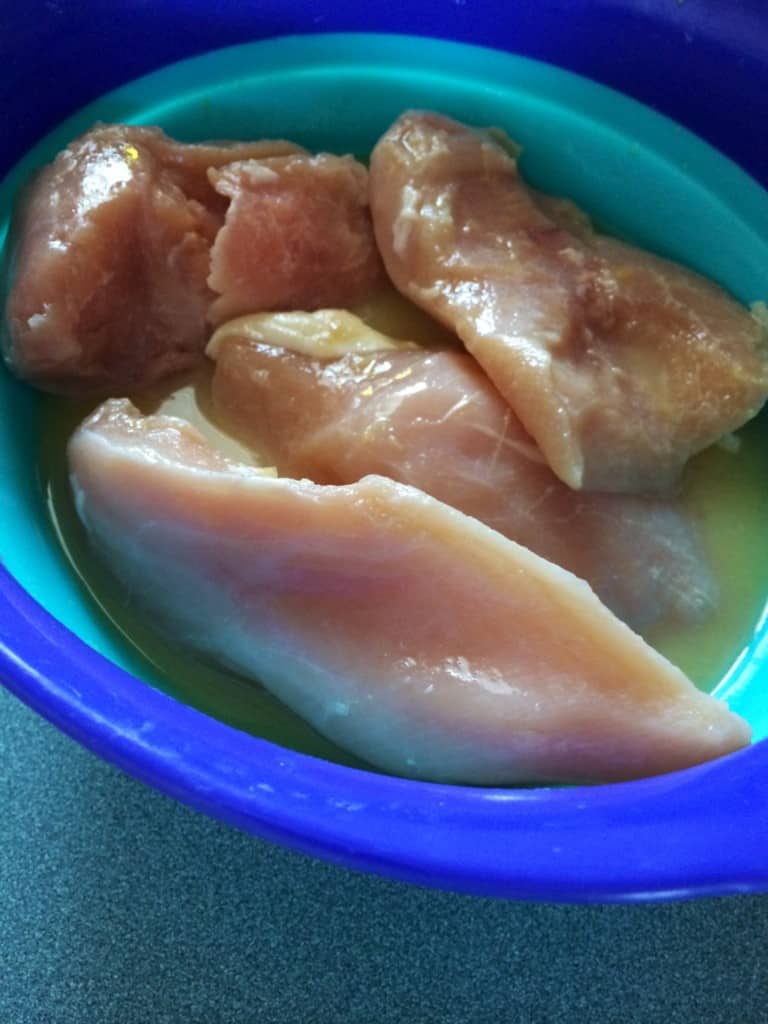 Preheat oven to 380.
On a prepared baking sheet place chicken on pan and season with salt, pepper, and paprika.
Bake in oven for 20 minutes or until cooked thoroughly
While the chicken is baking preheat a griddle or a grill to make the naan.
Take 2" balls of naan and flatten it as much as possible and place on prepared griddle or grill for 2-3 minutes per side unil fluffy and golden on each side. Set aside.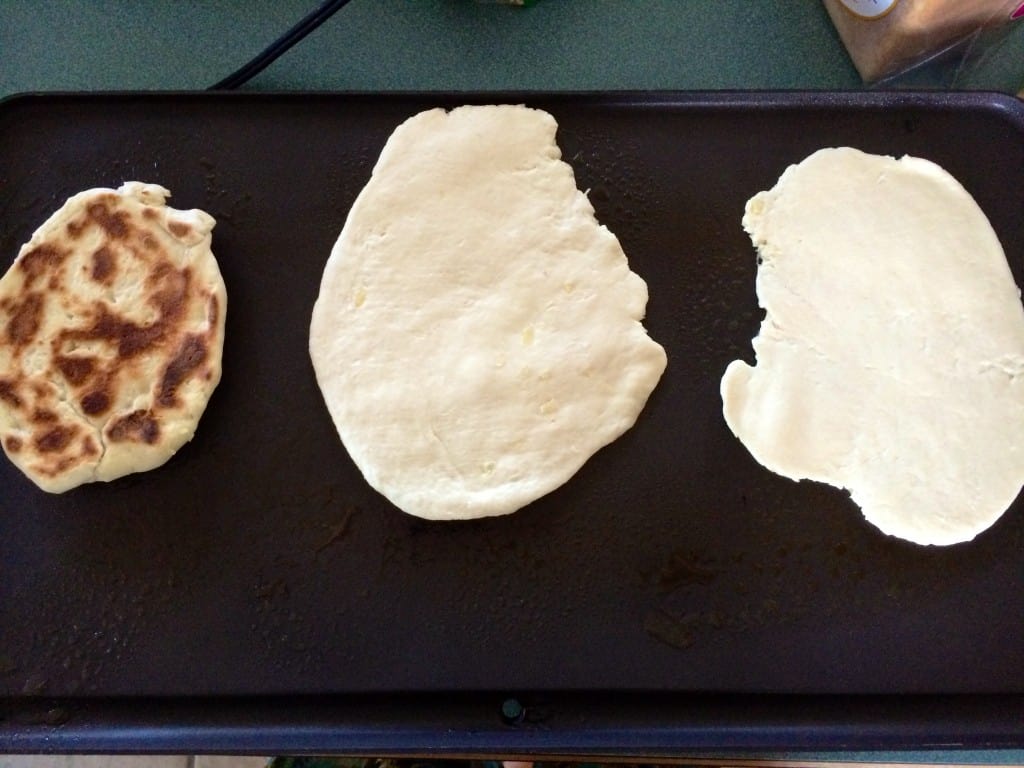 To make salsa mix all ingredients in a medium bowl and set aside.
Once chicken is done and has cooled enough to handle, slice the chicken in strips to be taco ready!
Place chicken on top of each naan evenly,top with salsa and which ever garnishes you like and enjoy!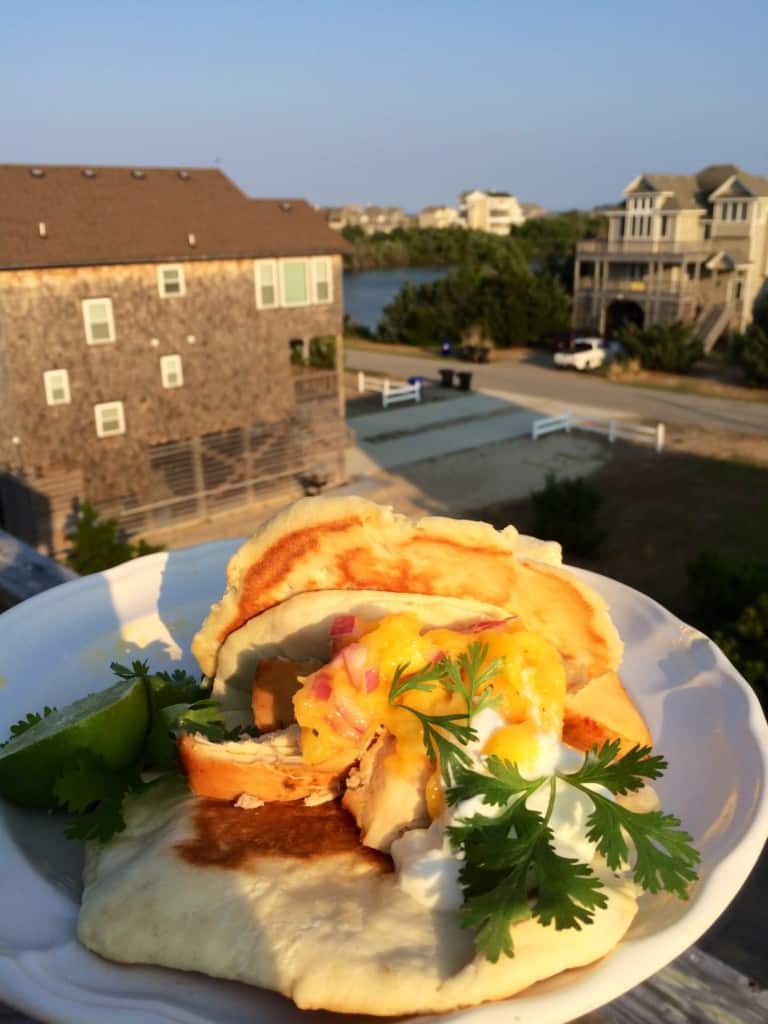 [yumprint-recipe id='6']