Last week I was on travel for business and luckily got to travel to the lovely Charleston, SC! It was gorgeous and I got a taste of spring! I am SO over winter! After talking to a very nice local on the plane, she recommended I check out the Battery area which was absolutely beautiful! Look at those trees and the horses! LOVE.
I could not get over these houses!!!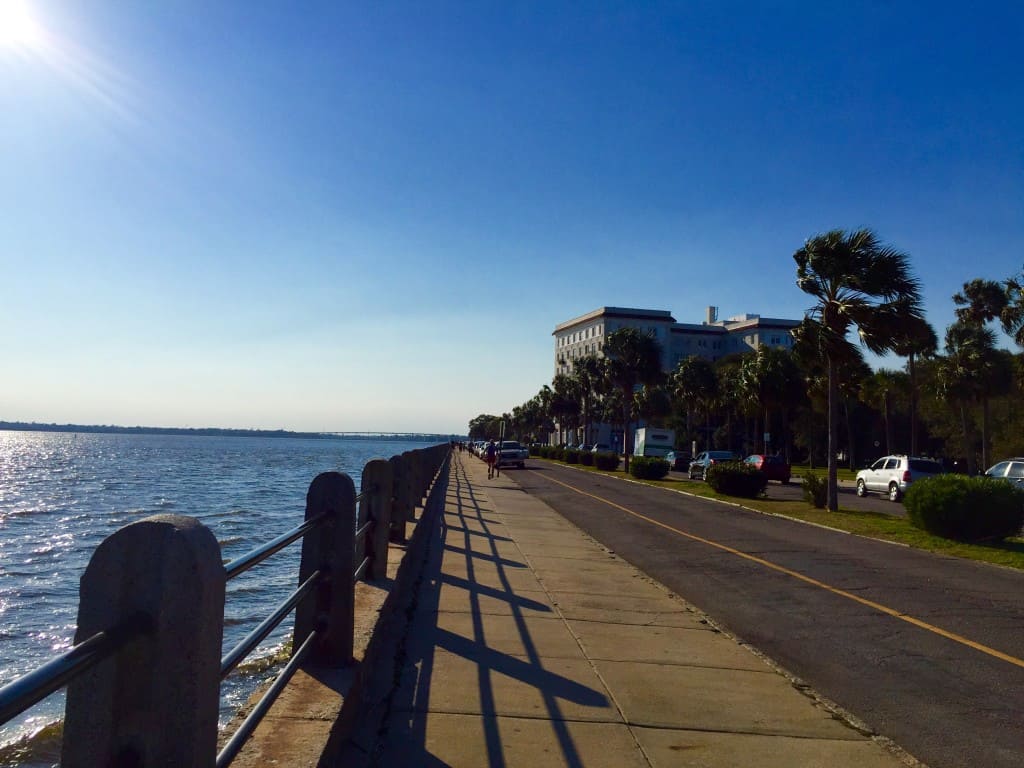 After walking around, I checked out this place called "Caviar and Bananas" it had such a unique name I couldn't not check it out! They had a fresh salad bar, sushi, and coffee! It was great! I ordered two salads. One for dinner and one for lunch the next day! I always plan ahead, even on travel to stick to my goals!
Although, sticking to your goals can be challenging and especially with portion control. It wasn't until this past year that I finally understood what portion control meant. I used to think it was about starving yourself all day. Which doesn't work and I would come home and binge. Portion control means you get to have a little bit of everything. You can still have a burger (just not a big one and wrapped in lettuce if you are watching your carb intake). That's why I am forever thankful for my Bentology lunch box. I literally take this in for my lunch everyday at work. Its super cute which draws my eye and I just WANT to put fresh ingredients in it! And it's actually not just for lunches. I actually use it for daily portion control. Those containers do more than just look cute to store food they can be used as an actual source of measurement for your food!
The large containers are great for portioning out your protein and fresh green veggies.
The medium containers are great for whole grains and fruit.
The small containers are great for healthy fats like almond butter or salad dressing.
Bentology has just released a brand new weightloss program called Portion Perfect.
It's a 66 day program that allows you to not only lose weight, but build a lifetime of healthy habits. I love this plan. I think it's sustainable and couldn't be easier to follow. There is a guide that shows you which containers to use based off of your daily caloric intake and your personal goals. There is even a meal plan, grocery list, and even a meal prep guide to tie it all together so you have a stress free week!
There is plenty of great advice and motivational tips throughout. I highly recommend taking a look and trying it!
To test it out I created one of my favorite salads and deconstructed it per the Portion Perfect guidles lines for easy assembly when I got to work.
I absolutely love salads. But not boring salads. Lettuce in a bowl is not a salad. Salad needs texture and lots of flavor with bright colors! My Asian Chicken Salad is the way to go and I look forward to it every single time I pack it. (which is 2-3 times a week!)
Bright greens and bok choy are tossed with shredded purple cabbage, carrots, edamame,slivered almonds, and topped with a sesame ginger dressing to send your tastebuds to their happy place!
Asian Chicken Salad
Recipe Type
:
Laptop Lunches
Author:
Prep time:
Total time:
Ingredients
1 cooked chicken breast, cut into cubes
¼ cup of shredded red cabbage
½ cup of finely chopped bok choy
1 ½ cups of chopped romaine
¼ cup shredded carrots
¼ cup edamame
1 mandarin orange
2 tbs of sesame dressing of choice (I used Tessemae's)
1 tbs slivered almonds
Instructions
Rinse and chop all of your veggies
Place greens and edamame in large container
Place all other veggies in the other large container
Placed chicken in medium container
Place dressing in small container
To assemble, pour all ingredients into bottom of exterior container and toss with fork.
I also think its fun to snap the container shut and shake vigorously until dressing coats everything. But your call.
Happy lunching!
Serving size:
1 salad
Calories:
362
Fat:
9g
Carbohydrates:
40g
Sodium:
640 mg
Protein:
34g