Because smoothies are better in bowls…especially coconut bowls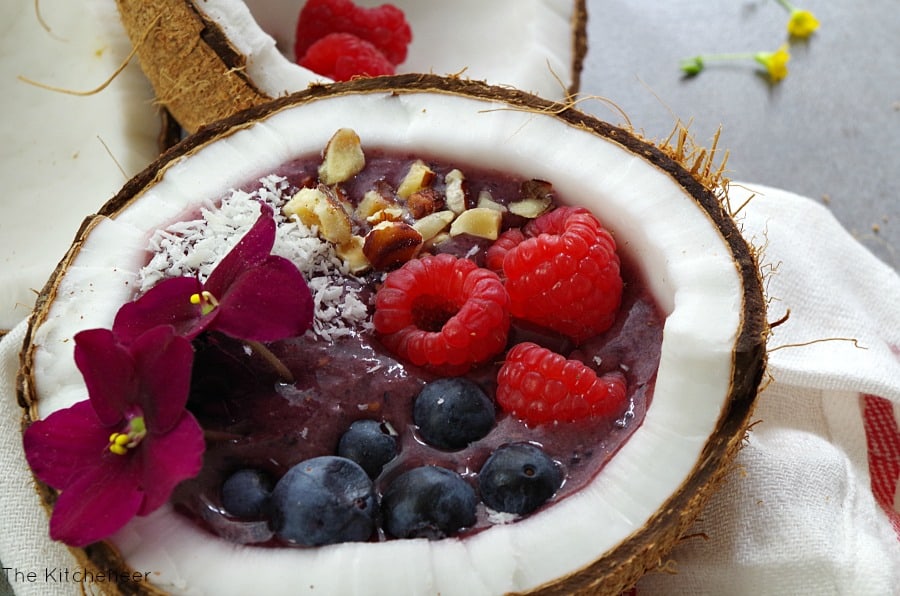 We are definitely feeling the heat already this summer! It's been hot, HUMID, and thunderstorm-y for days. And all I have been thinking about is how bad my hair looks (thank you frizz) and berries.
I have been on a serious fruit kick and I cannot get enough fresh berries. I usually pick up one package of each when I go to the store. Blueberries, raspberries, strawberries, blackberries, acai berries, and eggplant. Just kidding. But seriously, eggplant is a berry. Look it up.
I FINALLY jumped on board with the smoothie bowl trend. I was SUPER skeptical about eating my smoothie with a spoon. It kind of weirded me out. But I ate one for breakfast the other week and I was sold. It was thick and creamy and I felt like a kid who got away with eating ice cream for breakfast.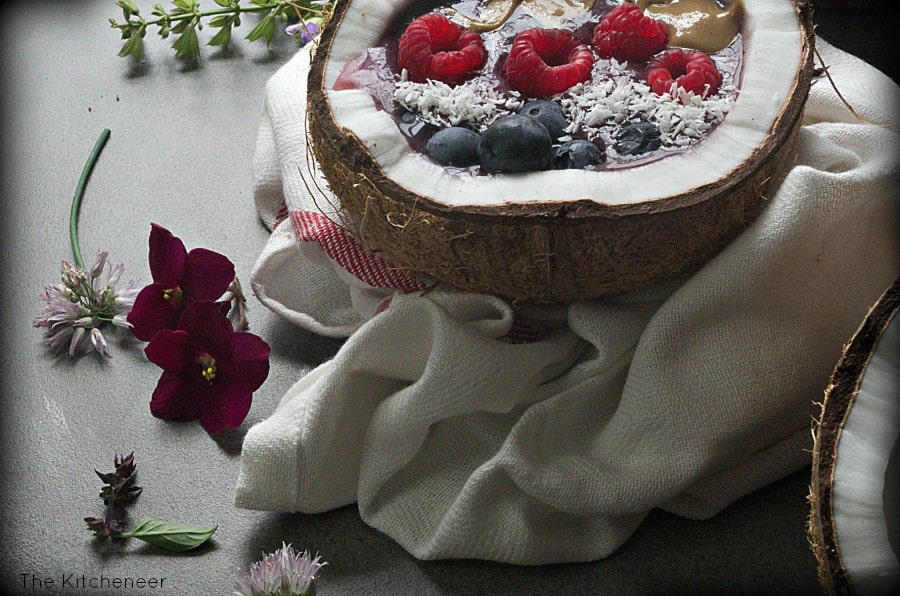 I am also all about adding superfoods to my meals and I am all about acai berries. Acai berries are actually packed with more antioxidant powers than cranberries and raspberries! So, if you feel a cold coming on eat some Acai berries.


And with being a smoothie and all, it literally takes less than 5 minutes to throw into a blender, or in my case my beloved Blendtec. #swoon You can use fresh or frozen fruit- whatever you have on hand- to make this bowl. But if you like a thicker smoothie bowl, use frozen fruit.
And if you haven't been swooning over all those amazing smoothie bowls on Instagram already then you should know that smoothie bowl isn't a smoothie bowl without the toppings. The toppings are EVERYTHING.
The crunchy texture that the seeds give to this completes this bowl. Or should i say coconut bowl?
Also a spoonful of sunflower seed butter is a must…because healthy fats.
And you know I am all about making my food super pretty and healthy but very tasty. Let's just say I like to have my cake and eat it too.

Again, I am channeling my Summer vibes through this smoothie. And serving it in a coconut bowl just made sense.
I am thinking next time, I will use a pineapple.
What's also great about this Acai Blueberry Smoothie Bowl? Zero cooking, so no sweating in the kitchen while it's also a billion degrees outside!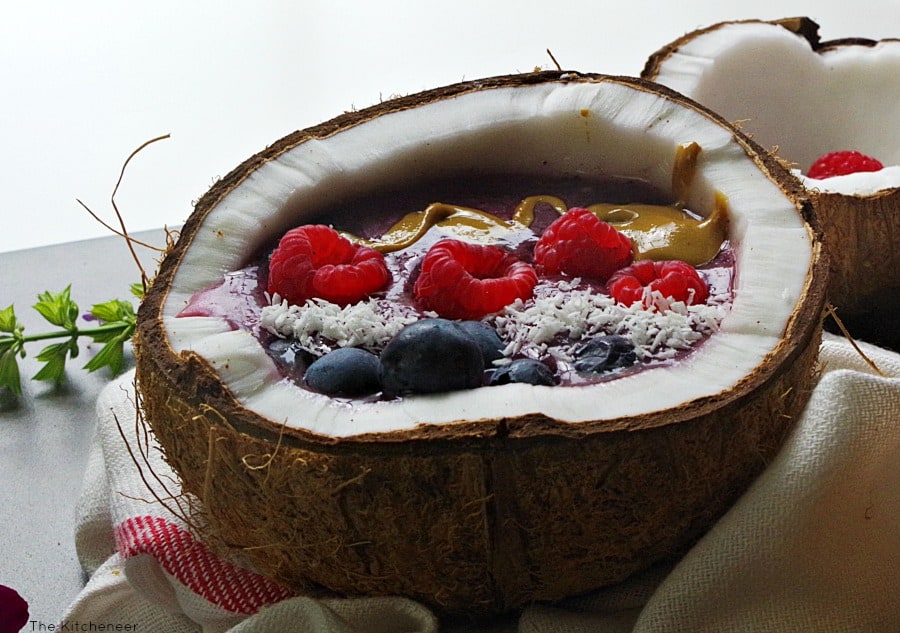 To this acai blueberry bowl I used frozen acai packets I found at the store, but you can also use this powder, I used 2 ripe bananas plus frozen blueberries and raspberries, and a splash of coconut milk!
Did I mention that this is Whole30 friendly yet? It is! Just eat it sparingly while on the program!
Ingredients
1 acai frozen packet
1 cup of coconut milk
2 bananas
½ cup frozen raspberries
2 tbs sunflower seed butter
2 tbs of coconut flakes
fresh raspberries and blueberries
Slivered almonds
Chia seeds
cocoa nibs
Instructions
In a blender combine bananas, acai, blueberries, raspberries, and coconut milk
Pour into 2 bowls and top with all the toppings!
EAT
If you make this recipe, please share your picture with the hashtag #thekitcheneer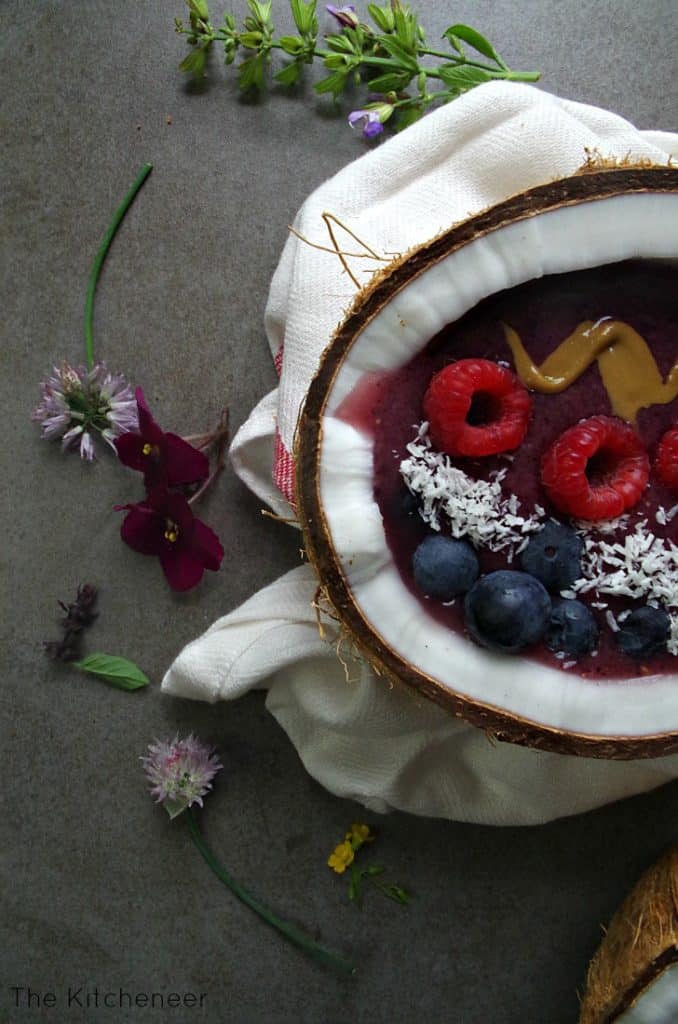 Acai Blueberry Smoothie Bowl
Author:
Ingredients
Ingredients
1 acai frozen packet
1 cup of coconut milk
2 bananas
½ cup frozen raspberries
2 tbs sunflower seed butter
2 tbs of coconut flakes
fresh raspberries and blueberries
Slivered almonds
Chia seeds
cocoa nibs
Instructions
In a blender combine bananas, acai, blueberries, raspberries, and coconut milk
Pour into 2 bowls and top with all the toppings!
EAT
Save