Poke bowls…my latest obsession. It is actually pronounced (POKE-EH) and that usually leads me to add "MON" to the end of it ;). #nerdstatus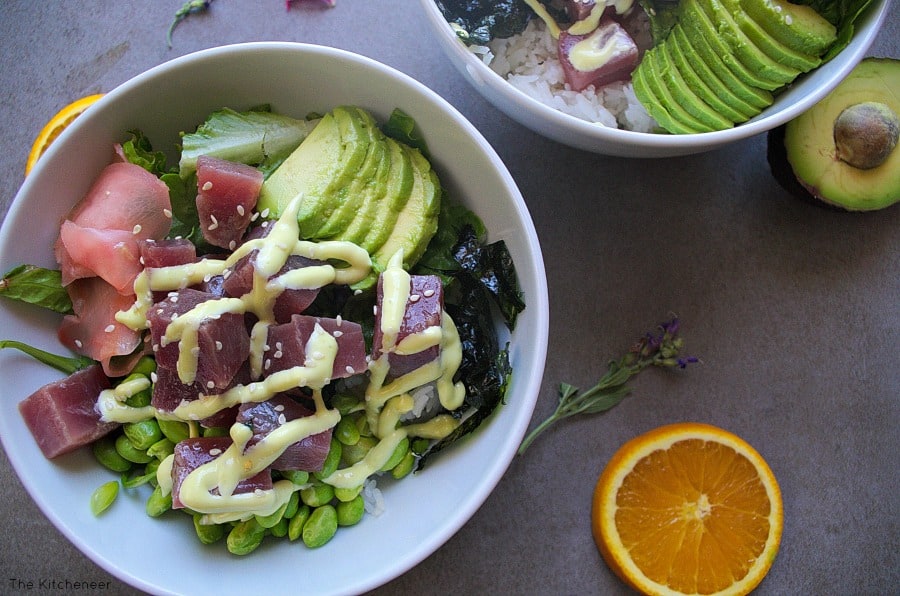 This poke bowl happened over last weekend when I was craving sushi. I have been practically stalking Pinterest for sushi bowls and I saw a bunch of Poke bowl pictures I was sold.
Im pretty much sold on any bowl-type foods. Food is just better in a bowl. I mean look at this master piece. It's almost to pretty to eat. Almost.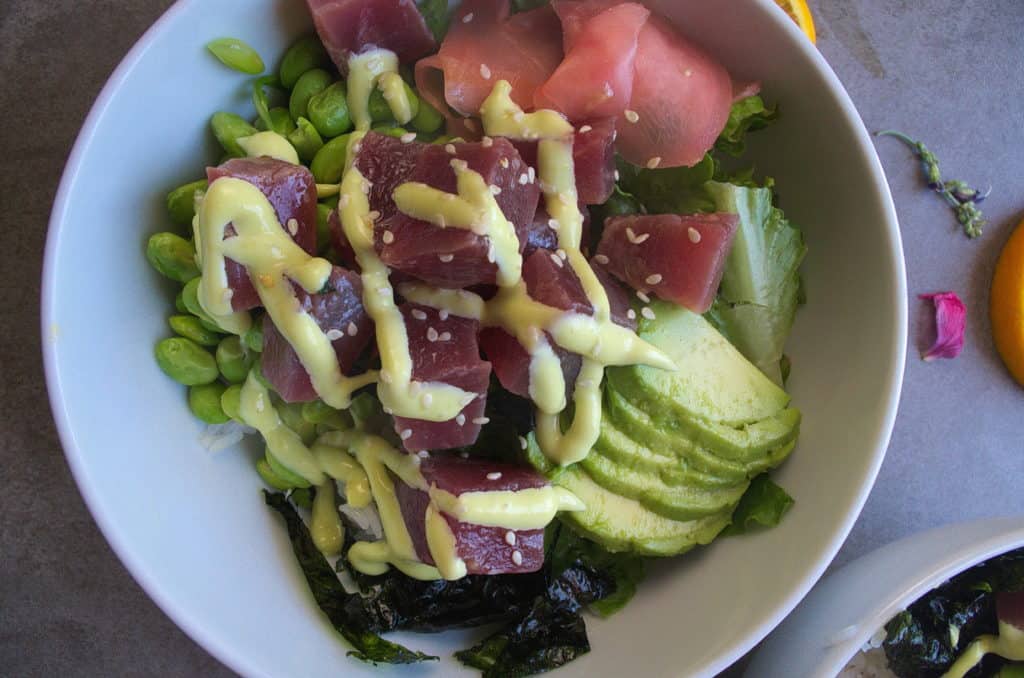 And guys, this could not be any EASIER to make. Just toss the fish with the marinade and build your bowl!
Poke bowls are actually native to Hawaii and have been a staple there for centuries. As the locals just used what they could catch and whatever crops and spices they had on hand. Poke bowls came into the world. And I couldn't be happier.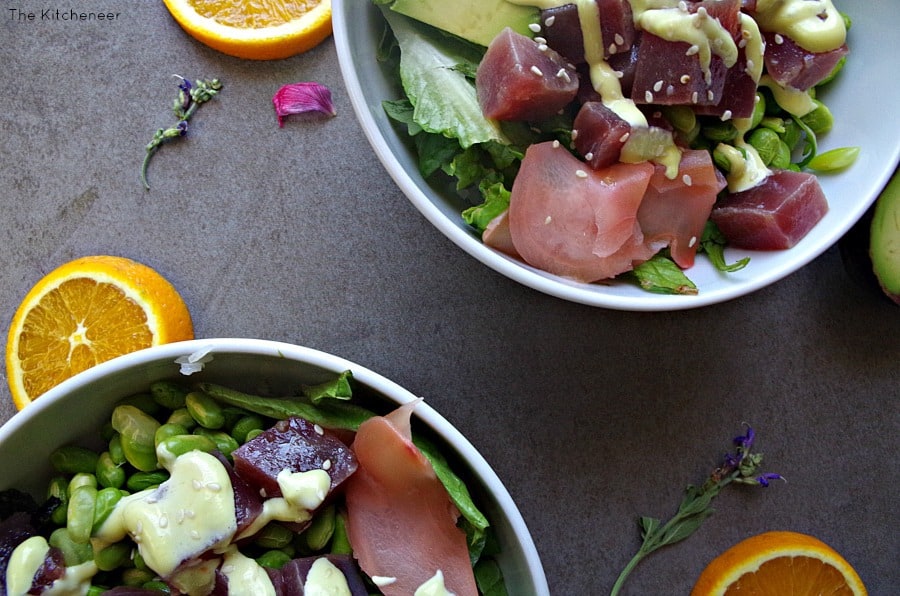 Now raw fish is something I never thought I would try, like, ever. Seafood in general is pretty new to me. But I am loving all things shrimp, salmon, and tuna! Especially raw tuna!
The most important thing about a good poke bowl is the fish. It needs to be fresh and it needs to be sashimi grade fish. This means it is safe to consume raw. You can choose from a variety of fish such as octopus, merlin, salmon, and tuna. I chose tuna cause it was the freshest at my local grocery store.
The next step is the rice. Go with a white rice or brown not wild. Cook the rice until it's nice in sticky. I always use my rice cooker and it takes roughly 15 minutes for wonderful gooey sticky rice.My favorite!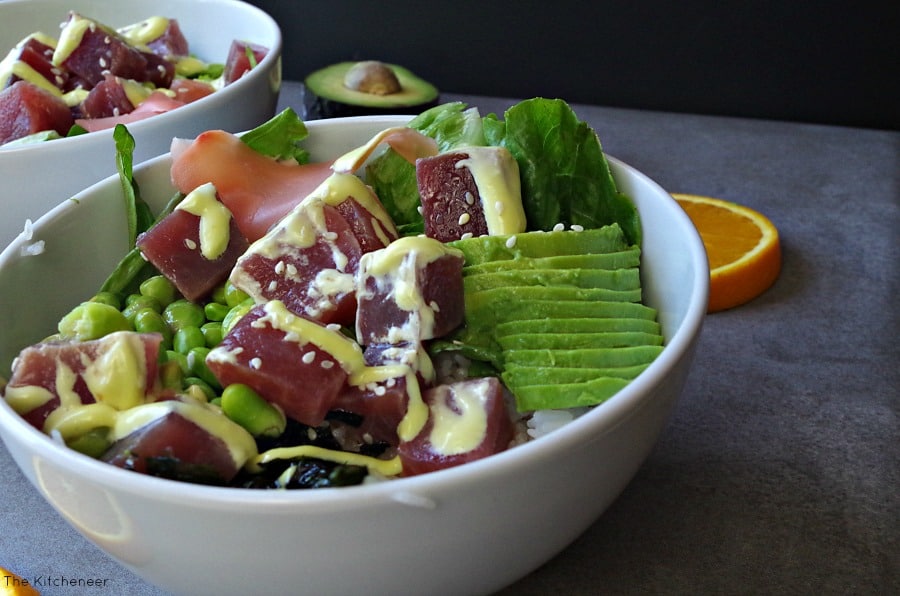 I also added seaweed, avocado cubes, pickled ginger, edamame, green onion, and then drizzled with a wasabi aioli!
You can definitely say I got carried away with this poke bowl. And my response is…poke.
If you make this recipe dont forget to tag your photo with #thekitcheneer!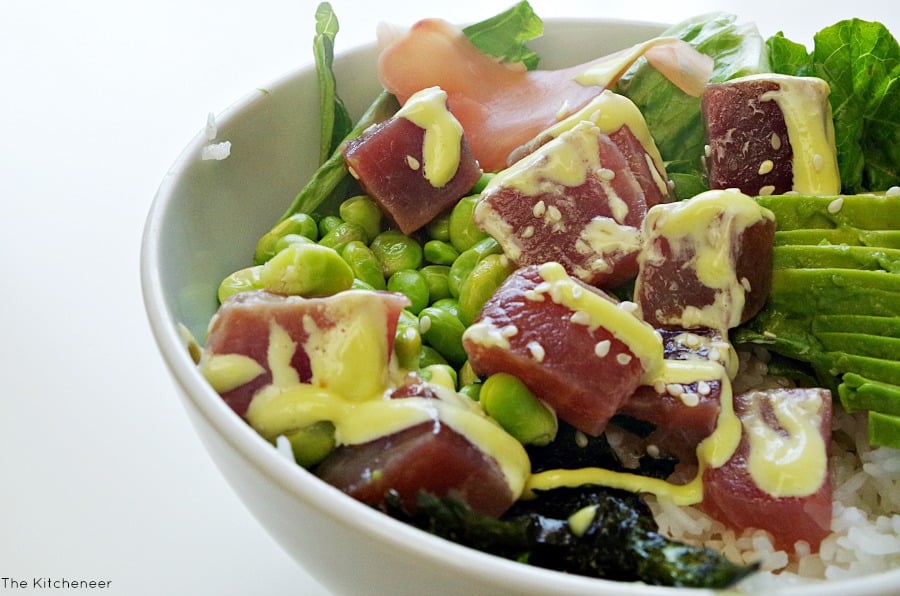 Sushi Ahi Tuna Poke Bowl
Author:
Prep time:
Cook time:
Total time:
This light and protein packed sushi ahi tuna poke bowl is just the kind of dinner you need for something flavorful but deliciously healthy!
Ingredients
Fish:
8oz of sashimi grade tuna or salmon
Marinade:
¼ cup soy sauce or coconut aminos (whole30)
pinch of crushed red pepper flakes
1 teaspoon salt
1 teaspoon sesame seeds
2 tbs of rice vinegar
juice of 1 lime
½ cup of sesame oil
Bowl
2 cups of steamed Jasmine rice or cauliflower rice (whole30)
2 jalapenos, grilled and sliced, optional
½ cup sea weed
2 tbs pickled ginger
1 avocado, cut into cubes
⅓ cup edamame
4 green onions,chopped
Wasabi Aioli
2 tbs of your favorite mayo
1 tbs wasabi paste
1 tbs lime juice
Instructions
Cut fish with a sharp chef's knife into 1" cubes
In a medium sized bowl whisk all ingredients for the marinade
Toss tuna into marinade until evenly coated
Let tuna sit in marinade on counter for 20 minutes
Gather the rest of your bowl toppings
Add 1 cup of rice to each bowl
Add seaweed, cabbage, edamame, ginger, jalapeño slices, green onion, avocado, and top with tuna.
Whisk wasabi aioli ingredients together in a small bowl
Drizzle aioli over top of each bowl
Sprinkle some more sesame seeds on top for garnish and enjoy!
Serving size:
½ of recipe
Calories:
533
Fat:
20g
Carbohydrates:
45g
Sugar:
3.4g
Sodium:
293 mg
Fiber:
5.3g
Protein:
27g
Save
Save
Save