XLet's get this super tasty quick eats going!
And quick and easy during the week is SO needed with our schedule!
Jake and I get up at 4AM and I sleepily assemble his breakfast and lunch and he's out the door by 4:30. UGH I can't wait for the day we actually live closer to our jobs. One day.
In the meantime, I will simply tease myself by drooling over houses at Zillow and filling my Pinterest boards with decorating ideas. Any advice for a first time home buyer?
But anyways, by the time we get home it's around 4 then back out to the gym. And we try to keep bedtime before 9PM. So any recipe that involves veggies and a protein and throw it the oven to finish is SO ideal!
Enter this bruschetta chicken one pan dish.
Chicken breasts are halved so they are thinner and cook evenly and seasoned with olive oil, garlic, oregano, and some s&p.
Next comes the veggies. PLEASE use what you have on hand! I had white flesh sweet potato, zucchini, cherry tomatoes, onion, and broccoli.
While all that cooks, chop some tomato, basil, and onion and ladle onto a chicken breast at the finish!
And by the way, dinner is DONE in 30 minutes! HECK YES!
And maybe one day I will have a normal person schedule… 😉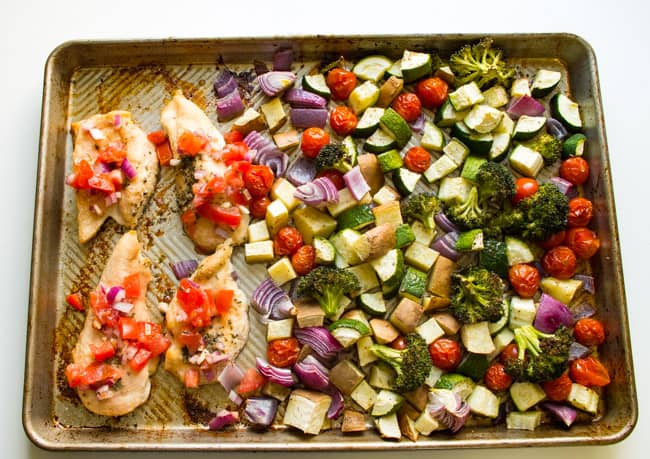 Save
Save
Save
Save