Crisp romaine lettuce, topped with quinoa, bright green avocado slices, black beans, pico de gallo, cheese, and my fiesta chicken is the perfect dish for Cinco de Mayo! I also topped it with a lime creme, which provides the perfect coolness to pair with this dish!
I am always looking for bright and colorful foods and I definitely gathered my inspiration for this salad at the farmer's market this weekend!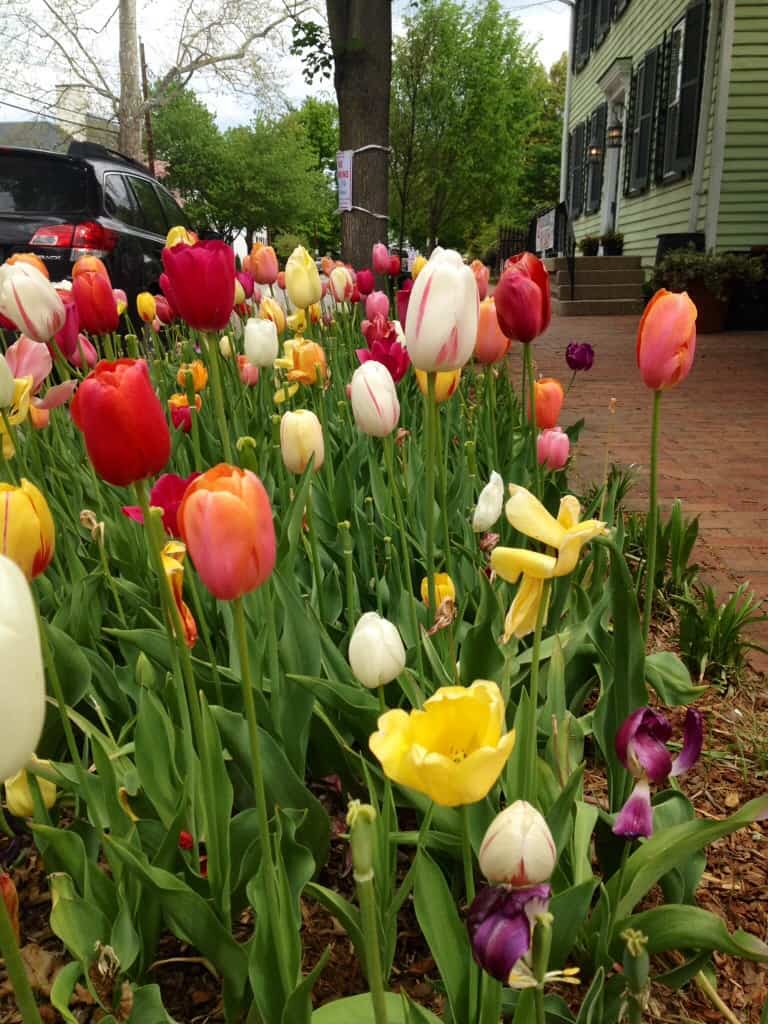 My husband and I usually walk around our historic neighborhood on Saturday mornings to walk to to the local coffee place for a latte, then mosey on over to the local farmer's market! I love it! Our neighborhood is in a civil war era town and it is so neat seeing all the old buildings (some of which still have cannon balls lodged in them!) and the people around here our serious master gardeners! I mean, check out those gorgeous tulips!!!
The farmer's market is huge and is more like walking into a carnival.What makes this market unique is that there are so many vendors that some of the streets are closed off and there is always live music!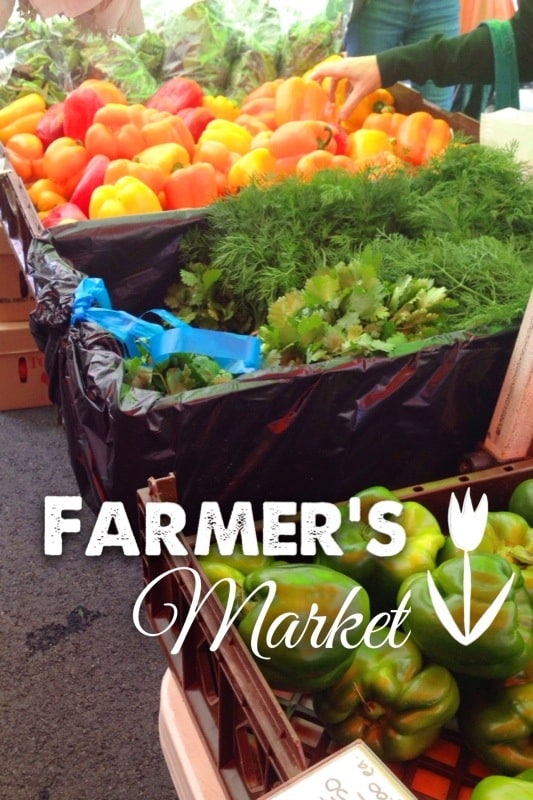 We ended up getting a large bag of spinach and a pink cherry tomato plant for the garden! As you can see, I was definitely thinking of salad when we left!
Here is more shots from the walk 🙂
Ok, back to the salad. I love salads not just because they are healthy, but because they are simple and can be whipped up in no time! This salad is no different!
Serves 4
You Need:
- 1 head of romaine chopped
- 1 cup prepared pico de gallo
- ½ can reduced sodium black beans
- 1 cup of reduced fat colby jack cheese
- 1 avocado sliced
- 1 cup quinoa
- 4 chicken breasts
- 2 teaspoon chili powder
- 1 teaspoon onion powder
- 1 teaspoon garlic powder
-1 teaspoon paprika
- 4 tbs lime juice ( 1 lime)
- cooking spray
For the Lime Creme:
- 1 6 oz container of Greek yogurt
- 2 tbs fresh lime juice ( ½ lime)
- 1 tbs finely chopped cilantro ( or 1 teaspoon dried)
- salt and pepper to taste
Directions:
Preheat oven to 385 degrees.
Heat a large oven proof skillet on medium high heat. Mix seasonings together ( chili powder, onion powder, garlic powder, paprika) in a small bowl then season both sides of chicken breasts.
Spray skillet with cooking spray and add chicken. Sear on both sides for about 3 minutes each.
Place chicken in oven for 10 minutes and squeeze lime juice over chicken. Return the chicken to the oven to finish cooking ( about 5-10 more minutes)
While the chicken is cooking, let's make the lime creme and set up our salads.
Mix together all ingredients in the yogurt cup and set aside.
Begin plating the salads with remaining ingredients divided amongst 4 bowls or plates.
I made baked tortilla chips to go with the meal. Simply slice a couple of flour tortillas and bake in oven at 350 for 5 minutes!