Chicken. One of the most used and versatile proteins around, and I love to explore all different ways to prepare this healthy protein. Many combinations will transform this delectable bird.
Garlic is an absolute necessity in my kitchen. It smells like home... If that makes sense? I try to incorporate it in most of my dishes including the one I am about to share with you.
Roasting a whole chicken in the oven is possibly the easiest and cheapest ways to serve dinner to the whole family! At out local grocery store it costs $7-$8 for 3 chicken breasts, yet only $5.79 for the whole bird!
I prepare roasted chicken many ways and this one is my Garlic and Lemon Lover's Roasted Chicken. The marriage between these two flavors are magic. Try it and see!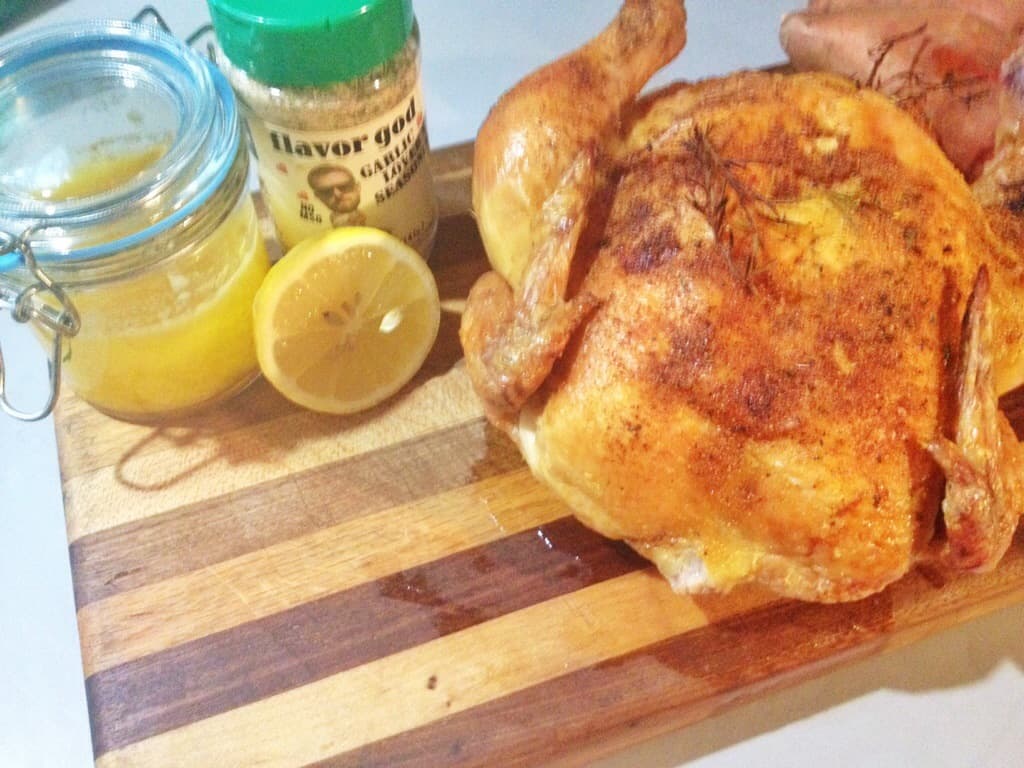 Lemon Garlic Lover's Roasted Chicken
You Need:
- roasting pan
- 1 whole chicken
- 2 tbs unsalted butter or ghee butter
- 2 tbs Flavor God Garlic Seasoning
- ½ lemon
- 2 rosemary sprigs
Directions:
Preheat oven to 385 degrees
Place chicken in roasting pan ( breast side up) and drizzle 1 tbs of ghee butter ( which is essentially browned clarified butter) over chicken ensuring it covers all of the surface if the chicken.
For this chicken I decided to use a new seasoning mix that I am currently obsessed with Flavor God seasoning. Rub Flavor God seasoning ( or use a blend of 1 teaspoon onion powder, 1 teaspoon garlic powder, and 3 cloves of minced garlic).
Squeeze half of the lemon in the cavity and stuff the lemon itself and rosemary inside. Place another sprig on top of chicken.
Roast in oven for an hour.
Drizzle remaining ghee butter on top.
Place chicken back in oven until chicken is thoroughly cooked.
Enjoy!!
I paired my chicken with sweet potato fries and green beans!