To me, Summer means cool breezes on the beach, picnics, long walks in the evening, iced sweet tea on the porch, and fried green tomatoes. And of course I have to watch the movie "Fried Green Tomatoes" while eating some too!
Unfortunately, anything fried isn't good for you. That's why I love my "job" at lightening up my favorite foods!
These green tomatoes are dredged in whole wheat flour, dipped in egg white mixture, then dredged again in a flaxeed panko mix. Then they are pan "fried" in only 1 tbs of extra virgin olive oil! That's it! They are amazing and I can have my fried green tomatoes without the guilt!
Serves 8
Nutritional Facts are based off My Fitness Pal App
For 2 tomatoes with 1 oz of goat cheese: Calories: 101, Fat: 4g, Carbs: 13g, Protein: 4g, Fiber: 2.2g
You Need:
4 medium to large green tomatoes sliced ( 16 slices)
¾ cup apple cider vinegar
1 cup water
2 tbs sugar
½ teaspoon salt
1 tbs extra virgin olive oil
½ cup panko bread crumbs
3 tbs ground flaxseed
½ cup whole wheat flour ( I added extra black pepper to the flour to kick it up a notch!)
1 egg & 1 egg white beaten until bubbly
Directions:
In a medium sauce pan heat water, vinegar, sugar, and salt until it begins to boil
Add tomato slices and let simmer for about 5-6 minutes

Remove from heat and let the tomatoes sit in the vinegar mixture for 15 minutes.
While the tomatoes sit, get the bowls set up for dredging and dipping:
First Bowl: Flour and pepper
Second Bowl: Egg and egg white mixture
Third Bowl: Panko and flax seed mixture
Remove tomato slices to a plate with paper towels to cool and pat dry.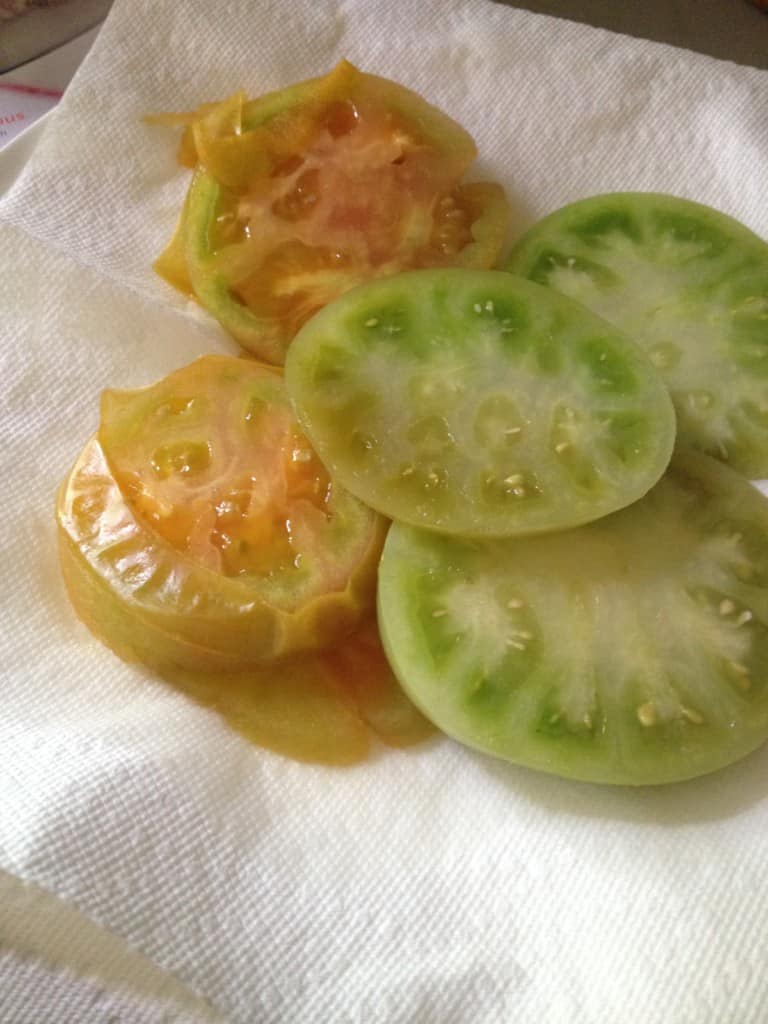 Heat oil in large skillet on medium heat.
Dredge each tomato slice in the flour, then dip in egg mixture, and finally dredge in panko mixture.
Place tomatoes in skillet and cook for 4 minutes per side ( spray the tops of the tomatoes with cooking spray before flipping them so they brown evenly)
Serve on a platter with some herbed goat cheese! Enjoy!
To make this to-go:
These don't store for very long ( maybe an extra day or so) so plan on eating in that time period. I would turn these babies into a tasty veggie wrap for lunch the next day with some Laughing Cow cheese. lettuce, red onion, and what ever you like!
[yumprint-recipe id='9']Pickling Portion of recipe adapted from Cooking Light