Healthy School Friendly Recipe Series #2:
Salads. I believe are my favorite meals. They are delicious, healthy, fresh, and can be made thousands of different ways. And if you know how to spice them up, they are never boring.
Another great reason I love salads are that they are SO portable! I make a large salad every week ( different flavor each week) for my meal prep day ( Sunday) and take it with me wherever I need to be! They were a life saver in college! Spending all day in the library could stir up an appetite, so I would eat outside on the bench for a much needed brain break. That's why my next recipe for dorm friendly dining is my Blackberry Chicken Chopped Salad!
These ingredients can all be bought at your local store and be kept in your mini fridge in the dorm or at home if you commute ( like I did). Just buy a rotisserie chicken if you are unable to cook in your dorm.
Keeping to a healthy lifestyle can be extremely challenging when your head is in the books or late nights of fun, but with careful planning you can stick to it!
Makes 4-5 servings
You Need:
4 cups of finely chopped romaine lettuce
½ red onion diced
1 pint of blackberries ( or any berry of your choosing)
4 oz of soft goat cheese
½ cup of chopped walnuts
1 lb chicken breast ( cooked) or rotisserie chicken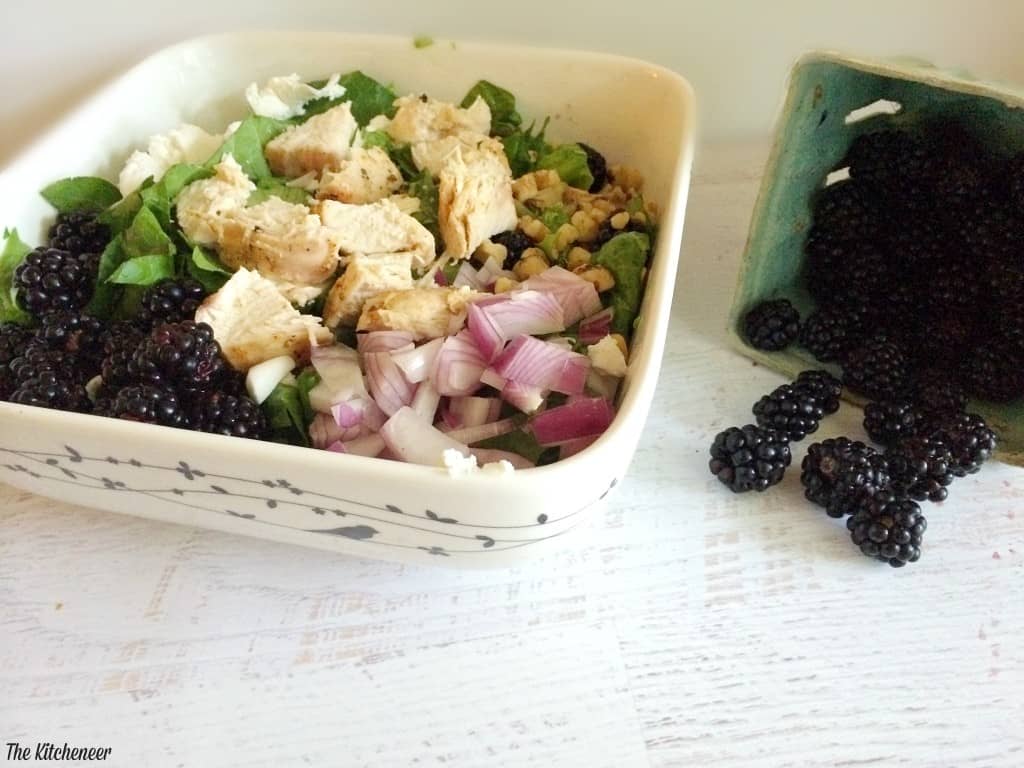 For Dressing:
I used a Blackberry Fig dressing I found ( at Whole Foods). But any fruit or oil/vinegar dressing would do nicely with this salad
Direction:
For the chicken, I rubbed it with lemon garlic seasoning and black pepper then baked in oven
In a very large bowl combine all ingredients and toss to combine thoroughly.
Enjoy!