I have been a long time fan of Gina's site Skinnytaste. It is even hard for me to describe how much I owe this wonderful woman who changed my view on healthy food back in 2009 when I first discovered her blog. I was in college living in a tiny apartment and needed a better and healthier way to make food in my tiny kitchen. And then I found the treasure trove which is Skinnytaste. I can honestly say I have tried at least 50 of her recipes since then and have LOVED every single one! From her Crockpot Italian Sloppy Joes to her Baked Chicken Nuggets. They are ALL amazing. So I cooked her recipes all through college and continue to this day to make her recipes a weekly staple in my meal plans to keep me on track! And her cookbook phrase says it all " Light on calories, big on flavor" couldn't sum up her recipes better than that blurp.
I look up to her so much and it would be such an honor to meet her someday let alone have a blog that inspires as many people as she does!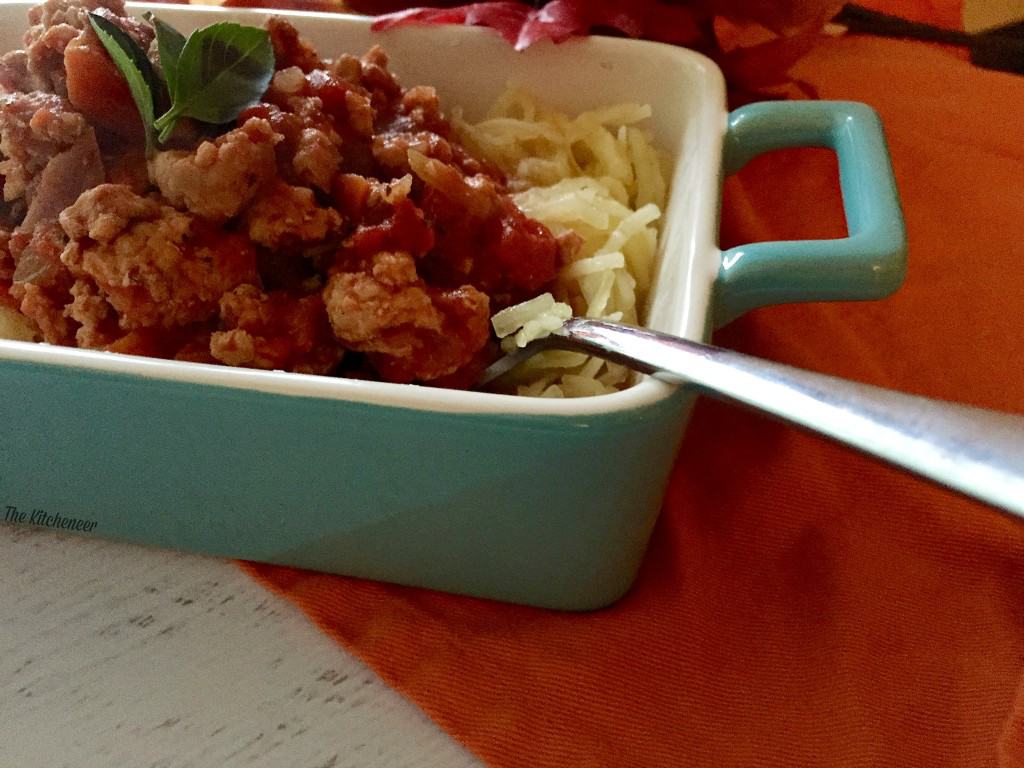 So, yes when I heard she was coming out with her first cookbook I preordered mine right away back in April! And it's even better than I could have hoped! I plan on trying all of these recipes in her cookbook too! And I wanted to share with you the one that stood out first to me and came out delicious. Spaghetti "Squashta" with Turkey Bolognese. I LOVE Italian cuisine and Gina has a knack for coming up with great Italian recipes! I knew I had to make this sauce. And yes, I did take a spoonful or two straight from the pot. How could I not?
And it uses one of my favorite low carb options- the spaghetti squash. I have always roasted mine in the oven but Gina makes it even easier with microwave instructions! My dinner was whipped up in no time at all!
The sauce came out so flavorful and if you are an Italian food junky like me, then this will satisfy your cravings without the huge calorie intake from eating a big bowl of pasta. Instead you have a meal filled with veggies, protein, and enough "pasta" to fill you up for hours!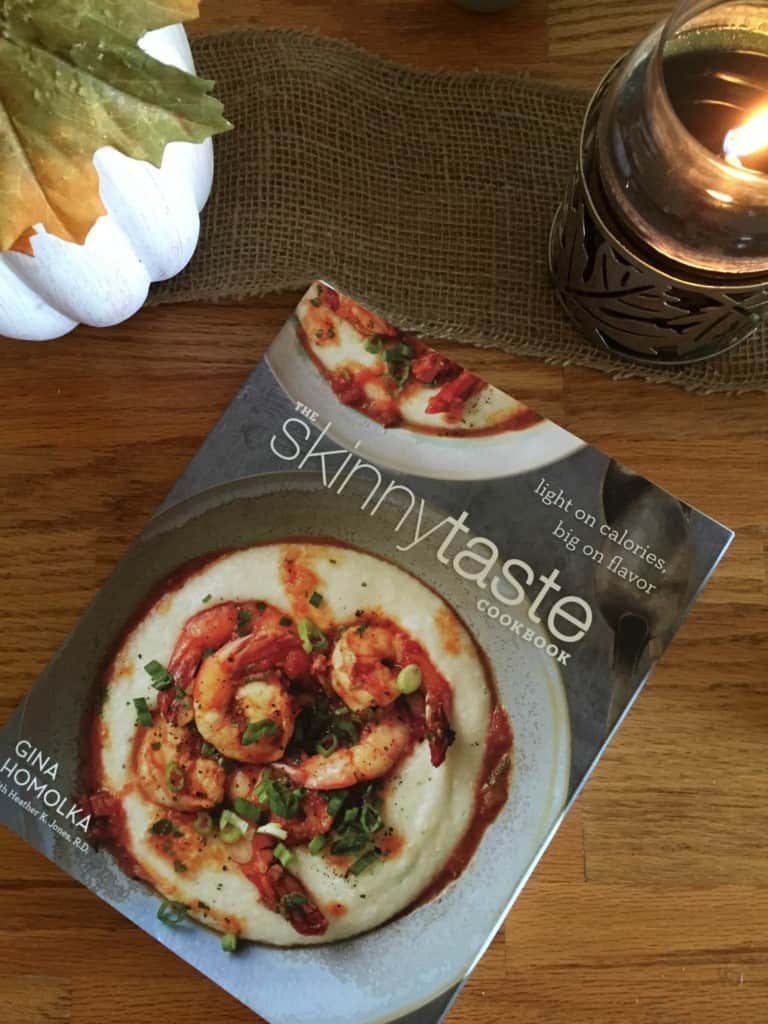 And because I LOVE The Skinnytaste Cookbook: Light on Calories, Big on Flavor
so much I had to buy another copy to share with one of you! Because once you get a copy you need to buy 5 more to give as presents this year for Christmas. I know I am! See below for giveaway details.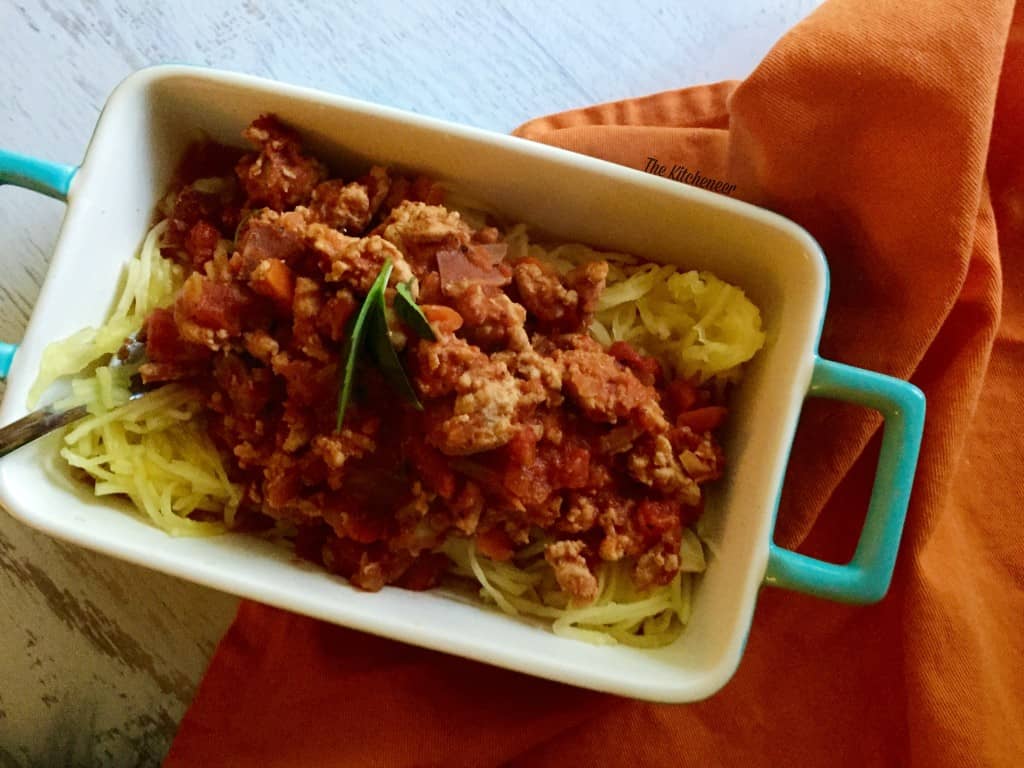 You Need:
2 oz of pancetta, chopped
½ tbs unsalted butter
½ cup chopped ( 1 small) onion
1 celery stalk, minced
1 medium carrot, minced
1.3 lbs 93% lean ground turkey
kosher salt
fresh cracked pepper
¼ cup white wine
½ tbs tomato paste
¾ cup 1% milk
1 ( 28-oz) can od crushed tomatoes
1 bay leaf
2 medium spaghetti squash
¼ cup chopped fresh basil
Directions:
In a large Dutch oven, saute the pancetta over medium heat until the fat melts ( 3 minutes)
Reduce the heat to medium low
Add butter, carrot, onion, celery, and cook until soft ( 5 minutes)
Increase heat to medium high and add the turkey and salt and pepper
Cook turkey until no longer pink, ( 8 minutes), Break the meat up with wooden spoon as it cooks
Add the tomato paste, milk, tomatoes, and bay leaf
Bring to a boil, reduce heat to low, and simmer, covered, for 20 to 25 minutes stirring occasionally
While the sauce simmers, using a sharp kinfe pierce the spaghetti squash about 8-9 times
Microwave on high for 6 minutes
Turn and microwave for an additional 8 minutes/
Let squash cool for 5 minutes
Halve the squash lengthwise
Remove the seeds and use a fork to scrape out the "spaghetti"
Remove and discard bay leaf, stir in basil.
To serve, put 1 cup spaghetti squash in 6 serving bowls and top with a generous ¾ cup os bolognese
Enjoy!
Recipe by The Skinny Cookbook by Gina Homolka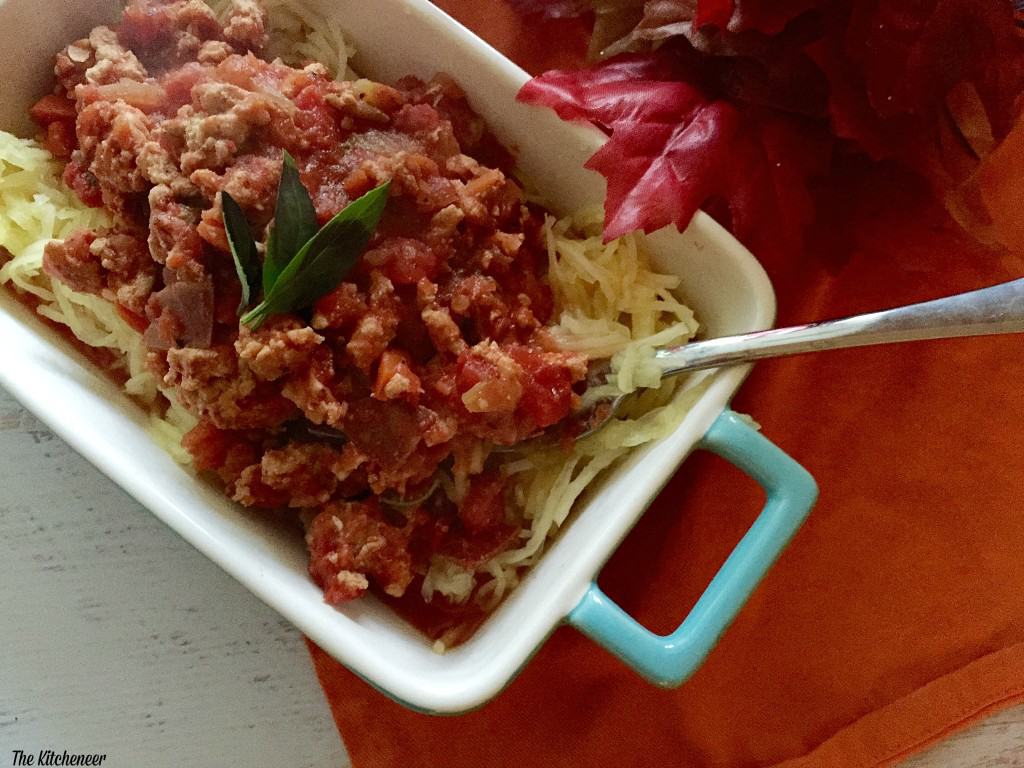 *The cookbook link I used above is an Amazon affiliate link
** To qualify for this giveaway you must live in the US
*** If you do not win this giveaway I still encourage you to buy a copy of this book! You won't regret it!