Nothing to me is more therapeutic than music. I LOVE music. It gets me. I even have personalized playlists based on what mood I am in. If I am a good/ energetic mood it's Guns N Roses all the way babe. If I want some calm peaceful music I turn to Hans Zimmer, Howard Shore, Lindsey Sterling, and The Piano Guys.
I was totally that girl who would blast music on my CD player ALL DAY LONG as a teenager. And if I could get away with it at work I would jam all day long too.
But I love combining music with my second favorite therapeutic thing to do: cooking. Nothing beats it. Dancing and singing into my wooden spoon is such a kitchen tradition for me. It gets rid of all the days worries and I get food at the end. WIN. So, in most cases all of my creative culinary juices are usually flowing with music intertwined 🙂
And being the carb lover that I am. I love when I find good substitutes that I can eat a lot of in one sitting. Because sometime ½ cup of whole wheat pasta just doesn't cut it. I want a BIG bowl of pasta. Luckily with spaghetti squash, you can do that. You can have seconds and thirds without hardly any calories entering your system.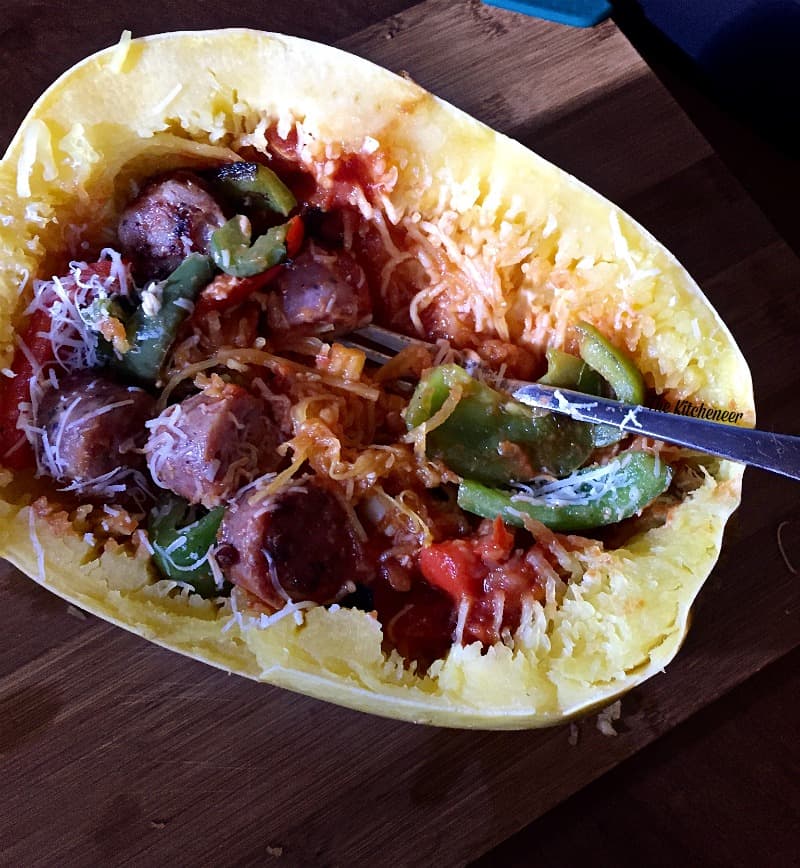 Mix spaghetti squash with cheese, chicken sausage, bell peppers, and some marinara sauce? You get one heck of a meal! It's actually making me hungry for our leftovers as I type this!
It also makes for great lunches the next day at work or school. Just scoop into a container and you are good to go.
Serves 4
You Need:
1 big spaghetti squash
1 package of chicken sausage, sliced into ½" rounds
2 bell peppers, sliced
1 cup of organic marinara sauce
1 tbs garlic seasoning
2 tbs Parmesan cheese
½ cup reduced fat shredded mozzarella cheese
Directions:
Stab your spaghetti squash about 9-10 times all over with a sharp knife and microwave for about 14 minutes ( turning half way through)
While the squash microwaves, Saute chicken sausage and peppers in a skillet for about 5-7 minutes
Once the squash is cool enough to handle, slice in half ( it should cut cleanly, if not nuke it for a few more minutes)
Scoop and discard seeds
Fluff squash " spaghetti" strands with fork
Add marinara sauce evenly to both halves
Distribute chicken, peppers, and cheese to both halves and toss until everything is mixed thoroughly
You can scoop it into individual bowls, or eat it straight from the boat like I did 😉
Enjoy!