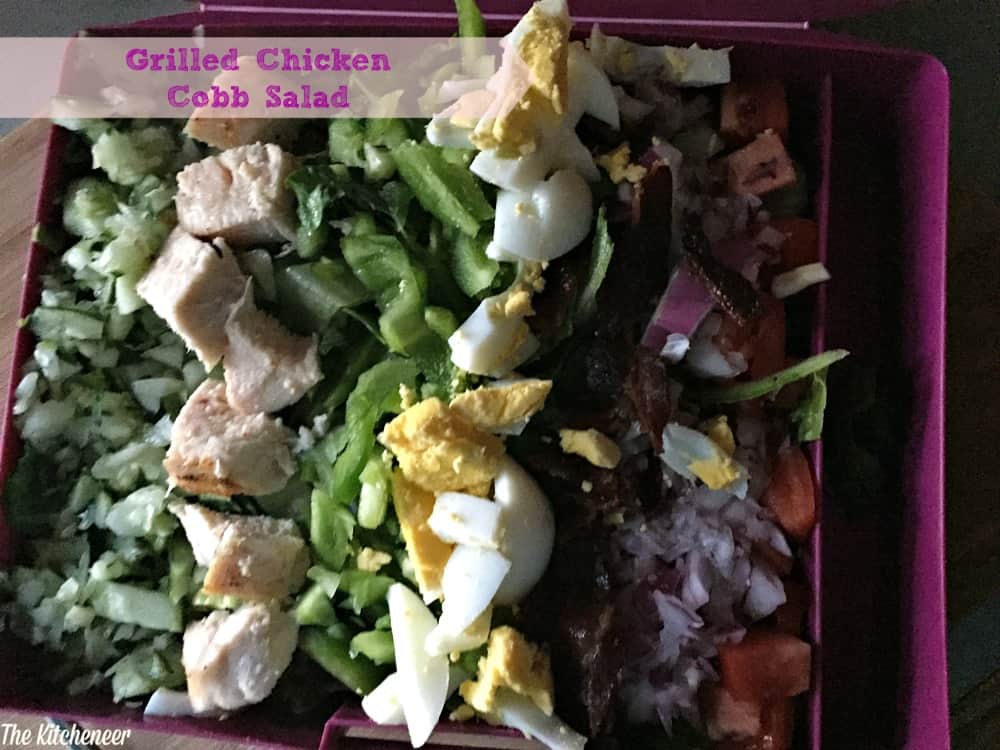 The classic Chef salad. It's usually the item on every menu I read that I drift toward. I am a salad lover. I order it almost all the time when we go out.
And as far as dressings go, I usually order it on the side and dip my fork in it and I barely use a ¼ of it. So I never feel bad if the dressing is regular ranch. But when I make it at home, I usually use a Greek yogurt based dressing with dill. Dill is my favorite herb I think. Then closely followed by rosemary, basil, and thyme. Greek yogurt is such a life saver when it comes to dressings. Not only do you get the same taste and texture of the real deal, but it's half the calories and fat but double the protein! WINNING.
My favorite version of the Cobb salad is the Grilled Chicken Cobb Salad. It provides that extra push of protein to the mix! I also love shrimp or chickpeas too!
And then there is the smorgasbord of amazing salad toppings. You basically can add anything to a Chef's salad. In my book you have to have bacon. It's the cherry on top of this salad. I only use one crumbled piece per salad. But that's enough for me.
You can then add, diced green bell pepper, red onion, edamame, carrots, hard boiled eggs, olives… the options are truly endless! Heck if you want to add some spice add some jalapenos!
Since I went back to work, I meal prep SO much more than ever before. I prep on Sundays for 2-3 days then on the nights before for the rest of the week. That's why salads are such a lifesaver when it comes to meal prep. I chop all the veggies at once, and then put them into individual containers or baggies. That way I can just grab my base ingredient (romaine) and top how I please.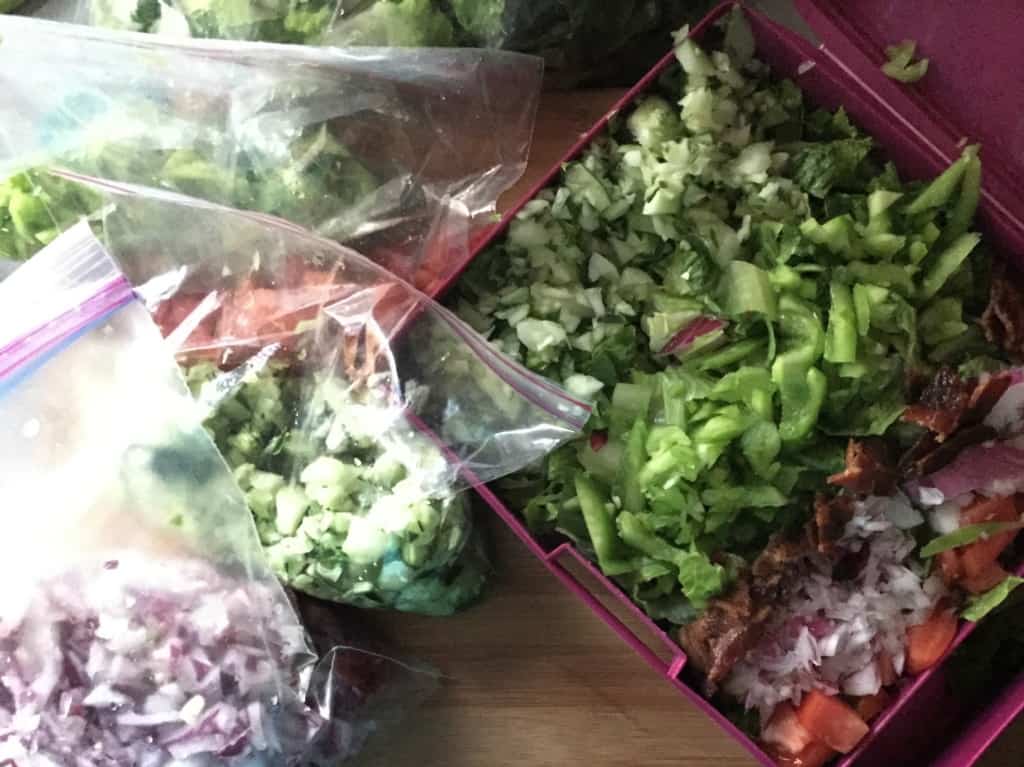 And to give you a little update on what's been going on with me, if you thought I was nuts before working out at 3:30 AM you're going to think I have gone completely nuts now because I have officially completed my first week at Crossfit! I LOVE it so far! I think I have finally found my gym after being lost for so long! I've tried YMCA (I loved the one in South east VA, but the one up here is meh), I've tried awesome smaller gyms that offer amazing Spinning and yoga classes, and Planet Fitness ( which is good too!) but I love the intensity of Crossfit workouts so far! So I am excited to see how strong I get! I also love that Jake and I are doing this together! Couples that lift together stick together! And besides its nice having your best friend there to root you on!
Without further ado, let's get our salad on!
Makes 4 servings
You need:
1 head of romaine chopped and rinsed
1 green bell pepper diced
4 chicken breasts grilled and diced
Red onion, diced,
4 hard-boiled eggs, sliced
6 slices of Hormel bacon, chopped
1 cucumber, diced
4 roma tomatoes, diced
For dressing: I used OPA Feta Dill Greek Yogurt dressing ( 1-2 tbs)
Directions:
Chop all veggies
Place romaine in bowls ( or in my case a lunch box)- This is my favorite lunchbox from Laptop Lunches. If you would like one of your own click the banner on the right 🙂
Begin topping your salad with remaining veggies and chicken.
Drizzle dressing on top! (or pack separately if taking this on the go!)
Enjoy!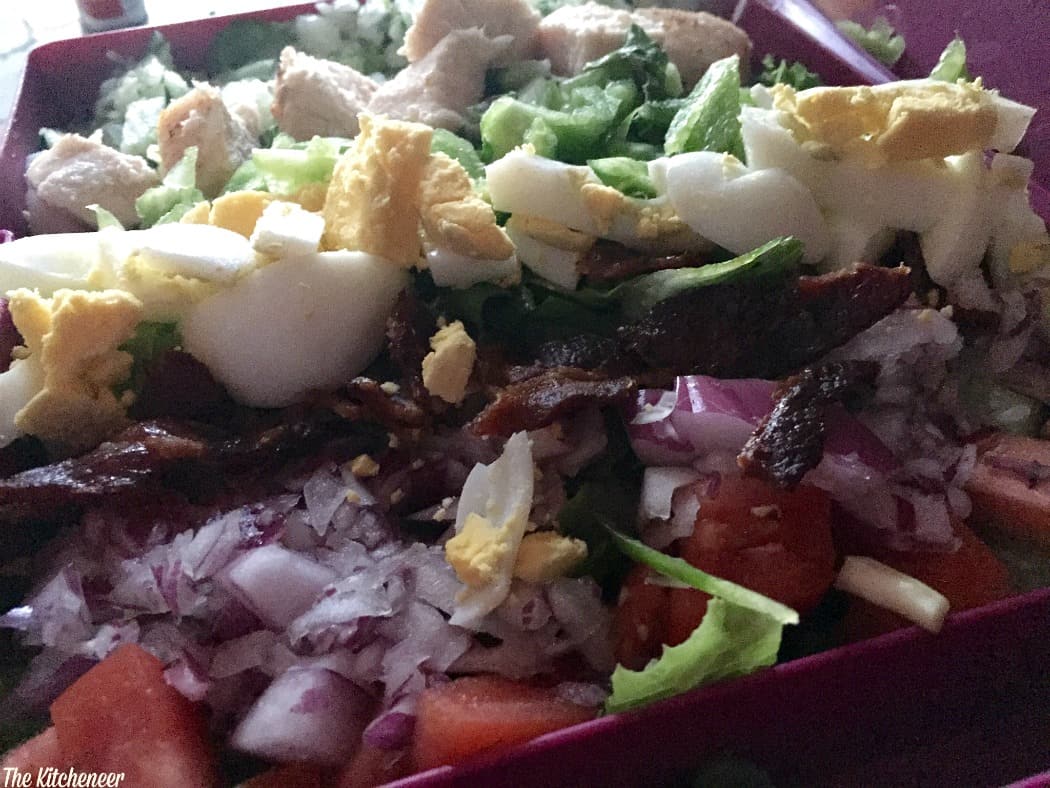 *I am currently a member of the Hormel Foods Extended Blogger Program and
this post is part of my involvement in the Group. While Hormel Foods provides
me material and necessary resources to complete various activities, all
statements and opinions ( as always) in The Kitcheneer are my own