Crisp romaine lettuce, crunchy carrots, tangy pepperoncini and roasted peppers, salty turkey pepperoni, and a sprinkle of mozzarella cheese makes this a colorful and tasty salad for any night of the week.
Antipasto salad is typically served as your appetizer before your pasta at an Italian restaurant. It is usually a great and healthy option when going out to eat. However, (as much as I love it) the salami and pepperoni and cheese have got to go. Or just leave a few pieces (moderation ;)). This version substitutes those heavier meats and cheeses with turkey pepperoni, cubed ham, and sprinkle of mozzarella cheese. And with all those colorful veggies, pepperoncini vinaigrette, dinner is served with a flip of your whisk and a toss of a salad! And of course to make this a full meal I would add some soup such as minestrone or some whole wheat pasta and marinara.
As you know, I LOVE Italian food and this salad is definitely a favorite of mine to order out. But as always I like to dine in a tad bit more. I like knowing where all my ingredients come from.
And as my grandma always says, "Mangiare! Mangiare!"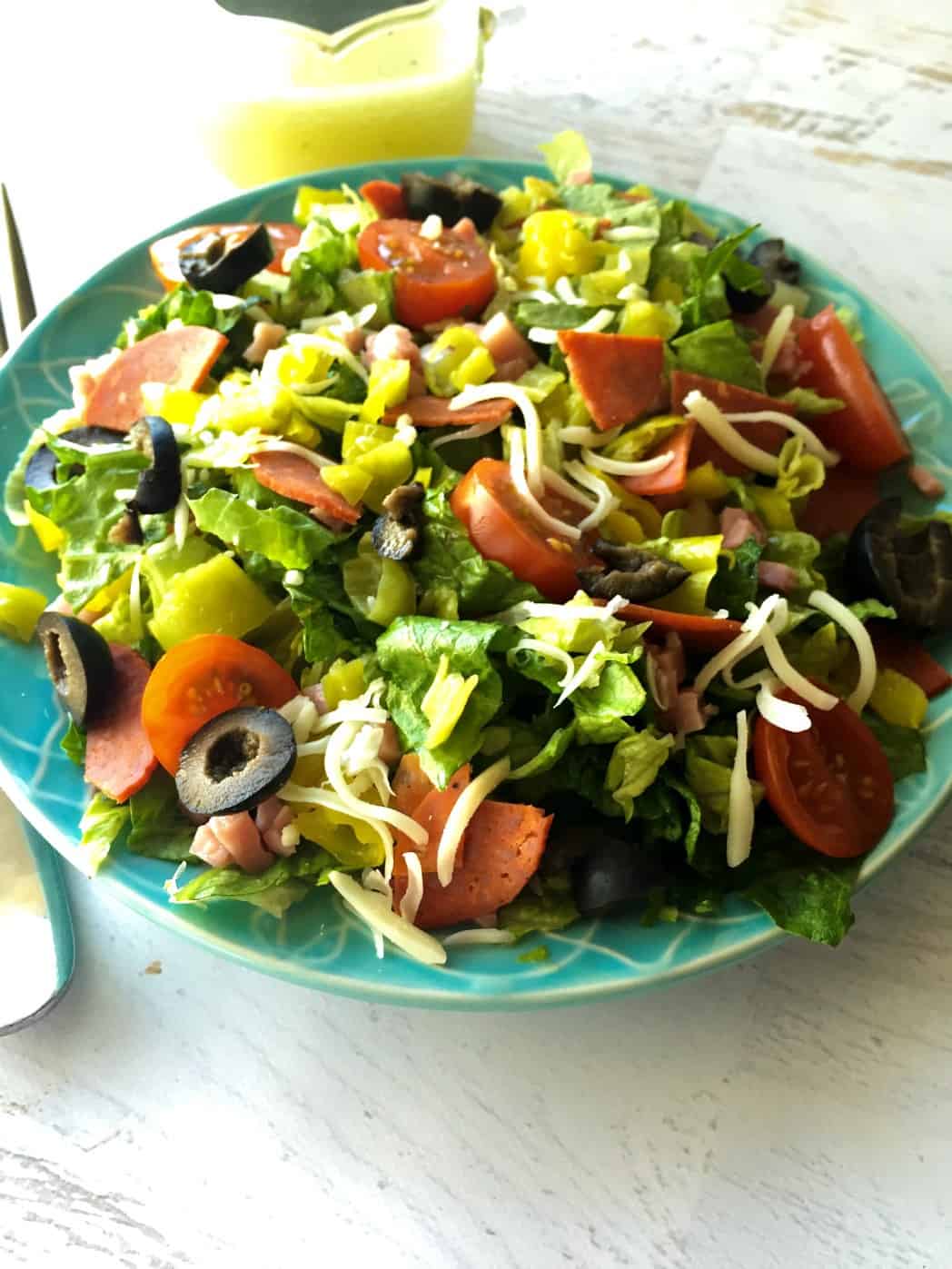 Serves 4: Calories: 188, Fat: 12g, Sodium: 569, Carbs: 9, Fiber: 2.7g, Protein: 11g
You need:
1 large head of romaine lettuce, chopped and rinsed
½ cup of sliced carrots
¼ cup of red onion
6 pepperoncini's
⅓ cup halved black olives
⅓ cup cubed ham
25 slices of Hormel's Turkey Pepperoni, sliced in half
½ cup cherry tomatoes, halved
⅓ cup reduced fat shredded mozzarella cheese
Dressing:
½ cup of pepperoncini juice
1 tbs of apple cider vinegar
¼ teaspoon cayenne
2 tbs extra virgin olive oil
Salt and pepper
Directions:
Prep all the veggies
In a large salad bowl, toss romaine with all other veggies
Toss in the meats and cheese
In a medium sized bowl or a Mason jar, whisk (or shake) all dressing ingredients!
Toss 8 tbs of the dressing with the salad (if serving immediately) if not, serve dressing on the side! (2 tbs per serving)
Mangiare!