Fettuccine with Roasted Eggplant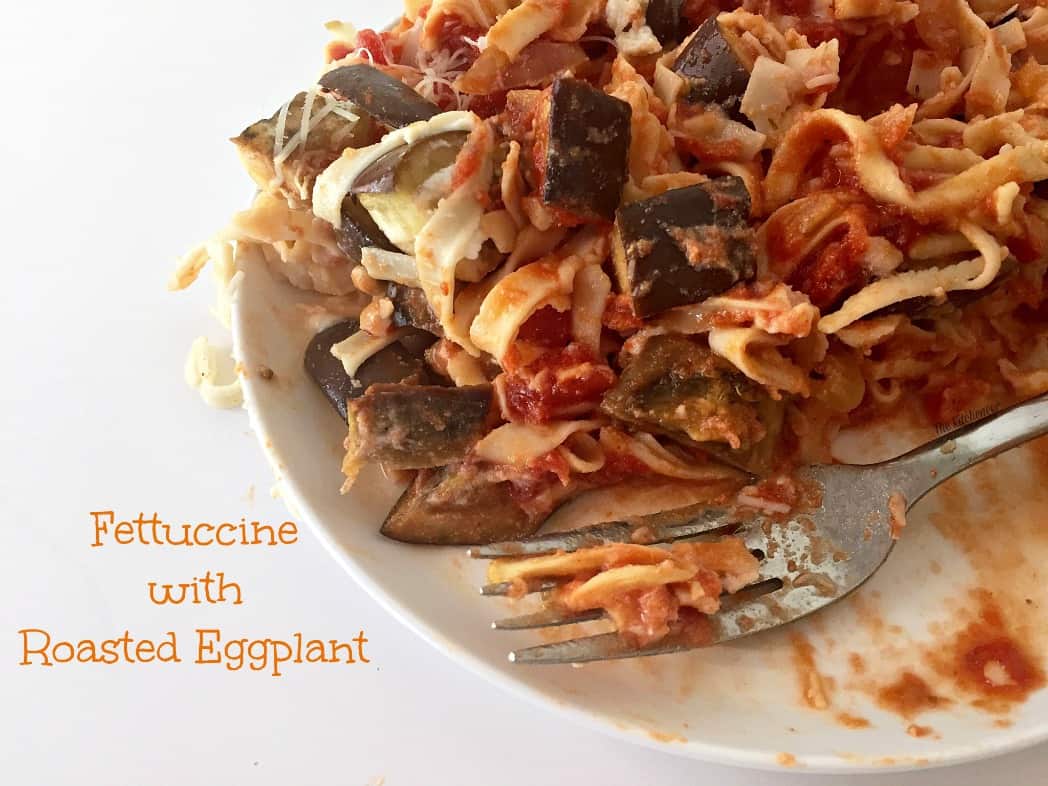 I will always be an Italian at heart. I can't help it. I see pasta or homemade marinara sauce and drool. I love having the family over so I have an excuse to make Sunday Gravy for my famous baked ziti recipe :). However, since it's just Jake and I. A perfect pasta dish for two is ideal.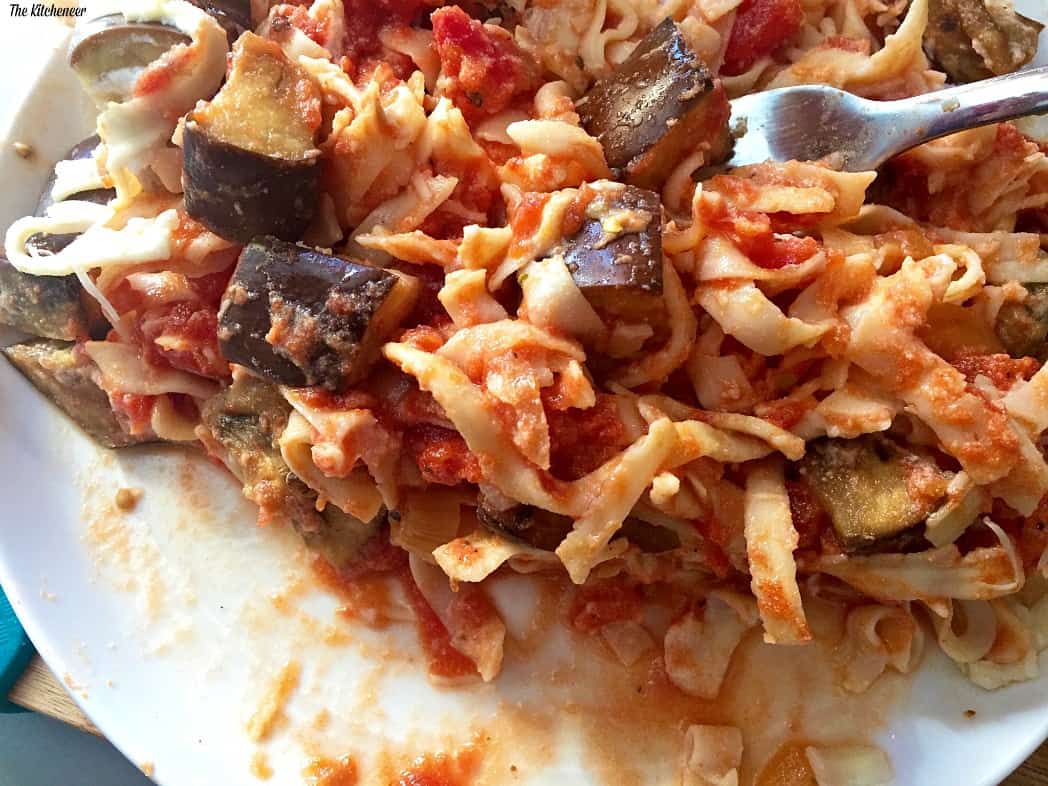 And of course keeping my nutrition in mind, it's always a conflict of interest when it comes to my favorite foods. So, when Thin Slim Foods sent me their Impastable pasta to try out, I knew exactly what I was going to make with it. Fettuccine with roasted eggplant tossed in a light marinara sauce with just a hint of ricotta cheese.
I was a bit skeptical when I read that their pasta only had 8g of carbs per serving. I figured something was fishy about it. But to my pleasant surprise it was true! I could pronounce everything in the ingredient list and knew I had another pantry item I can add to my list!
I have been super busy the last month that I never mentioned that Jake and I went to NYC for our anniversary 2 months ago!!! It was an absolute blast! We stayed at the Waldorf Astoria, went to the Natural History museum, the Hayden Planetarium, found some excellent places to eat, and saw The Phantom of the Opera. Jake is simply the best person to travel with, he figures everything out before we go, and we just have so much fun!
Thanks to Jake's coworker, Margi, we ate at this AMAZING Italian place called Eataly. There is literally not a restaurant I can think of that is like this one. It's 40,000 sq. ft. has a fresh market, at least 4 different internal restaurants on the inside, AND you can sip on wine as you shop and wait for your table! FAVORITE.I will be back.
I also REALLY want their cookbook!
I ordered the Rigatoni with roasted eggplant. OH EM GEE. Best pasta EVER. You can tell it was all made from scratch. I couldn't wait to recreate this at home. Jake ordered their brick oven pizza The Carmelo. Of course I had a bite or two 😉 Again, AMAZING.
So here is my version of this dish:
Serves 3: Calories: 265, Fat: 10g, Net Carbs: 13g , Protein: 12g, Sodium: 535mg
You Need:
1 bag of Impastable fettuccini pasta
2 tbs olive oil
5 cloves of garlic, minced
1 tbs tomato paste
1 28 oz can of whole peeled tomatoes
2 tbs fresh basil, chopped
Pinch of red pepper flakes
1 eggplant, cubed
1 tbs olive oil
Salt and pepper
¼ cup of low fat ricotta cheese
Parmesan (garnish) – optional
Directions:
Preheat oven to 375
On a baking sheet toss eggplant cubes in the extra virgin olive oil and some salt and pepper to taste
Bake eggplant in oven for 30 minutes
Prepare pasta per instructions on bag
In a medium sized sauce pan, heat 2tbs olive oil and add garlic (make sure it doesn't burn)
Add tomato paste and stir ( 30 seconds)
Take off heat temporarily, and pour in the whole tomatoes with juice and (my favorite part) squeeze each tomato until into small pieces- my secret
Put heat back on to medium low and let simmer for 15 minutes stirring occasionally
Add basil and red pepper flakes, let simmer for another 10 minutes
Toss pasta with eggplant, marinara sauce, and ricotta cheese
Split into two servings and top with some parmesan
Enjoy your date in!