Paleo Italian Wedding Soup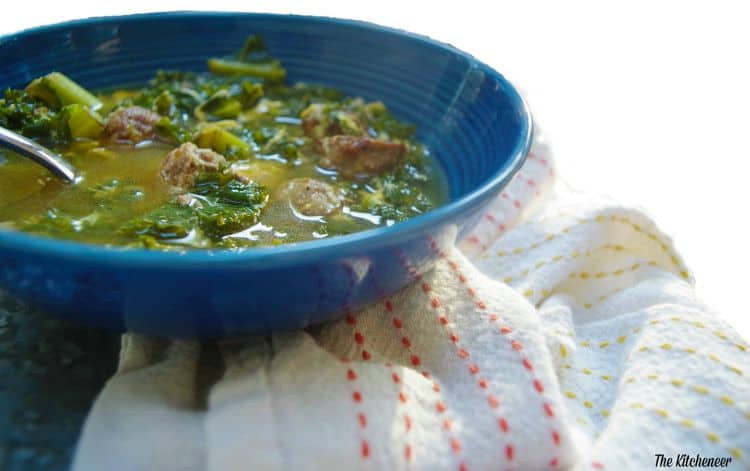 When most people think of Italian food they think of lasagna or pizza. There are actually a lot of delicious Italian foods out there that aren't even on the menu at a lot of these so-called "Italian" restaurants.
I grew up in an Italian house hold. A lot of fond memories around spinach manicotti, biscotti, Sunday Gravy, and one of my personal favorites: Wedding Soup.
I actually never looked up why it's called Wedding soup. Maybe it's just for special occasions?
I don't really need an occasion to whip up a batch of this soup. It's delicious. And its really good for you! It's packed with protein from the cute little meatballs and lots of leafy kale!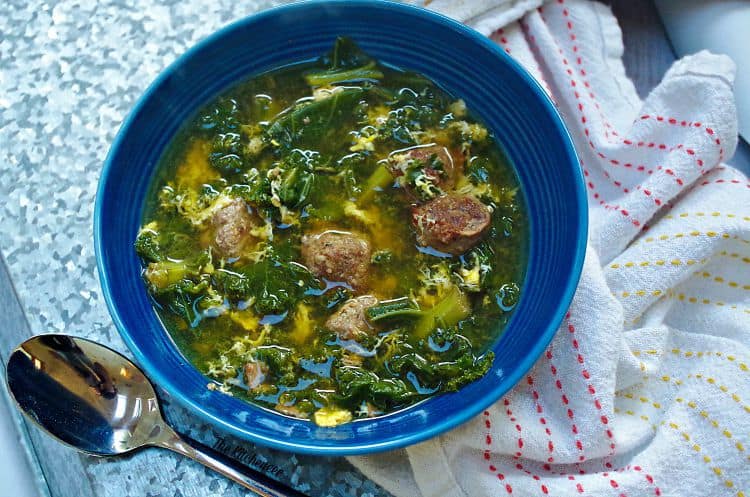 Kale is definitely one of my favorite greens and I try to shove it in a lot of my dishes wherever I can. But if you are not a kale fan, spinach is a great swap for this recipe.
Colder weather is not that far away, and I have been dreaming of this soup and wearing fuzzy socks while watching my latest NETFLIX binge: Hell on Wheels. Have you guys seen that show?! It's amazing. I swear AMC has the best writers.
It's been pretty busy around here recently, and I don't like it! Between being swamped at work, yard work, car work, blog posts, ebook work, house work, cooking, and the gym… I need a vacation. But I think all this hard work is paying off! My job is starting to recognize the hard work I do, even with my injury I have made leaps and bounds at the gym! I recently got my first Toes to Bar and a PR on my Hang Squat Snatch- 85lbs! So, yea I am pretty excited about those things, AND the ebook is on a roll! It could be launched as soon as next week! EEK! SO excited!
Anywho, let's get our soup on!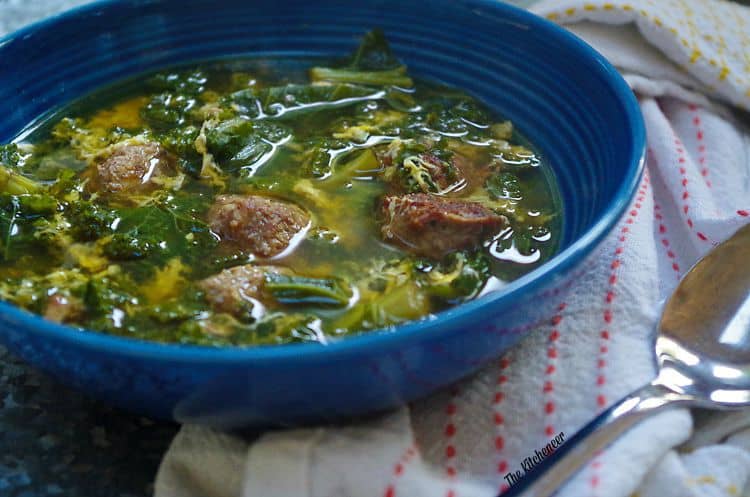 For the Meat balls:
1 lb ground beef
4 cloves of garlic, minced
¼ cup chopped parsley
1 teaspoon salt
1 teaspoon black pepper
1 egg
¼ cup of almond meal
1 teaspoon of onion powder
For the Soup:
64 oz of chicken stock
3 cups of chopped kale leaves
1 egg, beaten
Directions:
Preheat oven to 350
Mix all ingredients for meatballs in a bowl
Shape meat into the tiniest ball shapes
Place on a parchment lined baking sheet
Bake meatballs for about 25 minutes
While meatballs bake, heat a large sauce pan on medium heat
Add chicken stock and bring to a simmer
Add kale and let simmer for 10 mintues
While stirring continuously add in the egg
The meatballs should be done, add to the soup and stir
Enjoy!