While it's always a good thing to look to the future, it is also a very wise decision to also look at your past. Observe that I said "look at your past" not live in it. Learn from your mistakes, hiccups, and also look at how far you have come in just one year. Or heck, maybe it's been like 5 years or more to have come to this point.
Here is a look back on our year:
2015 was definitely a roller coaster and extremely busy. I was headstrong to become the person I knew was there but had some serious confidence issues. And if you take a look back at 2015's New Year's resolutions, you can see that I really wanted to gain confidence and I believe I am there! We started as a team with joining RARE Crossfit. By letting go of the past and taking care of ourselves for the first time in a long time we discovered how strong we really were. I never imagined myself as an athlete, but now I kinda see it ;).
We also kick off every year with our anniversary. I wanted to share the experience of NYC with my hubby. We had a BLAST! Can't wait to go back someday!
I FINALLY figured out my nutrition to stay on track this year. The Whole30 was the key to my success. By going cold turkey with sugar, grain, dairy, and other ingredients I discovered my weaknesses and how these foods affect my body in a negative way. I now stick to a Paleo diet with some dairy here and there…because I still love cheese. 😉
We ran our first race! The Historic 10k! This was such a big deal to me. I have always HATED running with the passion of a thousand suns but I have always secretly wanted to be a runner. I know. What a conundrum. So we trained and we ran. And I hated it about 90% of the time. But when it came to race day, we ran our hearts out and finished! This was my longest distance I have ever ran. EVER. Super proud of us!
I turned another year older…sad face.
And so did the kitties!
Max is 14 🙂
Abbie is 13
Doolittle is 9
Fifi is 4!
We went on vacay to the OBX. SO MUCH FUN. And I discovered that I get sea sick… not so fun.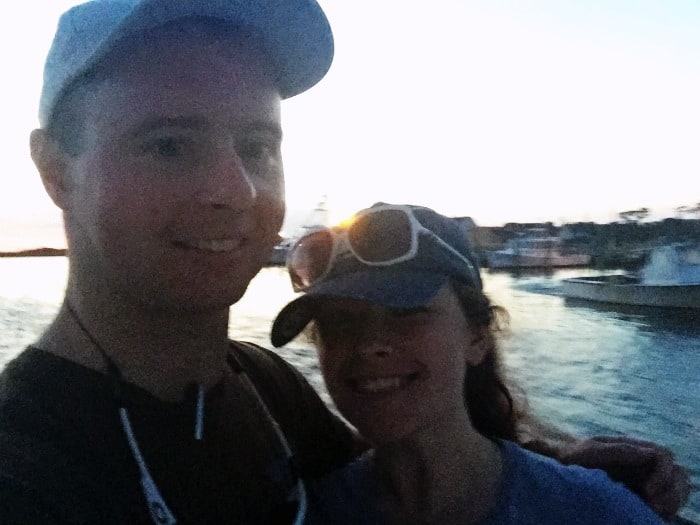 I ended up doing 3 Whole30's this year and plan to do several in 2016.
AND I broke my foot! OUCH! ( I still kept up with my WODs though!)
We both had career changes! Causing us to be very busy and change our gym schedules!
Jake turned another year older! I love you!
We celebrated the holidays with family and friends.
We also sadly lost a loved one. Jake's grandmother passed away earlier this month. She was a sweet, wonderful, caring, and loving mother, grandmother, and wife. She is dearly missed.
We ran another race!
We had a wonderful Christmas together and will bring in the New Year together as well. Always.
Now for 2016!
NEW YEAR'S RESOLUTIONS!
Spend more time with bae.
With our hectic work schedules, gym schedules, meal prep time, I want to dedicate at least one day a week to spend quality time with my husband. Starting with our 3rd Anniversary next weekend!
Get FITTER than ever!
I have been going to CrossFit for over a year now and I am still in love. I love the results and I want to continue to push myself even harder this year. To do this, I have signed both Jake and I up for the Superfit Games. Guys, I am SO excited/super nervous about this! It's our first CrossFit competition and I want to do our best. I don't even care about placing. I am just super proud that we signed up and we will bust our asses to do our best on game day!
We also plan on participating in the CrossFit Open WODs like we did last year at RARE.
Doing The Color Run 5k in Norfolk is on the list this year with my momma! SO EXCITED!
Already pre-registered for the Christmas Town Dash 2016
AND….drumroll…. We plan on signing up for the Marine Corp Half Marathon…. I know.. What am I thinking? I'm thinking that I am only half crazy. 😉
And who knows what else lies in store!
NUTRITION
If I have learned anything at all from 2015, it's nutrition. I have learned how to fuel my body the right way for the first time in my life! I plan on continuing what I have been doing. Paleo meals, meal prepping, and tossing in Whole30's to spice it up! Nutrition is key to the results you want. Like if I kept my nutrition on point, I could not exercise and still get results. However, I want my muscles and my booty! But you CANT outrun a bad diet. So here's to rolling on with a good thing!
Reign in my people pleasing tendencies
I have an issue with saying "no". I always try to please everyone and sometimes at the expense of my own happiness. This year I plan on practicing saying "no" and compromising during different situations.
SLEEP MORE!
I am really going to commit to getting more than 7 hours a sleep every night. I not only feel better, my skin is healthier, my hair is shinier, and it definitely helps in the weightloss dept. Overall, more sleep = a not so cranky Amanda.
Stop Comparing
I have a very bad habit of comparing myself to others. It not only feeds my already bad self image issues but it's just another reason to get worked up over nothing.
I shouldn't compare myself to that girl who can run 10 miles and makes it look easy. I shouldn't compare my body with someone elses. We are all different. So from now on, if I have the urge to compare, I am just going to think of 3 things that I am awesome at. Cause I am pretty awesome in general 😉
Give More
I want help those with less. Stuff we take for granted everyday. We forget how blessed we are and mostly live with our heads up our butts. I want to give to those in need and perform random acts of kindness this year and every year.
Relax more
I also have the nasty habit of feeling rushed, anxious, and busy ALL THE TIME. It's exhausting. I am really going to commit to taking a breather. Have a bubble bath and read a good book, listen to the rain, snuggle with a kitty, Netflix and chill, you know the basics.
What are your New Year's resolutions?
Did you stick to your resolutions last year? If not, why?