Whole30 Part 4 and SuperFit Nationals No, this isn't going to be a recipe post. But I really wanted to just have a post where we catch up. Relax in a cozy chair with a cup of hot tea in your hands and just chat.
Jake and I have had quite the busy year so far and we are only just beginning with second month of the year! After celebrating our anniversary, we buckled down and started spending some of our weekends making recipes, photo shoots, and working on the blog layout for a cleaner look as well as speeding it up some!
If you take a look above, you will notice a new tab "Cookbooks" this has our first e-book that's FREE for download. It's full of quick clean recipes that can be made under 40 minutes that are NOT on the blog already! So take a peek and come back!
We also decided to host our very first Kitcheneer Cooking Class! It was a blast! I wanted the opportunity to actually have a non-virtual conversation with our local friends and neighbors and teach them how to make the perfect steak!

Especially with Valentine's Day this weekend, I'd say this recipe would make a great homemade meal to impress your date! We all had SO MUCH FUN that I think I might offer another cooking class in the near future! I'm thinking "The Art of Mason Jar Salads" 😉

With all of this going on Jake and I were wrapping up a Whole30! This is my fourth one and Jake's first! And guys, I AM SO PROUD of him for doing this with me! He has been easy going about this and I feel so lucky to have the BEST support system in the world! This Whole30 was great for me! I lost more inches, I feel energetic, and I just love this lifestyle! I am in the reintroduction phase now so today I get to eat peanut butter (which I have missed dearly). And not only did we do a Whole30, but Whole30 featured us last week on their website for Super Bowl Sunday Chili Party! WOOT!
Now it's time to get sappy on you 😉

As you know we are both avid CrossFit addicts. And this past weekend Jake and I competed in our first competition: The SuperFit Games Nationals. I was SUPER nervous leading up to it. As the week went by the workouts were announced (there are 3 or 4 if you make it as a finalist). Jake and I made extra time to go to the gym to work on our goats like hand stands and pull-ups. I didn't care about what kind of score we would get, just excited for the experience! And boy was it an experience!
We got there Sunday around 7AM to check in and get settled before the games started around 8. We warmed up and before we knew it, it was show time.
First workout:
Get a 1 Rep Max on a Clean & Jerk

There must have been adrenaline pumping through both of us cause we both PR'd our C7Js!
I got 115# and Jake got 210#!!! So proud of him!
The Second Workout kicked my butt!
1 5 min AMRAP of 7 calories on the assault bike (aka the stationary bike from hell) and 7 box jumps

My legs were toast after doing the assault bike that it took all I had to not miss my box jumps!
But we punched through it to the second half of the workout which was another 5 min AMRAP of 7 pullups and 7 deadlifts at 155#.

BOOM
The third workout was:
50 hand release burpees over the bar
25 over head squats
50 wall balls
25 snatches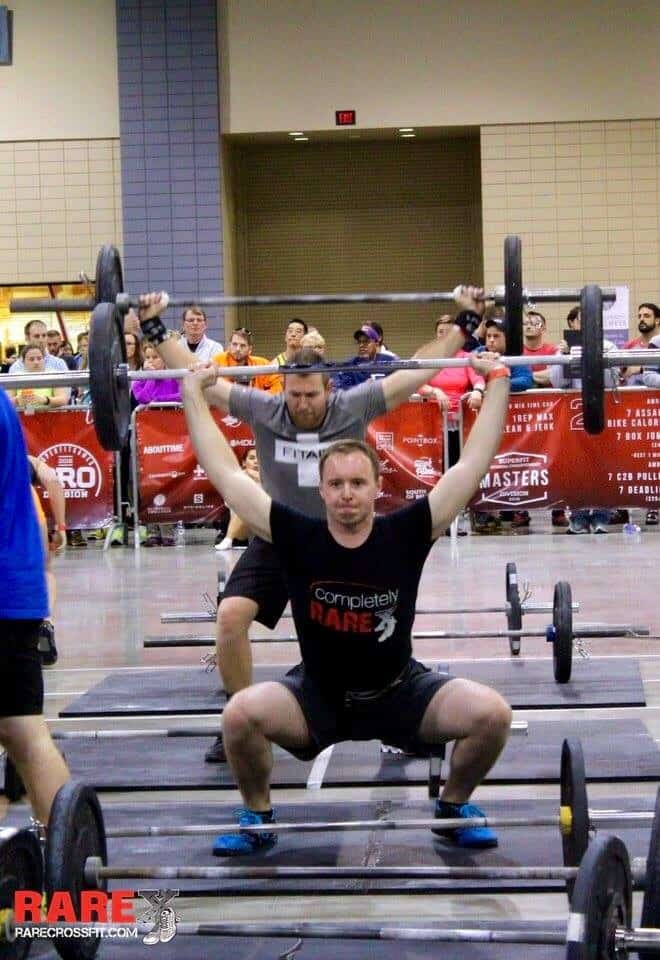 With a 7 min cap. Let's just say we made it through to the wall balls before time was called. Which was OK in my book! I had a blast and it was such a great experience to work with my husband throughout this whole thing. We supported each other, cheered each other on and had our RARE Crossfit community screaming their support from the sidelines! Let's just say, I will be signing up again next year!