We truly are steak lovers at our house. A lean cut of flank steak has always been our go to choice on a weekly basis. Because well its steak and we also buy it in bulk once a month at Costco to save money.
However, I have recently been exploring other types of meat. Which led me to bison. I never would have thought to try bison except for all the drooling pictures I see on all the Paleo Instagram peeps I follow.
I discovered the Honest Bison Company and decided to order some! I like that the bison are raised on an open pasture and are treated humanely prior to…well… you know… We got the package on our door step. Can I just say that there are few things more exciting than receiving a box of meat on your door step? It's freakin incredible.
We ordered tomahawk steaks, NY strips, bones that I used in bone broth in a previous post, and bison burgers. LOVE.
I was really excited to make bone broth for the first time but I was REALLY excited about those tomahawk steaks. I referred to the Honest Bison website for cooking methods and decided to go the route of a sauté then broil.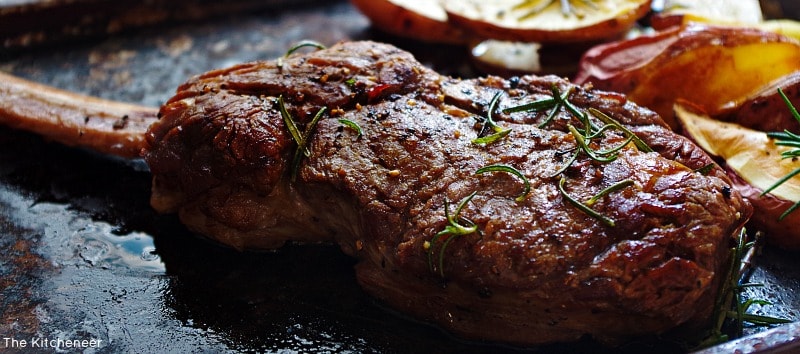 These steaks…were phenomenal! And no, I am not being paid or anything to say how awesome these steaks are. I just felt that they deserved a shout out for a high quality product.
I seared the steaks in a hot pan with a little avocado oil. Then seasoned with a bit of salt and pep. Then as they were finishing I poured some ghee butter with thyme and garlic to seal in the flavor.
SO GOOD.
I bet you thought about licking the screen. Go ahead. No one's judging.
Bison is one of the leanest cuts you can buy and packed with protein. It also makes a great option for grilling with just a quick sprinkle of salt and pepper you are good to go. This cut of beef/bison doesn't need much seasoning. Just a little bit of S&P and its good as is. I am not one to drown a perfectly good steak in a ton of seasoning. It takes away from its gloryousness!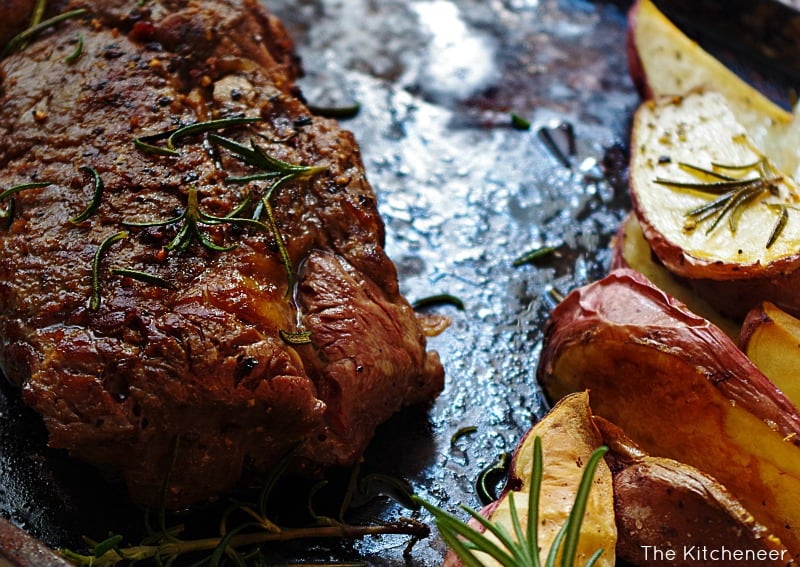 I served this baby with a side of roasted rosemary potatoes. And with summer coming up, instead of searing in the cast iron, take it outside to grill. Just melt the ghee and add the thyme and baste the steaks as they sear!
Bison Tomahawk Steak
Author:
Prep time:
Cook time:
Total time:
Bone-in rib eye is juicy and seared to perfection and bursting with flavor from natural herbs. Perfect for those special occasions or for anyone who LOVES steak!
Ingredients
2 tomahawk steaks (also known as bone-in rib eye. I used bison, but a beef bone-in rib eye is great too!)
1 tbs avocado oil
Salt and pepper to taste
1 tbs ghee or unsalted butter
5 sprigs of thyme
4 garlic cloves, minced
Instructions
Preheat broiler to low
Heat a large oven proof skillet (like cast iron) on medium high heat
Wait until pan is smoking then quickly add the oil and swirl
Place both steaks flat in skillet immediately after the oil to prevent the oil from burning
Season steaks with salt and pepper while in pan
Sear on all sides for 3-5 minutes each. Or until there is a nice brown crust on all sides
Add ghee,thyme, and garlic swirl the skillet to coat
Spoon ghee mixture over the steaks by tilting the skillet towards your body allowing the juices to pool to one side.
Transfer the skillet with steaks to the broiler for 3-5 minutes
Depending on what temperature you like your steak, they should be done and ready to serve!
***I prefer my steaks medium and these are the time increments I used***