[This post was made with the help of my friends Jennieo. The products were supplied by Jennieo to create this recipe. All thoughts and opinions are my own.]
Before I say anything further, I must ask, "What is this big burning fireball in the sky?" Should I fear it? But in all seriousness, the SUN IS OUT PEOPLE! It has been a looooooonnnnnnnggggg month of non-stop rain here in Virginia. I don't know how the folks in Seattle function without the sun most of the time. I love my sunshine!
So here's the deal.
Somewhere between Monday and this weekend, the weather decided to act like it was spring. Most mornings I didn't even know what to put on. Do I need a jacket? Or just a short sleeve top? Very confusing.
But with warm weather my taste buds embrace all things Spring! Bright and healthy foods have been on replay in my brain and I can't even wait to share this new burger recipe with you!
It's as if this burger went on a trip to Hawaii with its grilled pineapple bottoms and its avocado hat. I'm jealous. Even I have never been to Hawaii. I really want to go to Hawaii… Can someone please tell me about their tropical trip so I can live vicariously through you?
What's so great about this burger is how EASY Jennieo makes it for you! I literally took them out of their package and slapped them on the grill. 3 minutes per side or until 165⁰. That's it.
I sliced some pineapple with my OXO pineapple cutter (seriously good buy) OXO Good Grips Stainless Steel Ratcheting Pineapple Slicer with Depth Guide

and plopped them on the grill next to some halved red bell peppers.
While the fruit and veggies were grilling, I sliced an avocado very thinly. Is thinly a word? If not, it is now!
Pile the burger up as you please!
Butter lettuce + red bell pepper + pineapple+ turkey burger+ avocado slices = at least two happy faces.
I was in the mood to fork my burger, but by all means please add a bun if your heart desires it!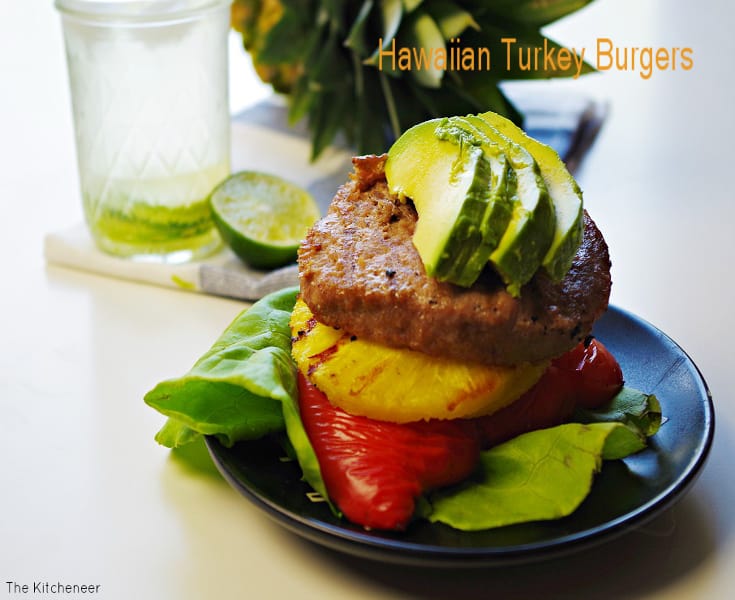 Hawaiian Turkey Burger
Prep Time: 10 minutes cook time: 10 minutes
Total Time: 20 minutes
Calories: 230 Fat: 10g Carbs:9.6g Protein: 21g
Ingredients
Turkey Burger Patties (Jennieo)
½ an avocado, sliced thin
1 pineapple, sliced thin
Butter lettuce
Bun (optional)
Cilantro (optional garnish)
Instructions
Preheat your grill to medium heat (roughly 350⁰)
Place burger patties on grill for roughly 3 minutes per side until it reaches 165⁰
Add the red bell pepper slices and pineapple.
Grill for 4 minutes per side
Build your burger how you like and enjoy!
If you make this recipe, be sure to tag your photo #thekitcheneer
Hawaiian Turkey Burger
Author:
Grilled Turkey burgers cooked to perfection topped with some of your favorite Hawaiian influenced flavors!
Ingredients
Turkey Burger Patties (Jennieo)
½ an avocado, sliced thin
1 pineapple, sliced thin
Butter lettuce
Bun (optional)
Cilantro (optional garnish)
Instructions
Preheat your grill to medium heat (roughly 350⁰F)
Place burger patties on grill for roughly 3 minutes per side until it reaches 165⁰
Add the red bell pepper slices and pineapple.
Grill for 4 minutes per side
Serving size:
1 burger
Calories:
230
Fat:
10g
Carbohydrates:
9.6g
Protein:
21g