[I was provided with the product from my friends at Bob's Red mill. All thoughts and opinions are my own]
Help me out. I am REALLY wanting to make "Mason Jar Monday" a thing. So if you make this, tag your photo with #thekitcheneer as well as #masonjarmonday. Trust me, it's what all the cool kids are doing.
I mean just because the salad is in the mason jar makes me want to eat more salad. And that's a wonderful thing. Cause sometimes too much salad is too much salad. But if its in a mason jar, it just looks better.
But before I dive into this recipe, how was everyone's weekend??? Do anything fun with the family during Memorial Day?
Jake and I took the day off work on Friday for a MUCH NEEDED 4 day weekend. We kicked it off by going to Busch Gardens! So.much.fun.
And Saturday was spent mainly in our PJs and working on our new MAC BOOK PRO! We are doing some serious behind the scenes work on the blog to bring you better services, newsletters, local cooking classes and more! Stay tuned!
Now, let's get to this salad. Nothing (well minus a few things) is better than looking into your fridge on a Monday morning to see it not only stocked with food. But food you have already prepped the day before. ESPECIALLY in a mason jar! I mean look at the layers. THE LAYERS. It's pretty satisfying.
I haven't played around with lentils too much, but I decided that a salad was the fate of these gorgeous legumes. I boiled them per package instructions then tossed them with a bit of lemon juice and some kosher salt. Perfection.
I also decided to take advantage of our herb garden and made a quick pesto sauce to toss some cooked chicken I had on hand. EASY PEASY.
The next part was fun! LAYERING! Start by putting the pesto covered chicken at the bottom. It will marinate even further and taste BETTER tomorrow for lunch! Then add some halved cherry tomatoes. Then the red onion, the lentils, and finally some spinach.
Now admire your creation. Store it in the fridge for lunch tomorrow and bask in its glory when you literally dump it into a bowl and see how marvelous it looks.
Pesto Chicken and Lentil Mason Jar Salad
Prep time: 15 minutes Cook time: 20 minutes total: 40 minutes
Serves:2-3 Calories: 438 Fat:20g Carbs:26g Protein:19g
Ingredients:
1 5oz chicken breast, cooked and cut into cubes
⅓ cup avocado oil
2 garlic cloves
3-4 basil leaves
1 teaspoon of kosher salt
2 tbs lemon juice
½ cup of lentils (Bob's Red Mill)
2 cups spinach
¼ cup red onion, diced
½ cup cherry tomatoes, halved
Instructions:
Cook chicken in any method as desired until cooked to 165⁰. I grilled mine
While chicken is cooking, cook lentils per package instructions
Cut chicken into cubes and set aside once cooled enough to handle
Prep all veggies
In a food processor, pulse the oil, garlic, salt, 1 tbs lemon juice, and basil until smooth
Toss chicken with the pesto.
Toss cooked lentils with lemon juice and salt and pepper to taste
Layer your salad as follows:
Chicken first
Then tomatoes
Then red onion
The lentils
Top with spinach
Enjoy!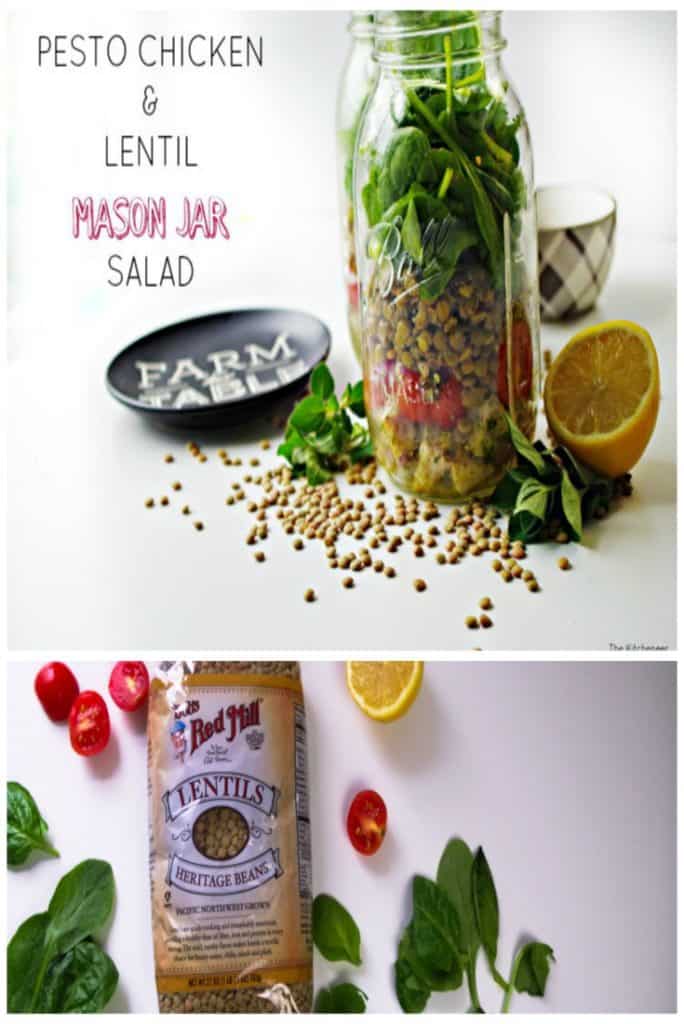 If you make this recipe, be sure to tag your photo #thekitcheneer
Pesto Chicken and Lentil Mason Jar Salad
Author:
Prep time:
Cook time:
Total time:
Ingredients
1 5oz chicken breast, cooked and cut into cubes
⅓ cup avocado oil
2 garlic cloves
3-4 basil leaves
1 teaspoon of kosher salt
2 tbs lemon juice
½ cup of lentils (Bob's Red Mill)
2 cups spinach
¼ cup red onion, diced
½ cup cherry tomatoes, halved
Instructions
Cook chicken in any method as desired until cooked to 165⁰. I grilled mine
While chicken is cooking, cook lentils per package instructions
Cut chicken into cubes and set aside once cooled enough to handle
Prep all veggies
In a food processor, pulse the oil, garlic, salt, 1 tbs lemon juice, and basil until smooth
Toss chicken with the pesto.
Toss cooked lentils with lemon juice and salt and pepper to taste
Layer your salad as follows:
Chicken first
Then tomatoes
Then red onion
The lentils
Top with spinach
Serving size:
1 jar
Calories:
438
Fat:
20g
Carbohydrates:
26g
Protein:
19g