Ok people;let's talk about brisket.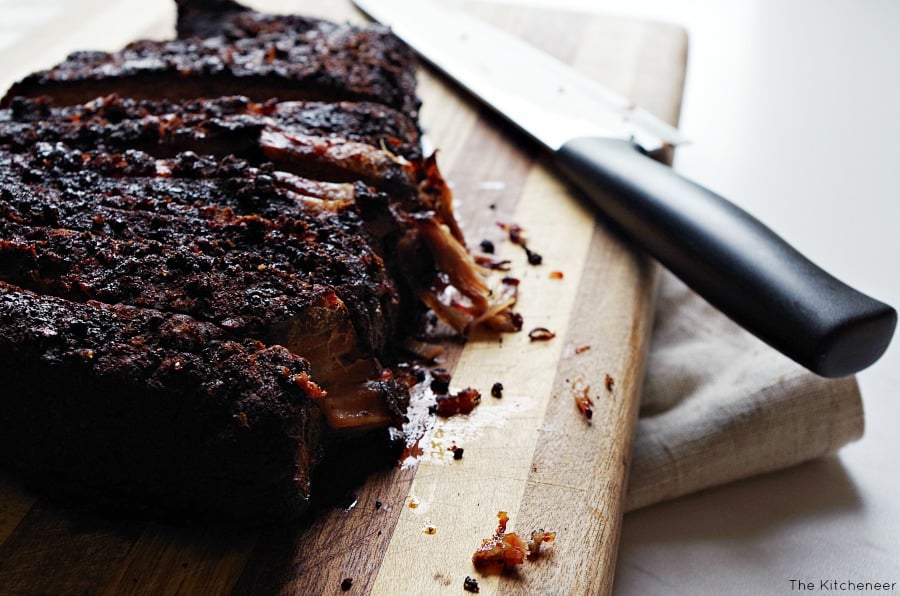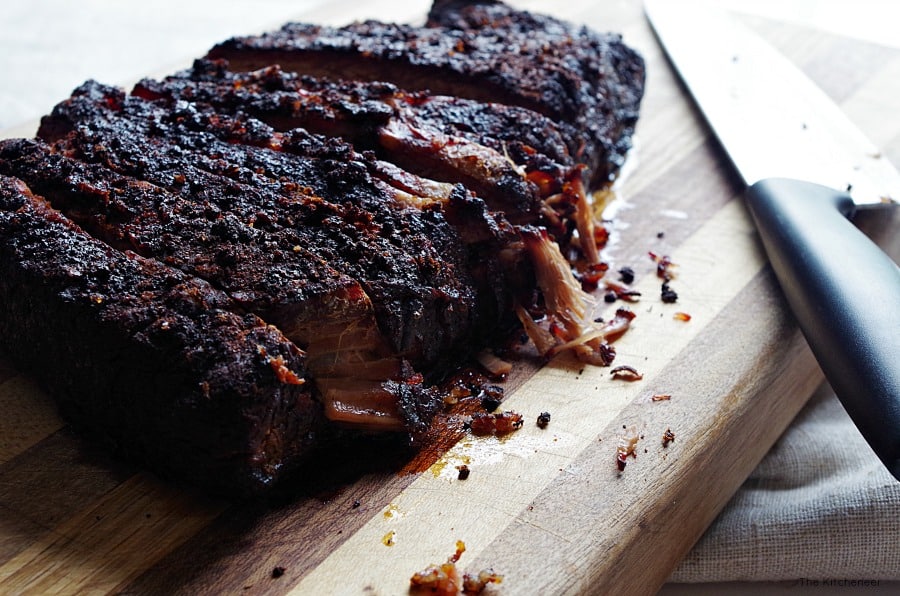 But first let's talk about that its already the last day of August! Where has the year gone already?!
The sun's out and that usually means the grill is out too. Well, for us we grill all year round 😉
How about you? Are you excited that grilling "season" is back? I know I got excited last weekend when Jake and I were standing in line at Lowe's (buying a new fridge- more on that in a minute) and I see SO many food magazines with cedar planked salmon and fresh salads and ALL THE GRILLED meats!
During the summer most of our proteins are usually grilled. I LOVE IT. It's simple, easy, and tasty! GIMME some meats!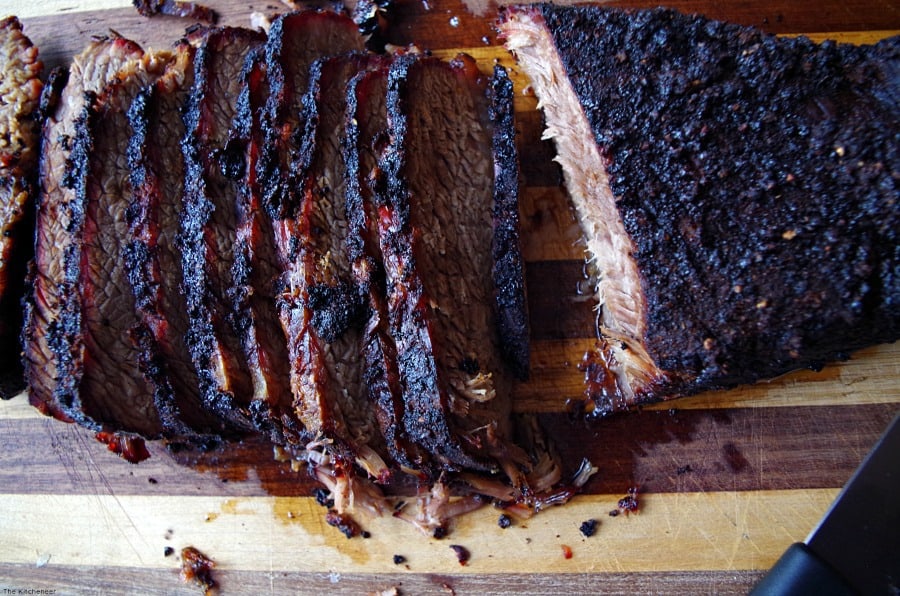 About a month ago we were at Costco and came across some great looking brisket cuts. If you don't know already; Costco is a wonderful place to get high quality meat! We go there once a month and stock our freezer with meat for the month. It saves us a TON of money on our grocery bill!
Anyways, we bought the brisket and decided we wanted to smoke it. However, we have a gas grill and not a smoker. We got creative.
Hickory wood chips were soaked in water and placed over low heat on the grill and the brisket remained on the unlit side of the grill for roughly 6 hours. Yes. This beauty is sort of high maintenance but so worth it. However, leave it on the grill on a slow Sunday and it's a pretty low key meal to keep an eye on every few hours. I basically binged watched Game of Thrones while the brisket smoked outside.
Now back to our fridge issue. Our old fridge that came with our house crapped out on us last weekend. Boo. However, Jake and I discussed that if we bought our own fridge now it will be one less expense when we buy our first home next year. SO EXCITED about our new fridge!
Back to the brisket again. After smoking low and slow all day on the grill. Let it rest for 45 minutes covered in aluminum foil. Keep those juices SEALED just a little but longer.
This brisket was smoky, fell apart with a poke of a fork, and smelled like you were at a North Carolina BBQ pit. It was drool worthy and was little effort on my part. All it required was some time on the grill.
And as far as cuts of beef go, brisket is one of the cheapest cuts. And for this much flavor? Not a bad deal in my book.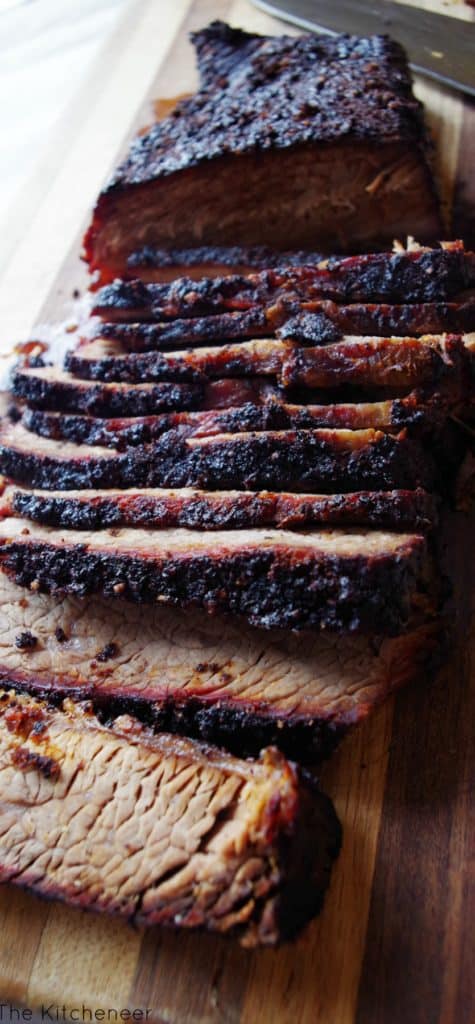 Again, most of my recipes I make have meal prep in mind. This brisket was HUGE and we ate it for dinner on Sunday with this Heirloom Tomato salad and a small baked red potato. And the rest we saved for lunches throughout the week. It's ultimately a TIME SAVER! <- true story
Impress your guests with this crowd pleaser- Smoked Brisket is grilled low and slow on a gas grill with hickory wood chips infuses with the meat to give it that smoky flavor without the smoker!
Again this brisket is NOT intimidating. Just marinate, smoke, then eat!

Let the summer grilling commence!
If you make this recipe, don't forget to tag your photo with #thekitcheneer!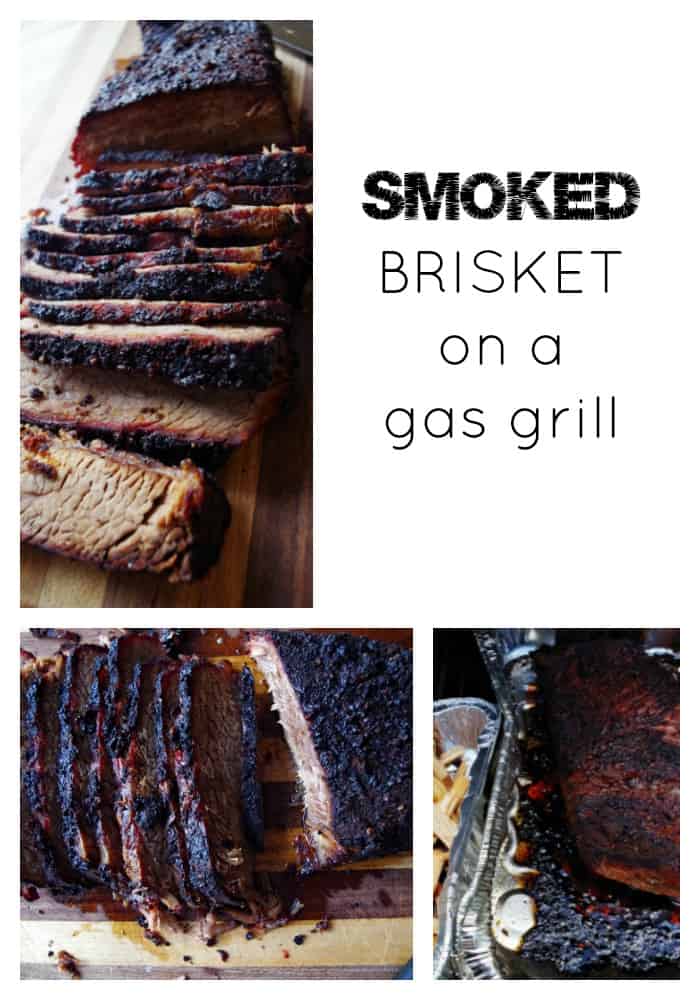 Save
Save
Save
Save