Love is a wish-Hers
Your heart made come true-His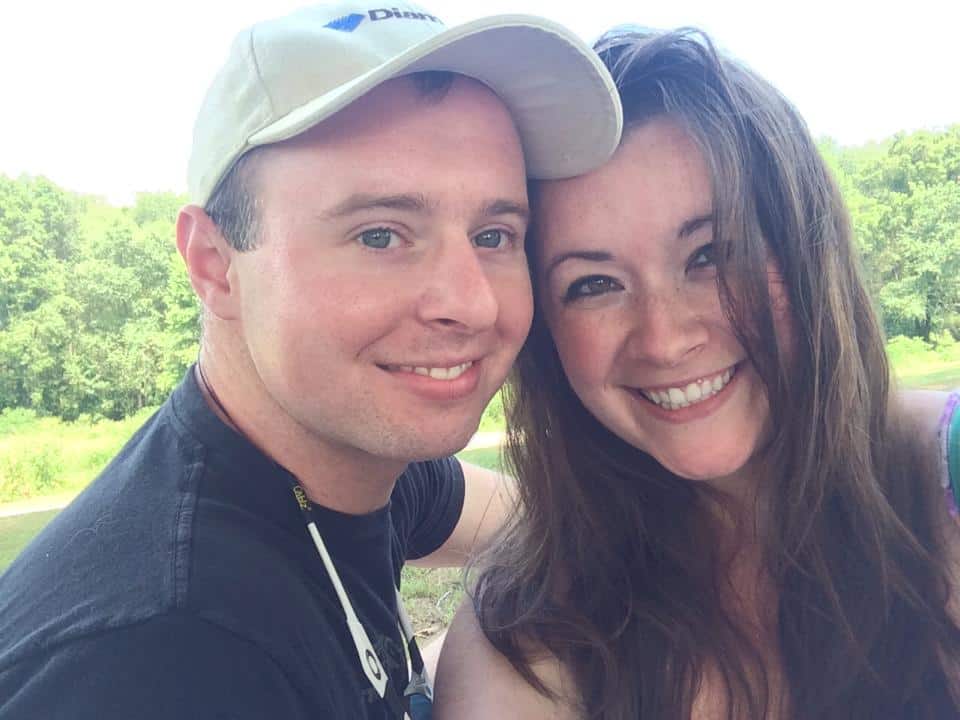 This is what is engraved on our wedding bands and it tells our story so well.
In the spirit of Valentine's Day I thought I would share ours.
Summer of 2008
Was probably the WORST summer of my life. I was working at Panera Bread, dating (ugh. Hated it)-and a pretty nasty guy in the mix. Needless to say by the end of that summer I was over it. I was ready to be single and focus on my sophomore year in college.
God had other plans. Because within the first month of the semester I fell in love.
I was sitting in the cafeteria on campus with a few friends and she mentioned this guy Jake who was in her classes. She said that I should meet him. I inwardly rolled my eyes. But luck would have it, that Jake was on a mission to get some HDMI cables for his TV and just happened to be tunnel-visioning it back to his dorm through the cafeteria.
My friend yelled out his name and it broke his trance. He came over and sat right in front of me. And the conversation came easily and before I knew it he was bragging about how he could make the BEST blackened tuna. Feeling ballsy, I told him to prove it- I was SO over guys playing games- and he said," How about Friday?"
And Friday was my last first date :). He made NY strip instead because he couldn't find decent tuna steaks in downtown Norfolk. They were delicious.
I told my mom that week that I was going to marry him. To say she was shocked would be an understatement!
You see, the reason our rings quote Cinderella (well I changed the word "Dream" to "Love") is because as far back as I can remember on every birthday candle I wished as hard as I could that I would find my soul mate someday. Every. Year. Now, I knew I wouldn't meet him at the ripe old age of 10, but a girl can dream right?!
I also can relate to the Cinderella story because Jake rescued me. I won't go into too much detail here, but my family was going through a lot with my parents divorce. It was very ugly and I was getting pulled into it. Mean things were said, sides were supposedly chosen, hearts were broken, I didn't know which way was up. Jake was my rock. I remember being so afraid to open up to him about this stuff because I didn't want to scare him off. Little did I know, that he loved me so much that nothing scared him if I was involved. So now, I always picture him as my knight in shining armor.

2009-2011
The college years.
I moved in with Jake and it was as easy as breathing. It was effortless. And I couldn't be happier.
We worked our butts off! No parties for us. And we pushed each other to the limit to reach our goals. He was completing an Aerospace Master's program and I had just graduated with my mechanical engineering degree with my first job a week after!
I worked that year while he finished his thesis. To say that Jake is a genius is an understatement! He blows me away every day! I have my own personal Sheldon 😉 JK
August 18, 2011
I wake up to the smell of coffee and loud noises coming from outside our room. I go out to find Jake, our bikes on the floor, and a mug of coffee thrust into my hands. He said we were going on a trip. I was excited and quickly got ready.
We hopped in his 87 Toyota pickup (with no AC) and he drove us 5 hours south to South Port,NC. This is literally the CUTEST place I have ever been. And then he tells me it's where A Walk to Remember was filmed. SWOON.
He then starts acting really weird. No eye contact and talking in third person weird.
After riding our bikes around in the hot and humid town, I was ready to take a break and sit in some AC for a little bit. But, he said he wanted to take a walk on the beach.
I agreed if it was only a short walk. Because it was late August and HOT!
We walked forever. I had no idea where he wanted to walk to, only that the sand was burning my feet. We kept walking until there was absolutely no one around us.
He got down on one knee and pulled out the box with the most gorgeous ring I have ever seen! I squealed and jumped into his arms saying, "YES!"
Best day of my life.

January 9, 2013
We had a longer than normal engagement. Because we were poor and were paying for the wedding costs ourselves. We waited until we had enough saved and booked a Wedding Moon at Sandals Antigua. It was just the two of us flying down. Our families knew, but it would have been too much drama to have everyone there so we had a reception after the fact.
And our day couldn't have been more perfect.
We were in paradise and I kicked him out of our room that day so we could spend the day separately before the ceremony. I wanted to be somewhat traditional. 😉
I was so calm all day long but so excited too! I couldn't wait to marry my best friend! FINALLY it was time to get my hair and makeup done. Then when it was time to put on my dress, the lady helping me took off with my dress exclaiming I couldn't wear it!
I was freaking out because I was supposed to be getting married in 30 minutes!!! She then dialed my room to say she was steaming it. She could have said that before!
I walked to the garden and saw him. And forgot to take off my Old Navy sandals that I was wearing. His smile was the only thing I saw. It was the most beautiful day of my life.

And afterwards we did our favorite thing. Drink coffee. 😉

2013-2017

We really have been living our happily ever after. Through jobs, loss of loved ones, vacations, and long work days. The best part of our day is seeing each other. And I am so happy I have this guy to grow old with!

I love you Jake! Happy Valentine's Day!