In case you haven't noticed but I have been on a Southern kick.
Hope that's ok! Have you been enjoying some of these southern flavors??? Let me know and I might stop. Maybe…
And recently I have been inspired by Nashville. Not because I have been there. I REALLY want to go someday but actually I was inspired by our absolutely FAVORITE YouTube channel Hellthy Junkfood. These guys are HILARIOUS. And they are usually all about making GIANT versions of junk food like GIANT grilled cheese. Ok, I am drooling.
But there was an episode where JP and Julia made Nashville style fried chicken and I was glued to the screen taking in all the flavors they were using. But at the same time wondering if I could make this Whole30 compliant?
Well, one thing turned into another and now Whole30 Nashville Chicken is on the internet.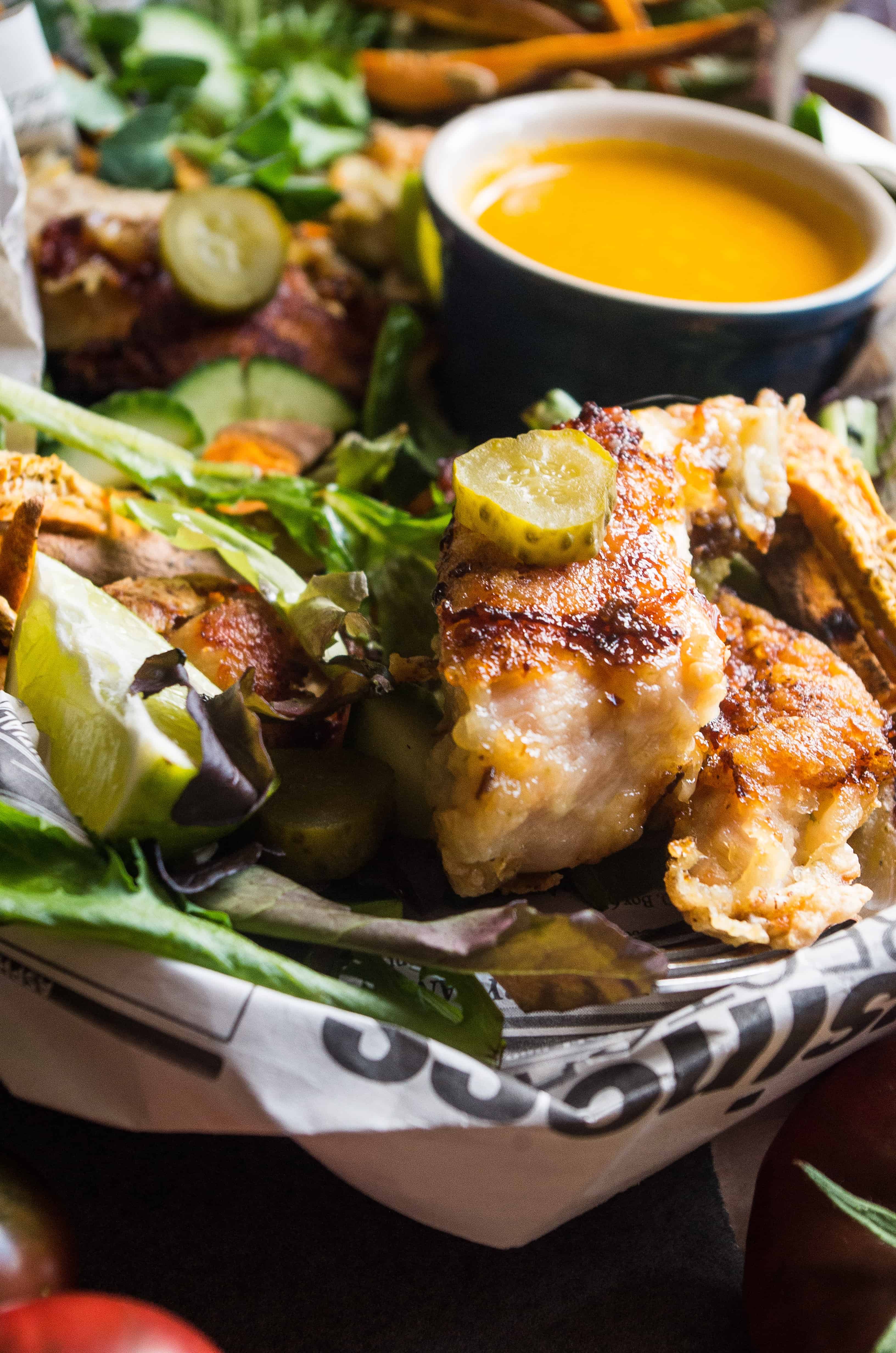 I swapped whole milk for coconut milk in the marinade and almond meal for flour.
Easy peasy.
I also used WAY less oil to "fry". I basically got the pan SUPER hot and added 2-3 tbs of avocado oil and let the chicken get a nice crispy sear. Then I finished it in the oven.
Best part? Once the chicken is done marinating from the night before, it's done in 30 minutes!
And I also made real coconut buttermilk so it's pretty close to the original southern style chicken.
Now I know coconut buttermilk sounds funky. But all buttermilk is, is milk that has been treated with vinegar and allowed to curdle.
I applied the same science here. I added some apple cider vinegar to 1 cup of coconut milk and let it sit for 10-15 minutes. Instant coco-butter-milk.
Then to top it all off is THE BBQ sauce.
I used the oil drippings from the pan and added a teensy bit more oil and more spices plus some dates to sweeten things up a tad. It's tangy and slightly sweet. Basically you will want to make an extra batch just to keep in a mason jar in the fridge.
I tossed the chicken in the sauce to coat. Annnndddd I am officially hungry again.
And if the chicken wasn't enough on its own. (Which it is BTW)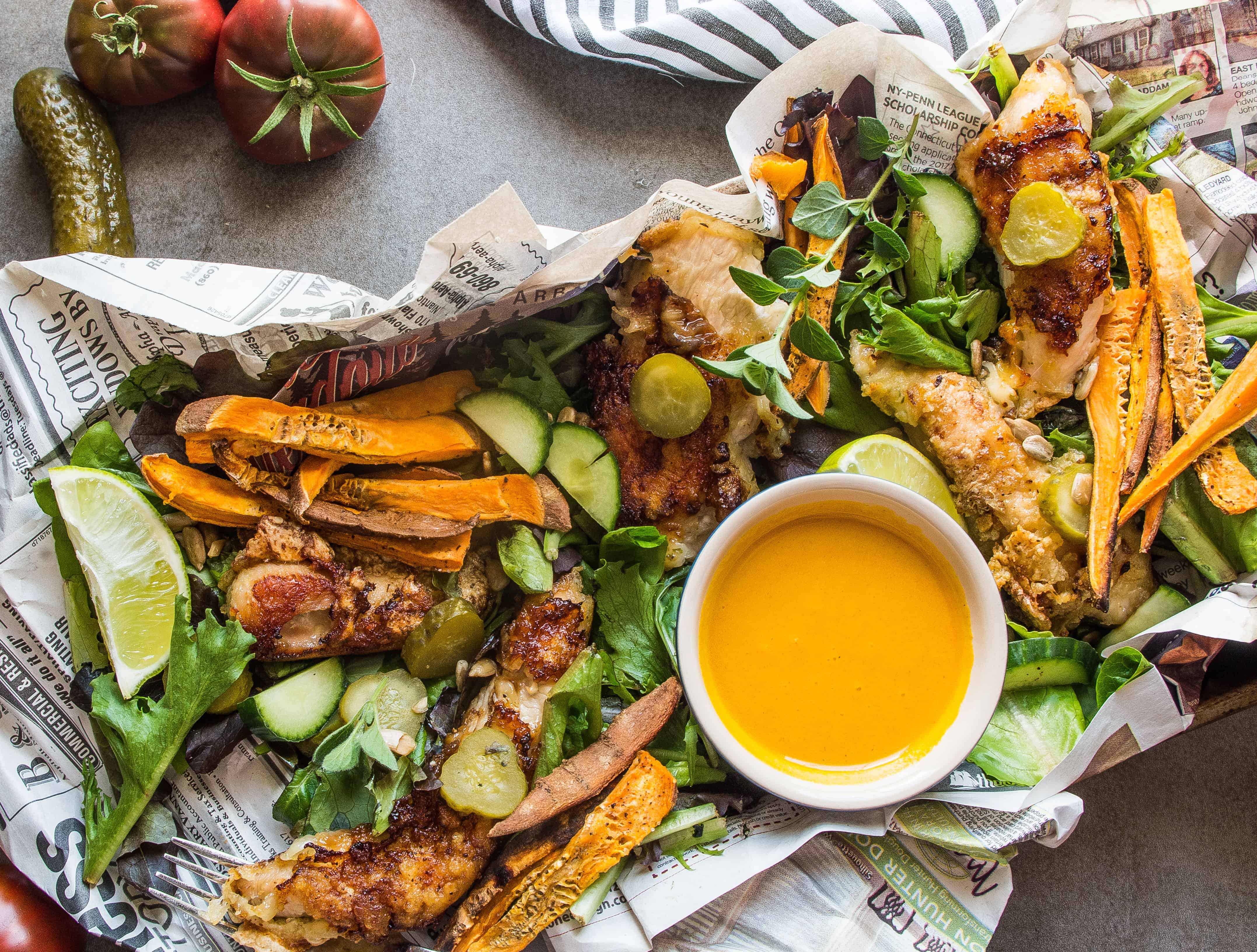 I decided to take it a step further and put on top of a big ass salad. And no, I am not apologizing for the language.
This big ass salad has all my southern BBQ favorites thrown in.
Spring greens topped with pickles, sunflower seeds, cucumber, fresh herbs, and crispy sweet potato straws.
Drizzled with this Hot Mama Sauce. Because you NEED more heat. Made with natural ingredients like yellow peppers, olive oil, tahini, and habanero…. Muwahahaha
It's all the greens, plus your complex carb (sweet potato),
Its BBQ summer approved, Whole30 approved, and husband approved.
So, now that you have your Friday night dinner plans…when can I come over?
What are we watching? I'm planning on watching Deadpool…again. 😀
Save
Save