I'm feeling take out fake out is in order this Sunday night!
Guys, it's been crrraaaaaazzzyyy busy here the past few months. Like, I have been stressed out to the MAX. Annnnndddd have had zero time/motivation to write posts.Why the 2+ long month hiatus?
Well we lost our beloved Abbie girl late last year after we found out she had colon cancer 🙁
We bought a new house!!! I will do a separate post to share all the deets! All you need to know is we love it and it's been so fun getting a few of the rooms the way we want it. Still a long way to go!
Longer commute to work which has left me with like NO energy to write blog posts (SORRY!!!)
Lot's of family stuff that I will keep private for now.
We are also planning on doing a complete DIY on so many things in our new house. I am thinking about documenting it here on the blog. What do you think? Maybe start a DIY page?
So far we have:
Painted the dining room with our new sprayer (holy moley that thing makes painting quick!)
Renovated the home office and styled it with industrial meets farmhouse decor (SWOON)
Organized and turned half of our garage into our very own Crossfit gym!
Next project is to completely renovate the living room (new fire place, floors, and wall removal!)
So basically, I have been obsessed with all things Chip & Jo and have deeply considered moving to Waco,TX so they can do our house! JK 😉
Anyways, that's what's been going on in our lives. What weekend plans do you have? Cause I can tell you right now mine is full of working out in our gym and finishing up some other house projects! Oh, the joys of our first home!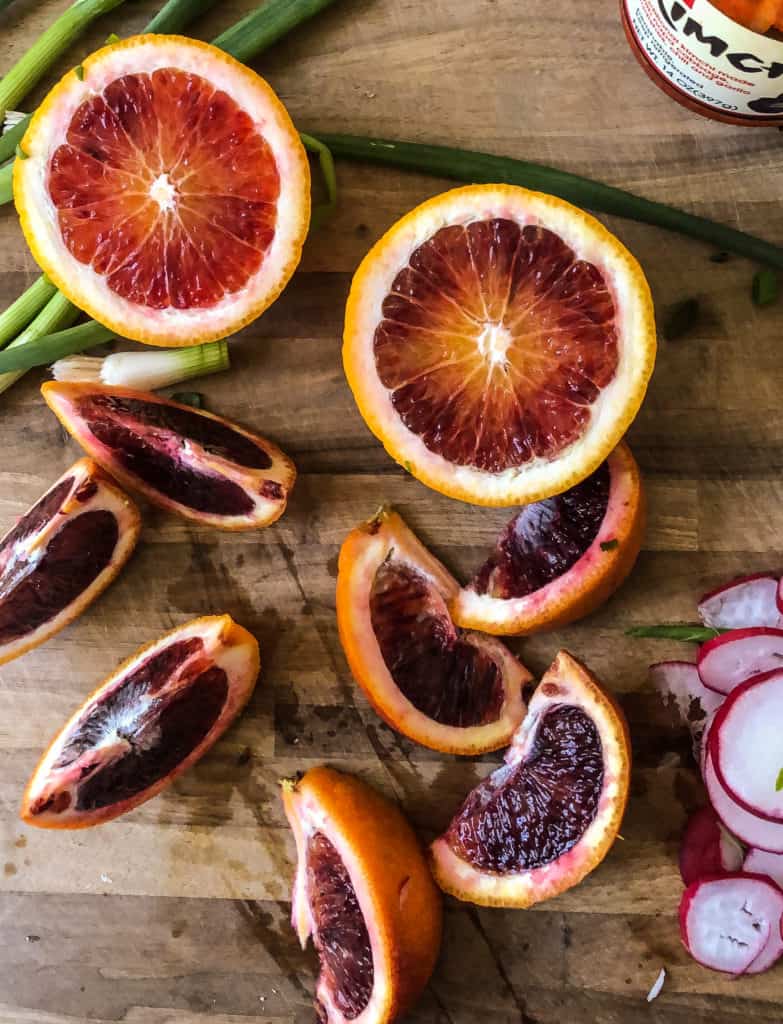 Let's talk about my cozy-inspired Asian dish.
I love making dishes healthier and incorporating flavors I truly love to make them fit my lifestyle needs. And here, I have been craving a good stirfry. But I also wanted to incorporate some cozy-ness to this dish as it is still technically winter.
And winter citrus popped into my head immediately.
And this ain't your typical take out stir fry. It's sweet, tangy, with a salty savory edge to it. I am in love with this dish and we have made it twice since we tested it 2 weeks ago!
It's also paleo too! WOOT!
This dish has such a flavor profile from the saltiness of the pork and coconut aminos to the sweet tang of the sauce everything is tossed in.
The sauce is a blissful combo of sesame oil, freshly squeezed blood oranges, maple syrup, rice wine vinegar,coconut aminos, ginger, and garlic.
Then the rest of the recipe just comes together in a snap!
The pork is tossed with sesame oil, ginger, spring onions then it's tossed in the sauce and ready to devour in 20 minutes thanks to the Instant Pot!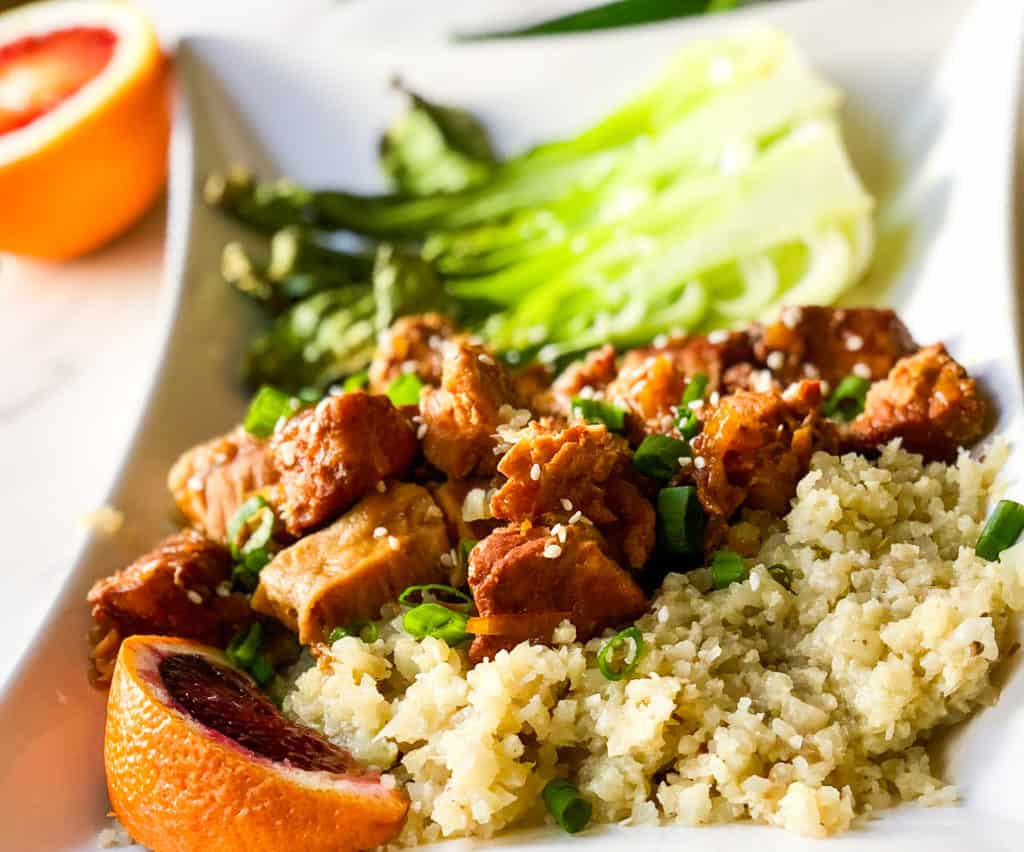 And to make this dish even healthier, I added roasted bok choy, radishes, green onion, and kimchi I found at Trader Joe's.
Trust me, the blood oranges gives this dish so much flavor and the kimchi just provides the right amount of kick to this amazing winter dish!
Served over a bed of cauliflower rice and you have yourself a great easy weeknight dinner!