3 Minutes until you're ready to serve up some of the best salsa EVER.
And that statement is coming from a self-proclaimed salsa snob.
Like I will literally write off a Mexican restaurant if the salsa is bad. Because if the salsa is bad then the food I ordered usually isn't great either. It's logic.
So when Jake and I go out for our Mexican date nights we only go to one place (were regulars) after we find the perfect salsa. And since moving to Williamsburg, we had to go on the hunt again for the best salsa. After 3-4 restaurants we found it.
We actually went to our favorite Mexican joint this past weekend for the first time in over 90 days for our first indulgence. We worked out hard in our home gym so we could eat all the chips and salsa plus guac. Balance people. Balance.
And if you're interested in The Cat Box (that's what we're calling our gym…cause were cat people and were also keeping our gym chalk in an empty tidy cats container)
Basically were embracing our cat people status. Check out my Instagram stories feed for the occasional video of us lifting heavy shit in the Cat Box.
After a night of indulgence, I woke up to tackle the long list of new recipes (allll Cinco de Mayo related)- get ready for healthy tastiness coming to you soon!
Which is why I thought a mid-week pick me up is just what we needed.
Enter this salsa. My favorite condiment.
Salsa in my brain has to be of a certain quality:
It has to be mildly spicy,
Full of fresh tomatoes,
Heavy on the garlic and cilantro,
AND definitely NOT watery. Nothing is worse than soggy watered down salsa. YUCK.
We like our salsa packed with fresh vegetables, spicy jalapenos (with the seeds for extra spicy), lime juice, red onion, garlic, and stewed tomatoes to make it even more authentic.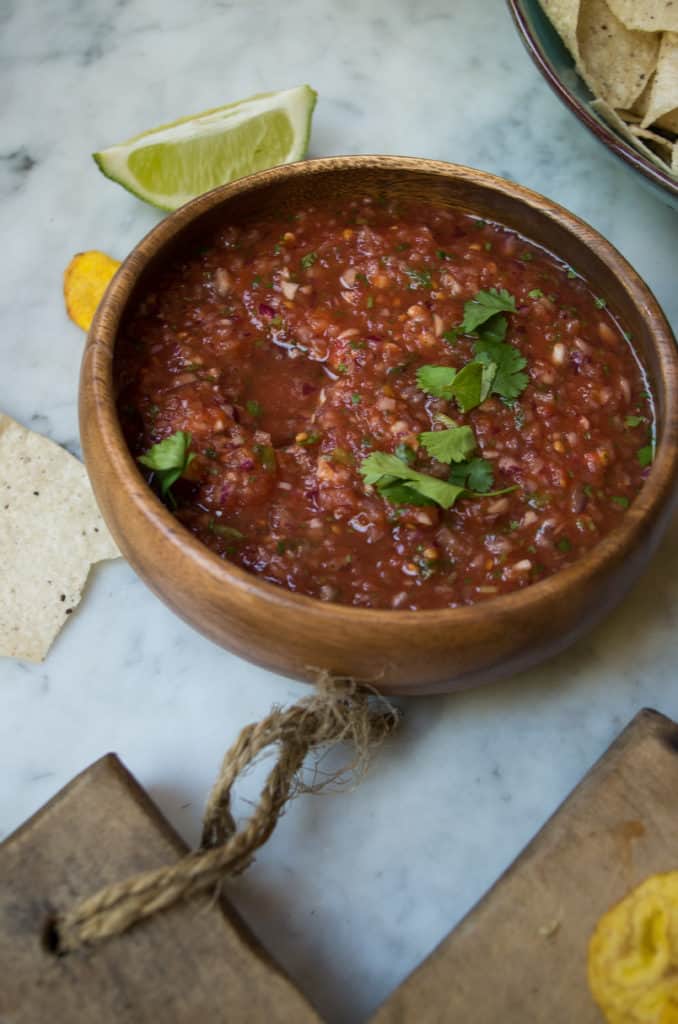 FUN HEALTH TIP: As you all know, jalapenos are spicy. But did you know that the spicy in these peppers are a MAJOR weight loss helper? Yup! The spice I am referring to is called capsaicin and it's a major metabolism booster. It gets the blood pumping and actually helps burn more calories after one meal with it! This is why I am all for spicy foods! Read more about it here.
All goes into the food processor for a few pulses to get it to the right consistency. We like ours slightly on the chunkier side but not TOO chunky. I think this version is a happy medium.
This is my go to salsa recipe. I love using it for SO many things: pouring over chicken in the crockpot, as a salad dressing for taco night salads, and over course as a dip for my favorite plantain chips from Trader Joe's or Siete Grain Free chips! And if your going low carb, I also love using cucumber slices to dip into this amazing restaurant style salsa. SO GOOD!
3 Minute Restaurant Style Salsa
Author:
The quickest, easiest, best tasting salsa EVER. Made from nature's finest and found right in your fridge!
Ingredients
1 32oz can of whole peeled tomatoes, drained
6 garlic cloves, peeled
½ red onion, quartered
1-2 sliced jalapenos, de-seeded
1 teaspoon salt
Juice of 1 lime
Instructions
Add all ingredients to food processor and pulse until desired consistency is reached. Serve immediately or store in fridge up to 7 days.
Serving size:
6 servings
Calories:
45
Fat:
0g
Carbohydrates:
9.5g
Protein:
1.5g