Spicy Honey Lime Margaritas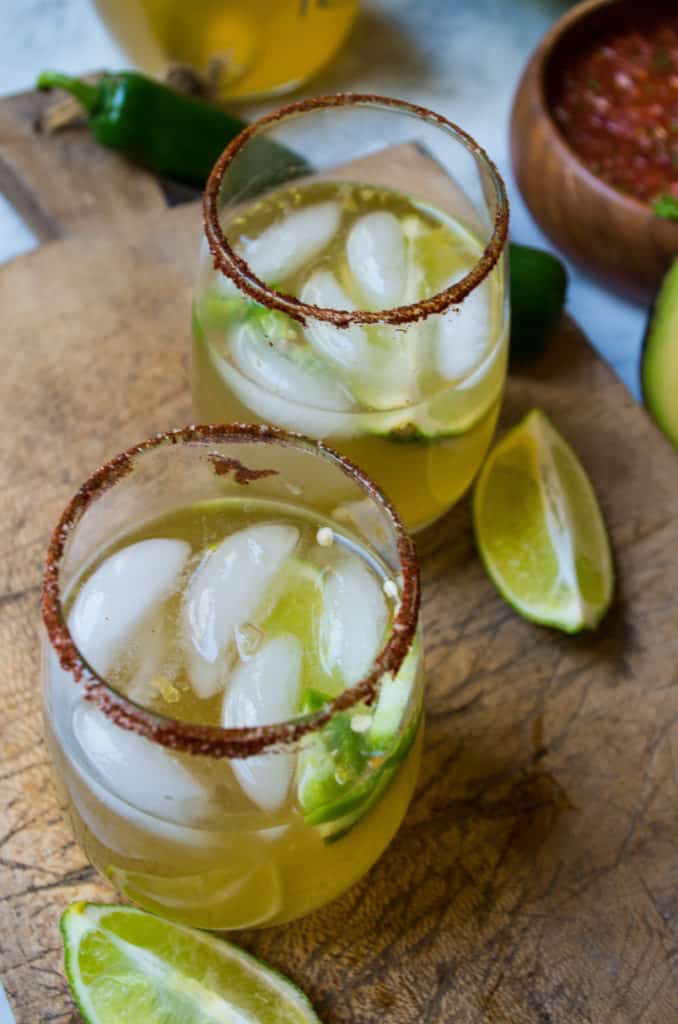 This is a drink that I have wanted to share on the blog for some time now. Because I realized that I have NO cocktails on the blog AT ALL.
And that's just wrong.
And with Cinco de Mayo coming up, I decided that this was the perfect day to share this margarita on the blog. What's Cinco de Mayo without lots of tacos, guac, and margs?
I mean Jake and I don't drink but every so often. Like we just went through 90 days on the RP diet with NO adult beverages what so ever.
So when I made this concoction last weekend for the first time in 90 days. Let's just say we were both drooling on our pillows before 8PM.
We really are that lame. 😀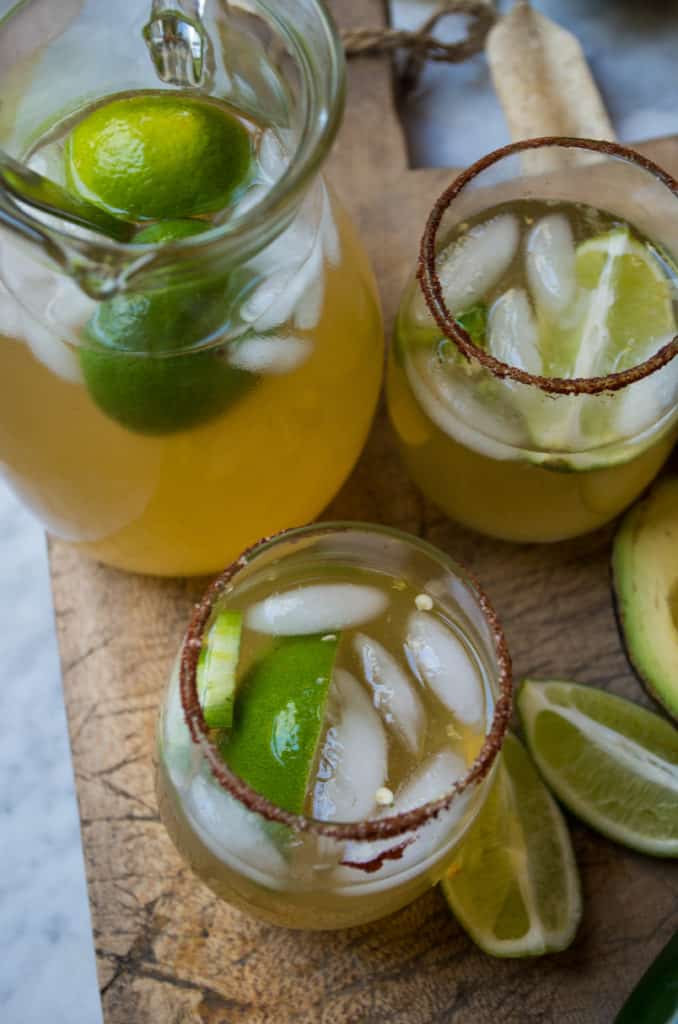 But in all seriousness, if we are going to drink its pretty much going to be a margarita. I love tequila. I love limes. I love that this one has no artificial colors or sweeteners.
Cause that's no bueno.
This margarita is made from a simple honey syrup, limes, tequila, and a splash of Grand Marnier, jalapenos, and a rim of chipotle sea salt. YUM.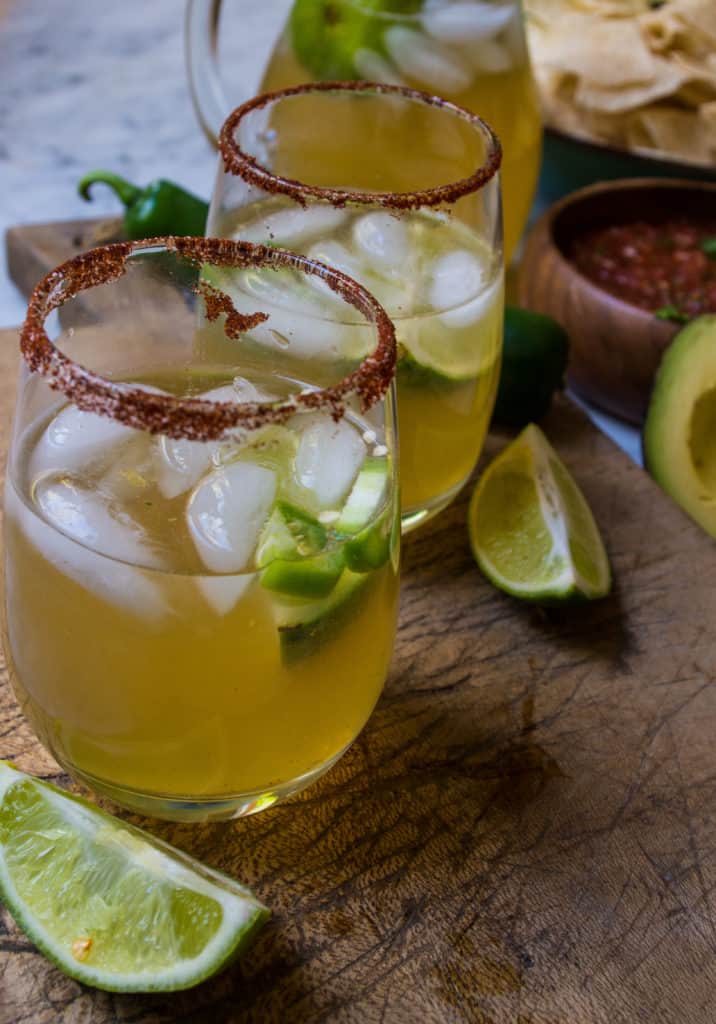 I NEVER would have thought that I PREFER my cocktails with some spice. When I went up to Maine in the fall with the American Lamb Board we went to a restaurant called the Honey Paw and they served up a mean cocktail. I forget the exact name of it but it was peachy, spicy with jalapenos, a hint of ginger, and they did NOT skip out on the alcohol. It was STRONG.  But so so good.
It was then I knew I had to add some spice to my usual margarita. The spice from the jalapeno and the chipotle sea salt actually enhances the lime and honey notes in the drink.
And if you make the big batch version of this drink, you know for that Cinco de Mayo party you're having or for a patio party. I HIGHLY recommend adding several jalapeno slices to the pitcher to marinate an hour or so before serving. Especially if you want it a little spicier.
And I plan on making a peachy version for the summer. Cause what's a BBQ without a cold adult beverage in your hand.
And if you're not into alcohol. Omit it and replace with some sparkling water or kombucha! Still a very good refreshing drink!
Cheers!
Print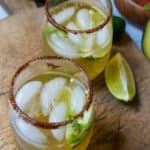 Spicy Honey Lime Margarita
---
For

1

Drink:

1 oz

of tequila

1 oz

of grand mariner

1 oz

of lime juice

1

tbs of honey

2

-

4

jalapeno slices
Slices of lime for serving
For Big Batch (4 servings)

¼ cup

of honey

¼ cup

of lime juice

1 cup

tequila

2 oz

of grand mariner

4

-

8

slices of jalapeno
For Chipotle Salt Rim:

2

tbs sea salt or margarita salt

¼ tsp

chipotle chili powder
---
Instructions
If serving one drink, add all ingredients into a cocktail shaker. Shake vigorously and pour into favorite glassware with lime slices over ice.
For big batch:
Add all ingredients to large pitcher, stir until combined. Allow to chill in fridge for at least 45 min before serving over ice with a few lime slices.
For a spicier cocktail allow to sit in fridge for 1-4 hours before serving