Fish Tacos Al Pastor with Pineapple Salsa
Hey! I have something to taco about with you! Enter the BEST Fish Tacos Al Pastor.
Couldn't help it. And I couldn't help but giggle-snort like a dork while writing this.
But I really DO I have some amazing tacos to discuss with you today. So pull up a chair, sip your coffee (or marg-c'mon let's be honest) and let's chat.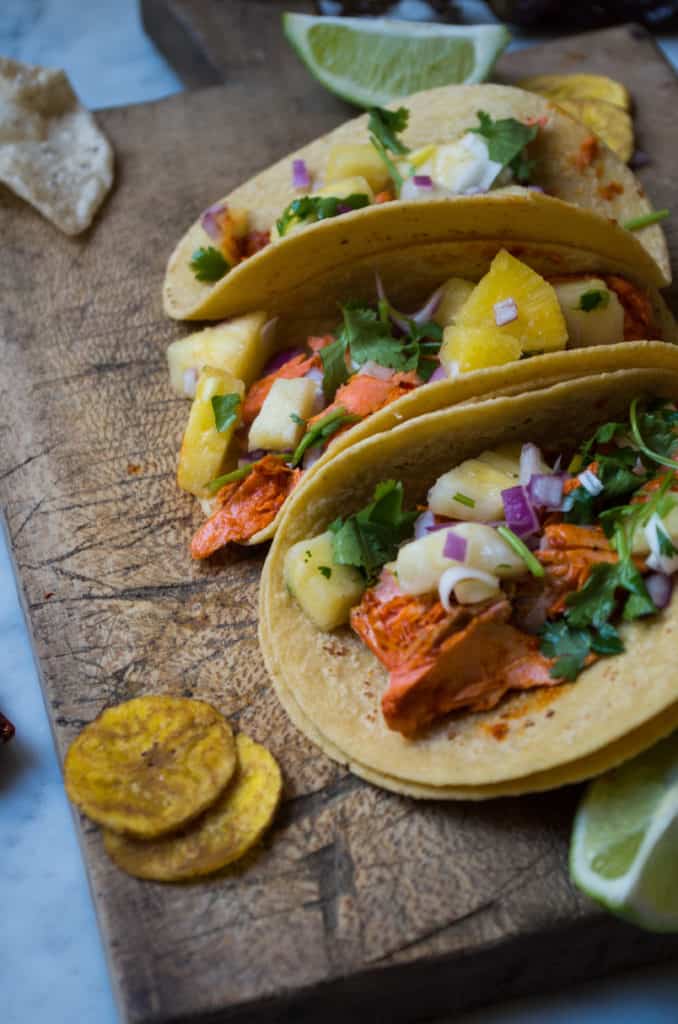 You HAVE to try these Fish Tacos Al Pastor. I mean you HAVE to.
You know I have sort of an obsession for all things tacos or burrito bowls or anything tex-mex in general.
And more often than not Jake and I have our weekly date nights at our favorite local Mexican restaurant.
I basically stick to the 80/20 rule now that I discovered my food freedom. And I usually treat myself to 1 cheat meal a week and it usually is tacos. Sorry not sorry.
Sharp Left Turn!
If you have been following along on my Instagram you saw that I just ended my second cut (diet) with the Renaissance Periodization program and I am floored with my results! Down over 10 % body fat in less than a year and PRing all my lifts in the gym AND down another 10lbs on this cut alone! Cause sometimes you need to take things back to basics when you have new goals to reach. My body was so used to the Whole30 way of eating and I was plateauing. And ultimately, the Whole30 is NOT a weight loss program it just changed my life for the betterJ.
So I looked for a more scientific way to change things up. It's a LOT of hard work. More so mentally than physically. But hard work equals positive results!
Ok, back on track. 😉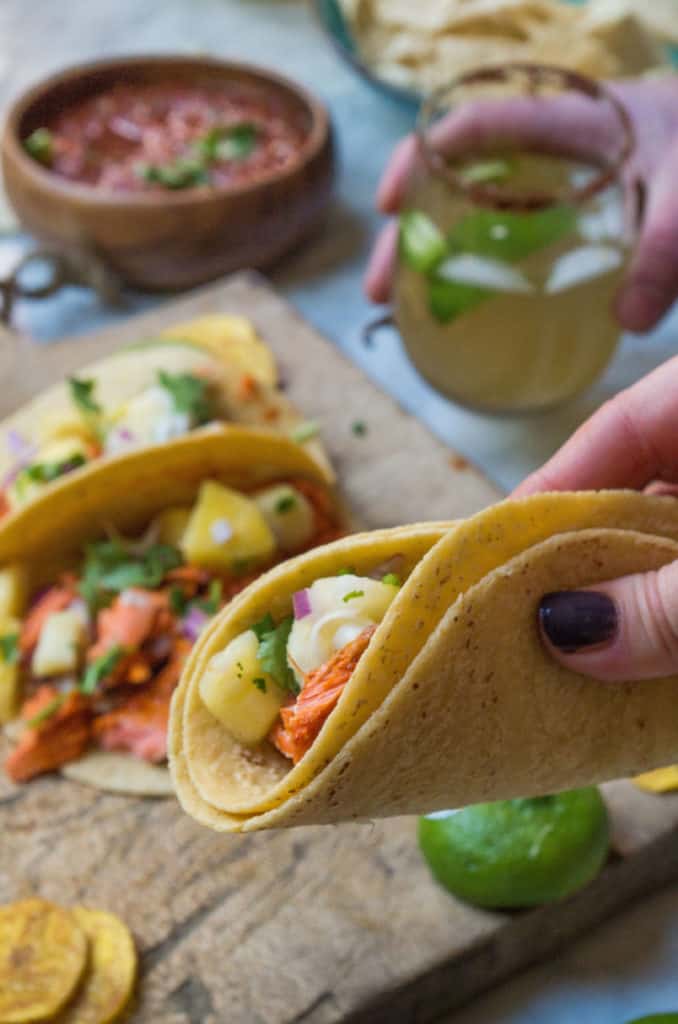 And I almost ALWAYS order the tacos al pastor.  It's typically a slow roasted pork in a spit fire that slowly churns (sort of like shawarma) for hours and the marinade is a true symphony of chiles, spices, and pineapple juice. SO GOOD.
But I have always wanted to make it into a fish taco. AND I wanted to have a much easier process than waiting HOURS for my tacos! NOPE. Not happening.
I decided to go with salmon for these tacos. But please feel free to choose your favorite fish or even shrimp would be amazing here.
I applied the same flavors to the salmon, let it marinate over night, then popped in the oven for a quick minute and shredded, put in a tortilla, topped with pineapple salsa and stuffed in my face hole.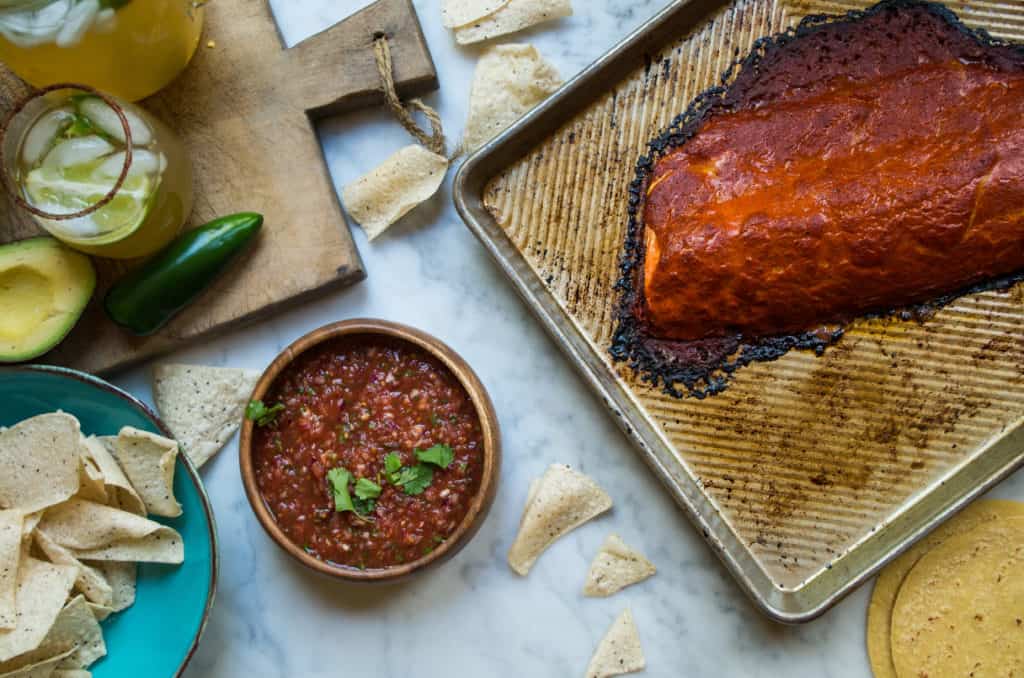 I have been seriously planning on these tacos since I have been receiving my monthly Moink box. I receive the chicken, beef, and fish box and guys the salmon is absolutely GORG. Like I eat it raw. No really. That topic is for another day.
Right. Moving on.
I get excited as a food blogger several times a year and Cinco de Mayo is one of those times. Jake and I pretty much consume Trader Joe's Low Carb Tortillas on a daily basis stuffed with fajitas, taco meat, bake them into chips to add some crunch to a tex-mex salad. I could go on forever of my love for anything and everything to do with Mexican inspired dishes.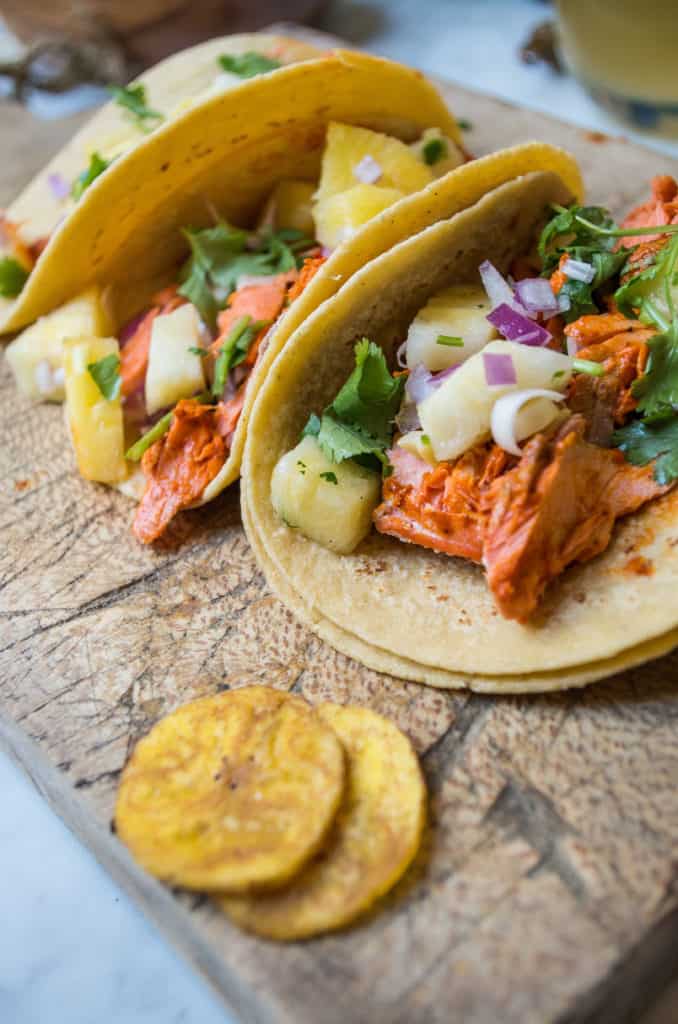 And I have even MORE exciting (and healthy-duh) Cinco de Mayo recipes coming at ya the next few days! So buckle up and lets taco bout these fish tacos.
The flavor….the flavor is pretty much on point. It's smoky, savory, spicy, and a hint of tropically. Pretty much all my favorites. The smokiness comes from all those chiles we soak then blend with the achiote paste.
It simmers on the stove for about 5 minutes. This allows the garlic, onion, and the achiote paste to truly start flavorfying the marinade. No, flavorfying is not a word. I just made it up.
Then it goes for a quick whirl in the blender and after cooling for a few minutes; poured over top of salmon in a gallon Ziploc bag or a glass container. I actually prefer the glass container. Cause I am trying not to waste so much plastic.
You can marinate at a minimum two hours if your in a time pinch, but for FULL flavor I HIGHLY recommend letting it marinate over night.
Then it goes into a VERY hot oven for 10 minutes. It gets caramelized and brown and crispy and AHHHH SO GOOD!
Shred with two forks and pile on the toppings!
Serve with these Spicy Honey Lime Margaritas with these chips and guacamole, Oh and THIS salsa!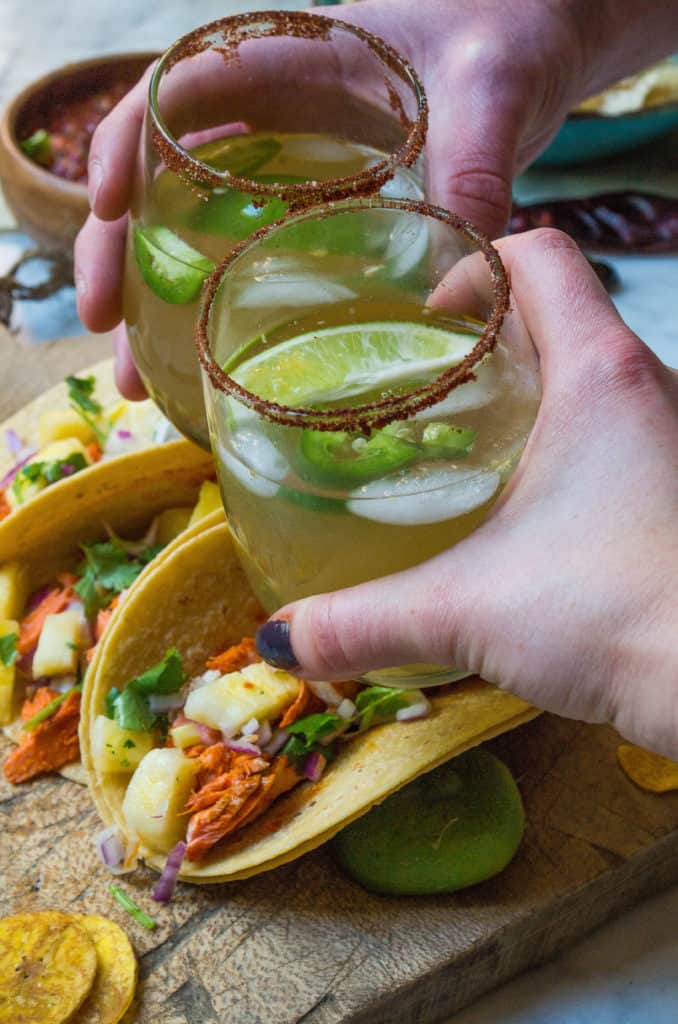 Make these tacos and tag your photos with #thekitcheneer! I love seeing what you make!
Note* For BEST results PLEASE marinate OVERNIGHT. Which actually makes more sense to prep the night before so you only have to pop the salmon in the oven 15 minutes before serving 🙂
Note Note** Nutritional info is including a low carb tortilla (10g of carbs per tortilla)
Print
Fish Tacos Al Pastor
---
Author:

Total Time:

27 mins
Description
Authentic Al Pastor flavor without the wait! Simply the BEST fish tacos for Taco Tuesday!
---
For the Marinade:
- 2 tablespoons avocado oil
- 6 cloves of garlic, sliced thin
- ½ red onion, diced
- 6 guajillo chilles
- 2 tablespoon achiote paste (THIS IS A MUST!)
- 1 teaspoon cumin
- 1 teaspoon dried oregano
- 1 teaspoon of salt
- 1 teaspoon of black pepper
- 8oz fresh pineapple juice
- juice of 1 lime
SALMON
- 2-3lb salmon fillet
Pineapple Salsa:
- 1 pineapple, cut into chunks
- ½ red onion, diced
- ⅓ cup of cilantro, chopped
---
Instructions
In a medium sized saucepan, heat oil on medium high heat
Add garlic and onion to saute for 3-5 minutes or until translucent, add remaining marinade ingredients and stir
Allow to simmer for an additional 5-7 minutes on medium low heat
Carefully add marinade to a blender and blend until smooth
Allow marinade to cool completely
Pour marinade over salmon in a gallon sized ziploc bag or glass container. Marinate for 2 hours minimum. Best results are if you marinate overnight.
Combine all salsa ingredients and set aside (or refrigerate until ready to serve)
Preheat oven to 475F
Place salmon on a baking sheet lined with parchment paper or coated with cooking spray
Roast salmon in oven for 10-12 minutes or until nice and browned
Shred with two forks and serve up in your favorite tortilla, shell, or salad!
Prep Time:

15 mins

Cook Time:

12 mins

Cuisine:

Mexican
Nutrition
Serving Size:

1 taco

Calories:

297

Sodium:

146mg

Fat:

14g

Carbohydrates:

16.2g

Fiber:

1.7g

Protein:

24.5g