I have a new, fun, and different kind of post for you guys today!
Last week I had the pleasure of being invited to the soft opening of the new Earth Fare in Williamsburg, VA! I literally could not wait to go in once I saw the construction site beginning a few months back!

I have heard other bloggers talk about Earth Fare in the past and was super jealous that I couldn't enjoy all of their unique, fresh, and clean eating products!
Williamsburg is actually not lacking in grocery store variety but there was still a "gap". For example, I would go into Trader Joe's to buy some things (because I love TJs and still do :*) but I still had to go to another store like Target or Walmart to get some other things. Which is annoying as my life is busy and hectic already. Ain't got time for that on most days!

Until I walked through those doors last week I was thinking that we would just get used to going to multiple grocery stores each week. In fact Jake and I tag team and I will go to one and he will go to another!
Earth Fare surprised me not only with the quality of their food but the variety of other products as well. I truly feel like Earth Fare is my new one stop shop.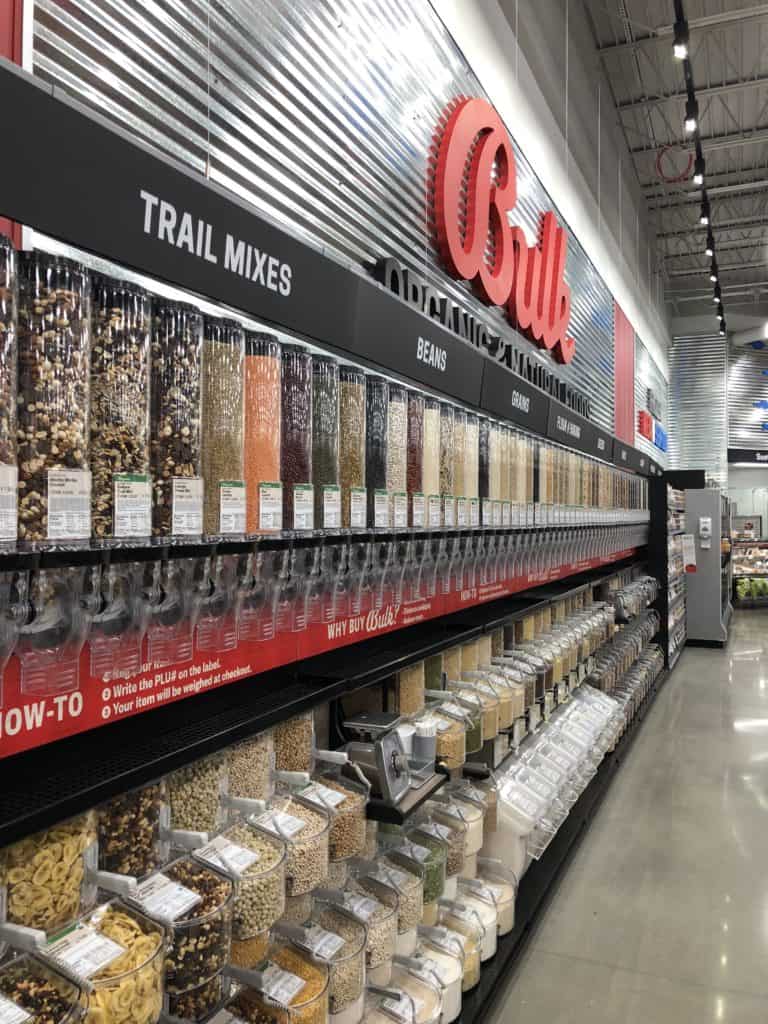 The NEW ONE STOP SHOP

The VERY first thing I noticed when I walked in was the GINORMOUS produce section. My kind of place: D. they had EVERYTHING I could ever think of! Because as a recipe developer, when those creative juices start flowing and you NEED microgreens. You NEED microgreens! And they had those plus COTTON CANDY GRAPES!!!! YASSSSS!
Jake and I then perused and sampled the rest of the store. We saw a WALL of locally sources coffee! Our happy place. We even got to try some of Counter Culture's brand coffee! It was a strong brew with berry notes. SO GOOD. Such a depth of tones and flavors.

Followed by the wall of coffee, was the huge selection of tea! I know I want to try at least 50. Good thing it's close by and I have all the time in the world to try them all!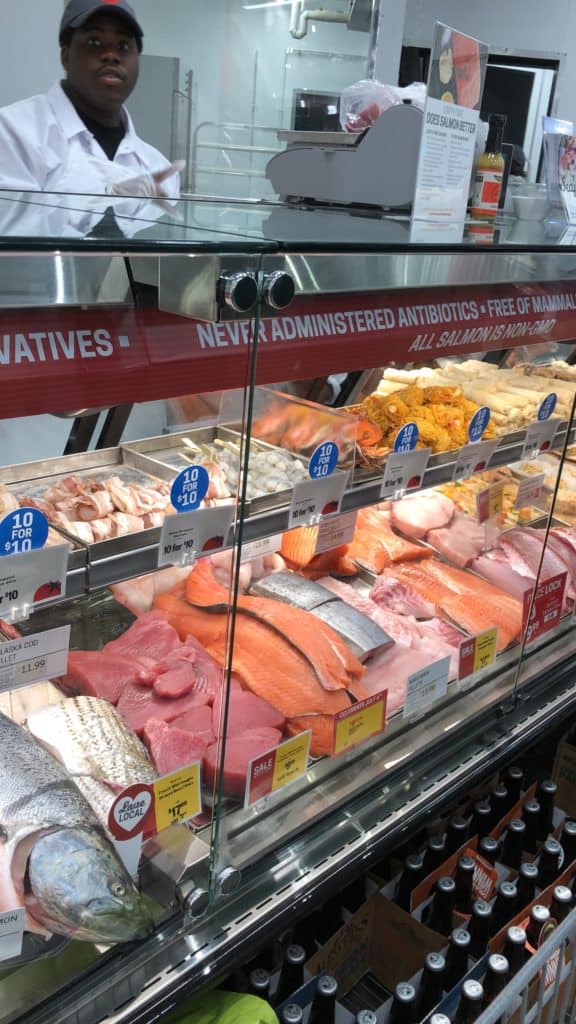 The meat and seafood section was incredible. We even go to speak with the actual fisherman who catches the local seafood! I mean can you say same day caught Chesapeake Bay blue crabs?! On our tour we were told that the seafood is caught using the day boating method. Meaning whatever is caught (whether a big haul or not) is sent to Earth Fare the SAME DAY! This means the fish is as fresh as can be and hasn't been sitting on a boat for who knows how long!
Also! They can order any kind of fish you like if it's not available the day of. The Inland fishermen said they could get the seafood of choice to you within a day or so to pick up! Plus their tuna is sushi grade!!!! Hello to more poke bowls and sushi nights!
I can literally go on and on about this amazing store. But what impressed me most was the quality of Earth Fare's products.
THE QUALITY IS UNREAL

Lori (our tour guide), explained that EVERY single item in the store is 100% GMO free! And that they are the only grocery store in the US that has that capability to claim that title. They also have something called a "ban list". Seriously, it's impressive. Click here to check it out. But basically it's a list of over 100 ingredients that are BANNED from their store. Their process of eliminating bad for your products is something I truly admire. And I could sense the passion for this in every employee I had the pleasure of talking with. From the seafood department, cheese, wine, and wellness products. Yes. They even have a HUGE section of the store dedicated to holistic health supplements, handmade soaps, natural skin care, and protein powders! Everything is handpicked by Earth Fare to be the safest, purest, highest quality. Ensuring that you can shop there without reading the labels. Because they did it for you!
You hear me Whole30 folks?! I have found YOUR store!

They cater to a variety of diets. From vegetarian to gluten fee. They actually have over 1000 items that are certifiably GF!
Then there is the 100s of juices and kombucha that are also going to take a while to try. I'm not complaining.

AS FAR AS PRICES GO?
I would compare the prices on some of the items we were able to look at to be about what we were already paying at the other grocery stores we shop at in the area here in Williamsburg, VA.
PERFECT FOR BUSY DAYS
There were actually 3 sections of the store that caught my eye for quick meals on days where nothing is going right and you're looking at fast food to feed your family for something quick and cheap.

The "Ready to Cook" area. This is where fresh seafood such as bagged shrimp, oysters, salmon, etc. have already been partially thawing for a few hours and you can simply grab, finish thawing on your commute home and toss in a pan! Plus some of them are already pre-seasoned!

The "Grab n' Go" area. Earth Fare has decided to do a weekly menu for families to grab a full meal to feed a family of 4 for less than $10! YES! Plus it's all healthy because of what I have mentioned above. Can you imagine grabbing a cheap AND healthy meal for your whole family on a hectic day??? Makes fast food seem less appealing than it already is.

Lastly, they actually have made to order food such as sandwiches and freshly pressed juices! Hello to my new favorite bar! Perfect for work lunches or grabbing something light for dinner.
And if you live in the Williamsburg, VA area YOU HAVE TO VISIT EARTHFARE! I dare you to not fall in love!
I also got the opportunity to meet other local bloggers on our tour! We had a blast!

ALSO GIVEAWAY ALERT to those in the area! I have a $25 gift card to give one of you because Earth Fare is that awesome.
To enter:
a Rafflecopter giveaway

Must live in Virginia to be eligible*