Tender, juicy, mouth-watering burgers. Topped with a dollop of a simple guacamole and wrapped in lettuce. These burgers make the perfect excuse to light up the grill any time of year! Plot twist? These are elk burgers!!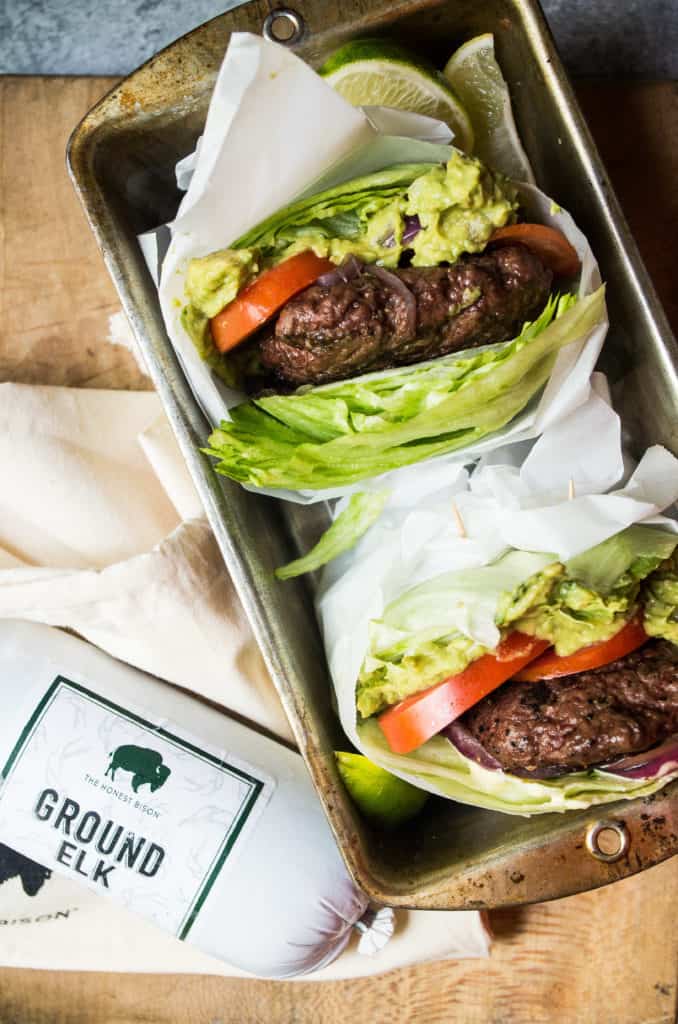 Say what???
And before you click away. Here me out. I had NEVER tried elk before The Honest Bison reached out to me to create recipes for their new line of elk and venison.
In fact, I never even DREAMED I would eat elk. Let alone share a recipe here.
So why did I agree?
I did my research.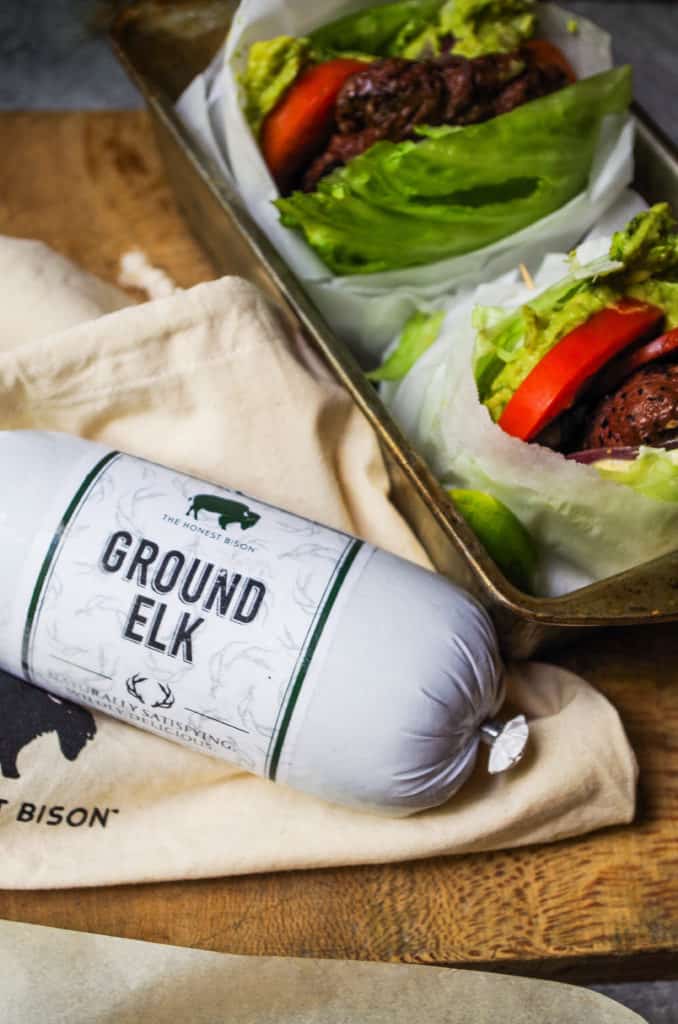 WHY ELK?
Turns out elk is lower in fat than beef, pork, chicken, and even some seafood. Plus it gives you your daily dose of B-12! Yes please!
These elk are all farm-raised but free to forage as they would naturally, eating a combination of native grasses, shrubs, leaves, bark and berries! It's also an excellent source of Omega 3 fatty acids and CLA or "good fats". These good fats help fight an array of diseases from heart disease to cancer.
And I have tried so many new proteins lately, I have become more open minded to it.
Now in addition to: shrimp, lamb, and bison I now can say I have tried and LOVED elk!
THE TASTE
And in all honesty, I was afraid of it tasting gamey. I was VERY wrong.
It was tender and tasted like a high quality beef. Not joking. Like it was as if I went to my local butcher and ordered a fresh pound of ground beef.
So if you have any hesitation about trying elk; don't! I was the guinea pig and I think it tastes amazing. I told Jake as we were eating these for lunch that I think I like elk more than lean ground beef and possibly lamb! And I love both.
These burgers are easy enough for your summer weeknight dinners and impressive enough to serve dad this Father's Day.
I don't know about you but nothing seems more "manly" than lighting up the grill, drink in hand, and serving up multiple protein choices from chicken to elk!
These were definitely husband approved.
When The Honest Bison requested some recipes for elk and venison (stay tuned) I knew I had to go with a simple mouth-watering burger.
I was actually super anxious to make these as I have never cooked with elk before and didn't want anything to go wrong! I was even giving myself a pep talk before heading out to the grill – NOT a day for a recipe fail! And trust me, I have PLENTY of those. Like I can't bake to save my life. And I really have tried. ☹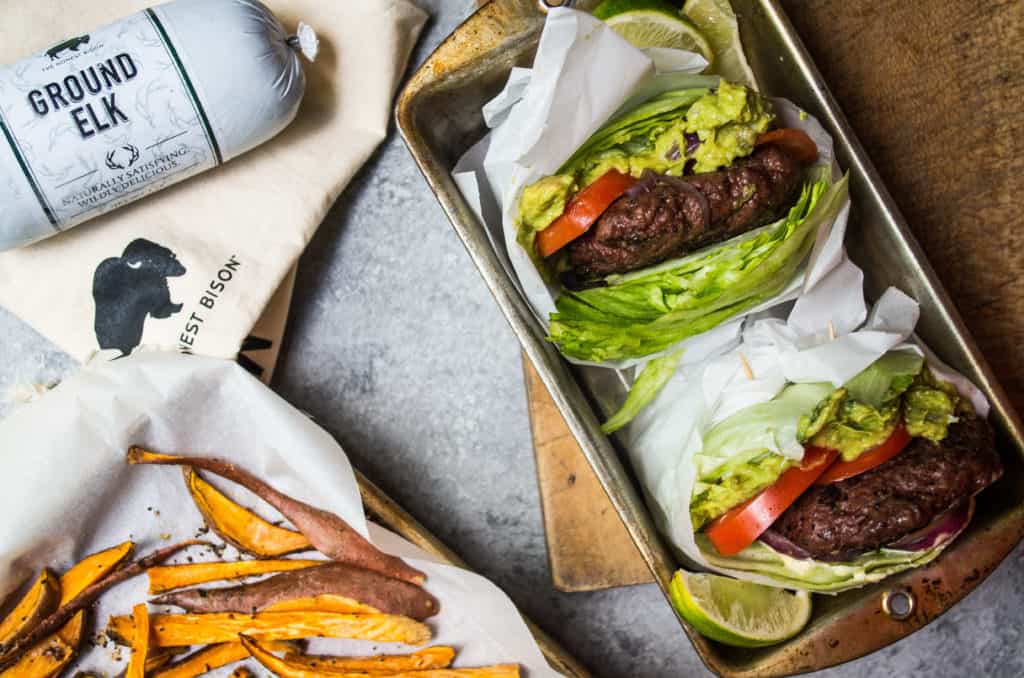 But these were so similar to beef in both taste and texture that it was silly for me to have been so anxious!
And because they lack fat, they don't need to cook as long as beef burgers! BONUS time saver!
I think I found my new beef swap for the summer especially now that I am not scared of them anymore!
Let's dive further into this meaty goodness that is this burger.
My internal Homer Simpson is drooling.

I decided to go the Whole30 route with this burger as I know many of you are completing your September Whole30s. You got this! And variety is key!
I added a little fat to balance the leanness of the elk by adding a little ghee to the mixture. Plus a little S&P. Easy Peasy.

Guacamole is pretty much a food group to me, so of course it had to be included on this burger.
A layer of caramelized red onion, juicy red tomatoes, and a quick jalapeno aioli.
All wrapped in a lettuce bun.
Rather than peel the leaves individually, I cut the ice berg into wedges.
Wrapped in parchment paper to keep everything in for when you take that first bite.
It's ALWAYS burger season regardless of it being FALL now (my favorite)and I HIGHLY recommend taking a bite out of this above average burger.
If you make these Whole30 Guacamole Elk Burgers and love it please tag #thekitcheneer and #thehonestbison and share your photo! Nothing slaps a smile on my face than you see you enjoying these recipes!
Print
Whole30 Guacamole Burgers with a Jalapeno Aioli
---
Author:

Total Time:

25 mins

Yield:

4

burgers

1

x
Ingredients
For the Burgers:

1

lb of Ground Elk

1⁄2 tsp

Himalayan pink salt

1 tsp

black pepper

1

1⁄2 teaspoon of ghee
Caramelized Red Onion:

1

red onion, sliced thin

1 tsp

salt
For the guacamole:

2

avocados, pitted and mashed with fork

1⁄2 tsp

Himalayan pink salt

1⁄2

jalapeno, diced

2

tbs finely chopped red onion
Juice of

1

lime

2

tbs freshly chopped cilantro
For the jalapeno aioli:

1⁄4 cup

whole30 compliant mayo (or make your own like I did) 2 jalapenos, diced

2

garlic cloves, finely minced

1⁄2 tsp

cumin
Juice of

1

lime
Pinch of salt
---
Instructions
Directions
In a mixing bowl, combine elk with salt, pepper, and ghee. Divide into 4 patties and let rest in fridge for 10 minutes.
Preheat grill to 350F (wait about 10 minutes for it to be fully pre-heated)
Grill patties for approximately 3-4 minutes per side or until (130F-140F)* you do not want to overcook as the lack of fat in elk will cause the meat to dry out!
While the burgers are resting, mix all ingredients for the aioli* in a small bowl and whip up the guacamole in another
Slice the iceberg into wedges for the "bun" top with favorite toppings and serve!
NOTE:
 You do not want to overcook as the lack of fat in the elk will cause the meat to dry out!
 For best results with the jalapeno aioli, make it ahead of time and allow the jalapenos to
marinate and become more potent as it chills in your fridge until ready to serve!
Caramelized Red Onions:
Heat a skillet on medium high heat with 1 tbs of extra virgin olive oil
Add sliced onion with salt and sauté turns every few minutes until caramelized (about 7
minutes)
Prep Time:

15 mins

Cook Time:

10 mins