Let's be real here.
SEVERAL MAJOR THINGS have been happening simultaneously and have been keeping me from my blogging schedule.
As in I have been shooting but no content! I have LOTS of recipes ready to go, but I seem to have ZERO time.
Since buying our new home, we have learned what most first time home owners learn: it's a lot of WORK.
And love.
And WORK.
The past month has been about going (attempting) to go on our annual vacation to the OBX. But then Florence happened. So we evacuated and ended up having our living room renovation that week instead!
I put on my Jo Gaines hat on and knocked down a wall, put down hard wood floors, and painting every evening after work.
Speaking of work, I left my old job and started a new one with a better commute!
Basically blogging has unfortunately been put on the back burner.
And I am DONE with the warm weather here and ready for my bunny slippers, colder nights, and lots of Gilmore Girls.
Curled up in a blanket with a warm bowl of this slow smoked open fire cowboy chili.
If you are looking for the PERFECT robust chili for fall. Look no further.
I'd say this chili would be best served outside on a chilly night camping!
Because we only camp when it's a little cooler outside. Because bugs.
Anyways…
Back to this amazing open fire cowboy chili.
I went full force lazy cooking on this. I turned on our grill on low, put the veggies, and meat on butcher paper, and SMOKED the veggies and meat BEFORE actually cooking the chili.
Basically creating double the smoky flavor. And I used The Honest Bison's new line of Ground Venison.
I have been trying out their entire line of their new elk and venison.
Their elk and venison are all farm-raised but free to forage as they would naturally, eating a combination of native grasses, shrubs, leaves, bark and berries.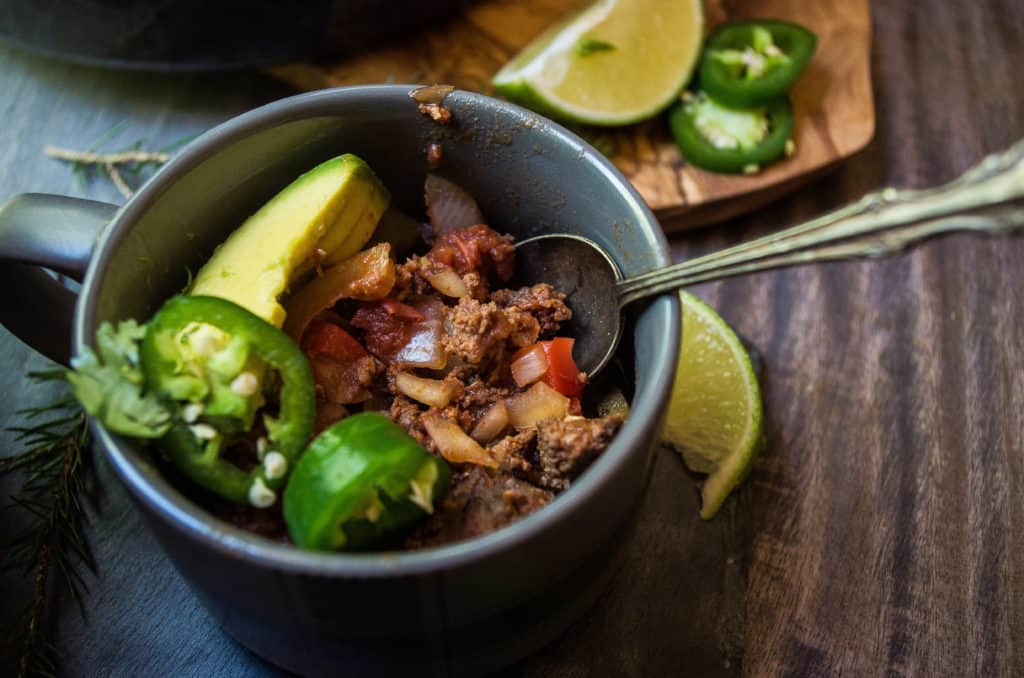 Which adds so much more depth of flavor to this chili.
Once the veggies and meat are thoroughly smoked, I added them to a dutch oven with spices to smoke for another hour.
Basically this is the perfect chili to cook on a lazy fall Sunday.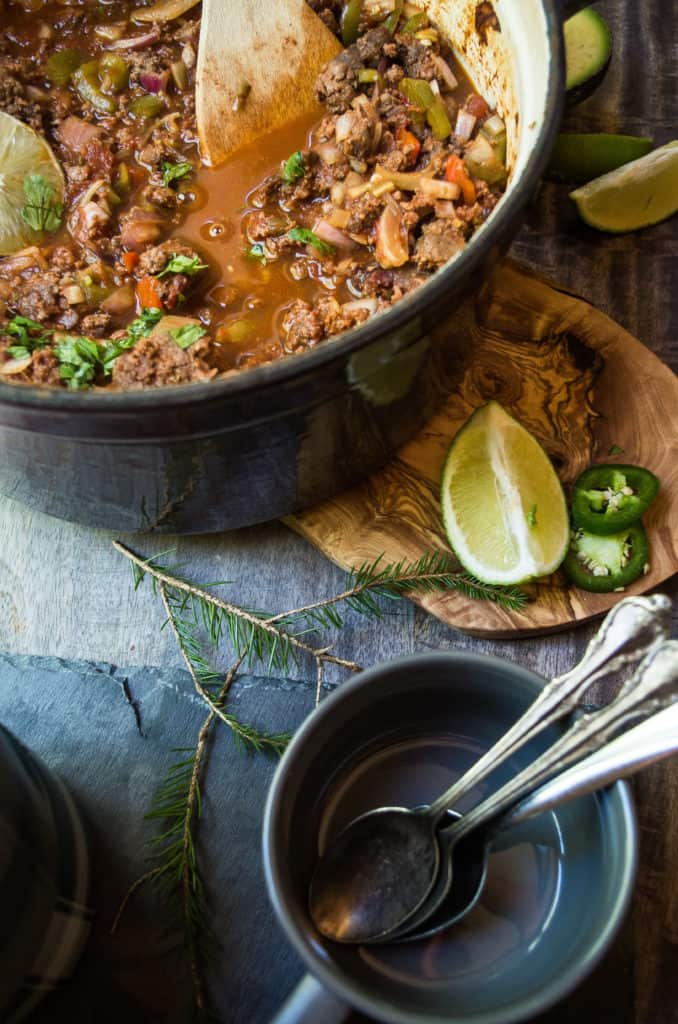 And if you LOVE this chili like I do you would also LOVE these:
Print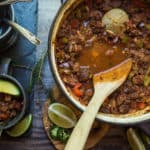 Open FIre Cowboy Chili
---
Author:

Total Time:

2 hours

Yield:

6

servings

1

x
2

lbs The Honest Bison Ground Venison 2 teaspoon of pink himalayan salt (OR beef or turkey would work in this chili too!)

1

tbs of ground black pepper

1

lime, halved

1

green bell pepper, diced 1 red bell pepper, diced

1

red onion, diced

1

yellow onion, diced

1

-

2

jalapeños, diced

1

jar of tomato sauce

2

tbs tomato paste

2 cups

of chicken of beef stock 3 tbs chili powder

½ tsp

cayenne pepper 1 teaspoon onion powder

1 tsp

garlic powder
---
Instructions
Preheat grill to 200F with the lid closed (10-15 minutes)
Remove thawed ground venison packages from fridge and allow to come down to room temperature
While the grill is preheating, crumble the venison on pink butcher paper or on an aluminum foil lined baking sheet. Loosely mix in salt and pepper.
From another package of pink butcher paper (highly recommend for smokier flavor) or aluminum foil lined baking sheet add peppers, onion,and lime.
Place both packages on the grill. Let smoke/cook on low for 2 hours checking in occasionally. After 2 hours, carefully transfer the venison and veggies into a dutch oven.
Add remaining ingredients to dutch oven and stir until combined.
Close lid of grill and cook chili for another hour, stirring every 20 minutes.
Squeeze smoked lime on finished chili and serve!