This past Memorial Day weekend I had the pleasure of trying out an online grocery store for the first time! I have heard about online grocery shopping before but have always been hesitant to order for some reason. But thankfully the folks at Relay Foods contacted me and were kind enough to let me try their fresh local groceries! Thank you!
This was our pick-up location 🙂 ( Isn't the truck adorable???)
Relay Foods is an online only grocery store that only sells the best that local fare can offer in central to northern Virginia. They just updated their website, and boy was I impressed! They have just about anything I would normally buy at my local grocery store but it's all local which I love! I love to support small businesses and farms of all kinds especially ones in VA! Upon entering their site ,  I was drawn in by their detailed photos of their fresh produce, leafy greens, farms, and people enjoying their food. What really made me smile was their blog feature which gives some detail as to why they choose some of their products and why they choose not to sell others. I was very impressed with the amount of research that was done to ensure that their customers get the best nutritious milk! According to Relay Food's research, most milk sold in grocery stores are ultra pasteurized  which means that they boil the milk at a high temperature for long periods of time to kill off bacteria, however since it is performed for long periods of time the good bacteria making milk nutritious is killed off too! That's why Relay Foods only sells milk that is still pasteurized but for a shorter period of time! It makes me feel confident in this company because they put so much effort and care into what they sell to our community! You can check out this article here!
Not only was the site informative, but VERY easy to navigate! It was almost like shopping in the real super market ( minus the lines!) because it is set up by "aisle" as in you can navigate the site as  you would a grocery store by going down the "produce" aisle or the " bakery" aisle! And while you search, there is usually a few recipes to inspire you for meals for the coming week! Once you select the items you want to purchase simply click on the cart and you can even tell Relay Foods to refill your order every week so it is virtually impossible to forget something! What sealed the deal for me on the new website was the fact that I bought all of my groceries on my phone!! It is very mobile friendly so if you are super busy and/or don't have a desktop computer, no worries! I was able to order, have a reminder email sent to me the next day so I could pick it up on the way home from work/ working out! The pick up location was literally down the street from me! Easy peasy!
What I think is really great about Relay Foods and online grocery shopping in general is that it's not only great for people who are too busy to go grocery shopping, but for people who are not able to get to the grocery store. Such as my husband's grandmother, this would provide her a way to receive fresh local groceries without leaving the comfort of her home because ( yes, they deliver!) and she wouldn't have to rely on others to do it for her every week. When you check out on the site you can request to pick it up at one of their locations or opt to have it delivered to your home for an extra fee. There is even a place to leave special instructions on how to deliver to your home, in my husband's grandmother's case I would request that she physically receives the groceries as she is hard of hearing.
Overall, I was very pleased with the ordering and picking up of my groceries, but what washed all my doubts of online grocery shopping away was when I saw how fresh the produce was! I mean look at that cucumber! I couldn't resist taking it home to slice it up and take a bite, it was crisp and sweet! Just how I like it! To give this experience a thorough test, I ordered something from every aisle to see how fresh it was from dairy to the bakery aisle! I was amazed by all! I highly recommend Relay Foods to anyone and will be going back for more!
Also as a special offer, if you would like to order click the link below and get $30 off your first order!! That's such a great deal!
The recipe I am about to share with you is a staple in our weekly menu because it is healthy, high in protein, and spicy! We love jalapeno turkey burgers and these were absolutely delicious! Everything in this meal was ordered from Relay Foods from all the ingredients to make the burgers to the side dishes even the salad dressing! Also, ordered something special for one lucky reader which I will get to in a moment!
You Need:
For Burgers:
- 1 lb ground turkey
-2 cloves of fresh garlic minced
-1 egg
- 2 jalapenos sliced ( I only used one this time because I could tell that they were VERY spicy!)
- ¼ cup plain whole wheat bread crumbs
- pinch of paprika
- salt and pepper
For the toppings:
- 1 bunch of leaf lettuce
- 1 sliced red onion
- 1 avocado sliced
- 4 slices of pepper jack cheese ( the fresh cheese we had from Marshall's Farms was SO GOOD! )
For the side salad:
- 1 head of organic romaine chopped
- 1-2 handfuls of snap peas
- sliced cucumbers
-  sliced avocado
- I used Annie's Organic Green Goddess dressing
- 1 bag of Alexia Spicy Sweet Potato Fries
Directions:
To make burgers combine all burger ingredients thoroughly and make four patties.
Heat the grill and spray with cooking spray
Grill burgers for 7-12 minutes or until cooked through.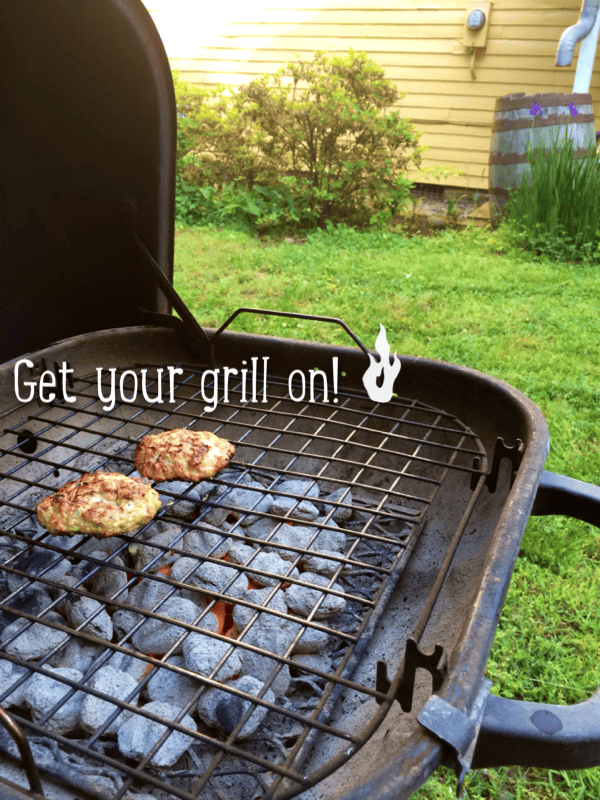 While burgers are grilling preheat oven for sweet potato fries and bake per instructions
Also, make the side salad and prep toppings
Don't forget to rinse veggies thoroughly!
These were so delicious! I think the freshness of everything made it that much better than normal!
Now, to get to the exciting part. I have a giveaway for you guys! Im super excited to do the first of many giveaways here on The Kitcheneer! I picked out some great pantry items that I think are wonderful for breakfast or a snack! 1 bag of organic rolled oats, 4 CHIA bars, 1 almond bar, 1 ½ pound bag of fresh almonds, 1 bag of dried figs,dates, and apricots to go on your oatmeal, and cinnamon! US Shipping only! I will announce the winner here on June 3rd at 6 PM! Good Luck!
THE WINNER IS...Ashley Presciutti!!!! Congrats!! 
Thumbs Up for Relay Foods! * Ignore my cheesiness and the fact that I just came from working out when I took this photo!*