Happy Friday everyone! I know it's Friday the 13th, but I am not the superstitious type. In fact, it was on a Friday the 13th that my husband asked me to be his girlfriend! :* We also got married in 2013. So, you could say 13 is a lucky number for us! 😉
Now, I want to talk about lavender. I have always adored lavender scented anything and have tons of soaps and perfumes with this scent. Now, I have been playing with this herb in the kitchen and I am in love!
I love savory foods more than sweets so I wanted to incorporate this into a savory dish and thought of potatoes. You might have seen these delectable potatoes in the background of my last post: Williamsburg Smothered Flat Roasted Chicken.
It went perfectly with this chicken and I believe it would be great along side a grilled steak! Now, I want to bring these potatoes front and center because they are awesome!
New potatoes are boiled in water seasoned with lavender and rosemary to give it a smoky flavor. They are then drizzled with olive oil, more lavender, smashed, and baked until crispy.
You Need:
- 10 new potatoes ( or red potatoes will do nicely as well)
- 2 tbs extra virgin olive oil
- 2 tbs dried or fresh lavender blossoms
- 2 tbs dried or fresh rosemary
- salt and pepper
Directions:
In a large sauce pan add rinsed potatoes and pour cold water over them ( just enough to cover them completely)
Add 1 tbs each of lavender and rosemary and bring to a fast boil for about 7-10 minutes ( poke with fork during because you want them soft enough to poke but hard enough so they "smash" right and don't fall apart)
Preheat oven to 410 degrees.
Drizzle 1 tbs of olive oil onto a baking sheet ( smear it out to cover more surface area)
Drain potatoes and place them on a baking sheet.
With a fork or potato masher press down on each potato and smash it! ( Be careful not to press down too hard or the whole thing will fall apart)
Drizzle the remaining olive oil on top of potatoes and season with remaining lavender, rosemary. Add salt and pepper to your liking.
Bake in oven for about 20 minutes ( or until gold and crispy)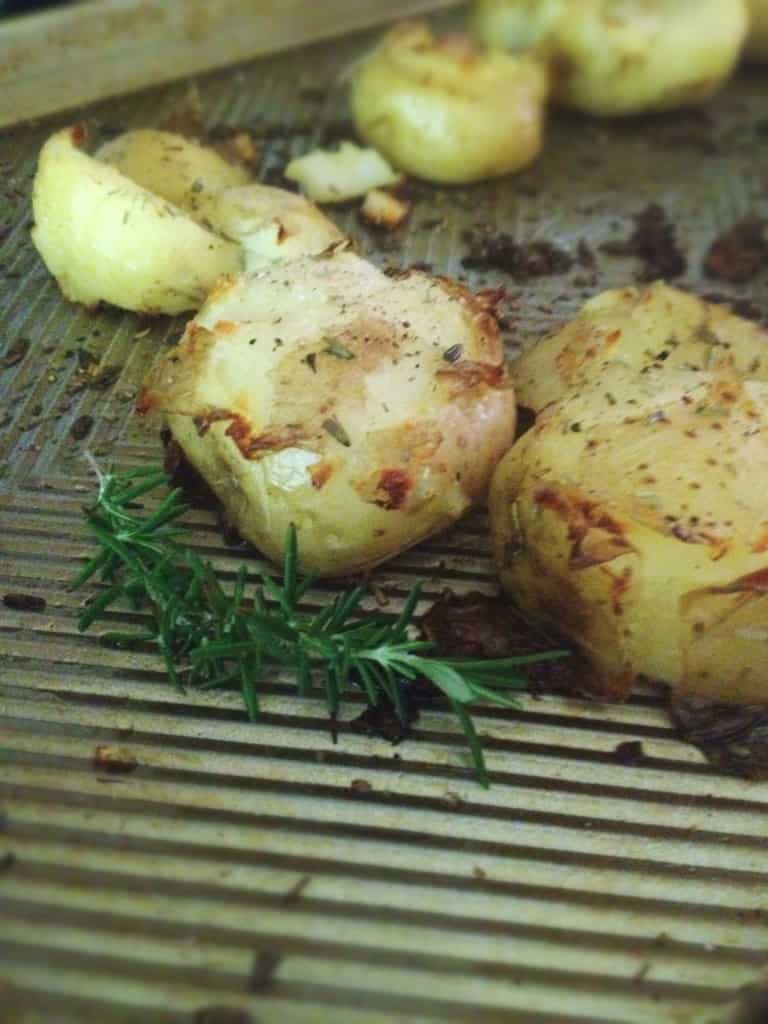 Print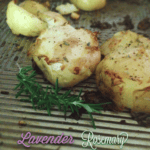 Lavender Rosemary Smashed Potatoes
---
Author:

Total Time:

32

Yield:

5
Description
New potatoes are given a smoky lavender flavor then drizzled with olive oil, smashed, and baked until gold and crispy.
---
- 10 new potatoes ( or red potatoes will do nicely as well)
- 2 tbs extra virgin olive oil
- 2 tbs dried or fresh lavender blossoms
- 2 tbs dried or fresh rosemary
- salt and pepper
---
Instructions
In a large sauce pan add rinsed potatoes and pour cold water over them ( just enough to cover them completely)
Add 1 tbs each of lavender and rosemary and bring to a fast boil for about 7-10 minutes ( poke with fork during because you want them soft enough to poke but hard enough so they "smash" right and don't fall apart)
Preheat oven to 410 degrees.
Drizzle 1 tbs of olive oil onto a baking sheet ( smear it out to cover more surface area)
Drain potatoes and place them on a baking sheet.
With a fork or potato masher press down on each potato and smash it! ( Be careful not to press down too hard or the whole thing will fall apart)
Drizzle the remaining olive oil on top of potatoes and season with remaining lavender, rosemary. Add salt and pepper to your liking.
Bake in oven for about 20 minutes ( or until gold and crispy)
Prep Time:

12

Cook Time:

20