Some days I have THE hardest time getting in all my protein for my daily macro nutrients. Especially on days I lift weights, I need to. I rely heavily on whey protein powder, chicken, eggs, and fish for my main protein intake. And on days like I had last week I NEEDED some more protein.
Thankfully, I have come up with a recipe that DOUBLES the protein in an already protein packed food, tilapia. Tilapia is one of my favorite types of fish because it blends well with most dishes. Like combining tilapia with brown rice and collards is one of my FAVORITE dinners. But this dish tops it.
If you haven't heard of Quest Nutrition, they are a company that creates the most delicious low calorie, high protein, clean ingredient bars I have ever tasted. And now they just released protein chips! I got to try all 3 flavors BBQ, Sea Salt, and Cheddar. Well, almost 3 Jake took the BBQ and didn't give it back lol. I take it was good! I LOVED these chips. If you love other baked chips, you will like these.
Quest has SO many flavors to choose from! I tried my first bar earlier this year and my husband and I have been hooked ever since! Especially the cookies and cream bar! Not to mention they are 190 calories or less, 7g of fat, only 3 grams of net carbs, and 21 grams of protein! Also they are gluten free! I can honestly say I haven't found a flavor I didn't like! Although we do have our favorite flavors such as: cookies and cream, chocolate chip cookie dough, cinnamon bun, mixed berry bliss, and double chocolate chunk.
I crushed up 2 bags of these chips to create a crust for my tilapia and served with a dill caper greek yogurt sauce and roasted asparagus. Again, we both gobbled this meal up! I hope you will too!
Serves 4
For tilapia: 219 calories, 3.2g of fat, 2.6g of carbs, 33g of protein ( based of My Fitness Pal App)
You Need:
4 tilapia fillets
salt and pepper
2 bags of Quest Protein Chips ( I used sea salt) but I bet the cheddar would taste great too!
cooking spray
1 bundle of asparagus
For the sauce:
½ cup non fat plain greek yogurt
2 tbs capers
juice of 1 lemon
2 tbs light cream cheese
1-2 tbs of dill
1 teaspoon garlic powder
Directions:
Preheat oven to 350
In a plastic bag crush potato chips finely
Dab tilapia with paper towels to ensure all excess liquid is removed
Season tilapia with salt and pepper
Dip each fillet in potato chips until fully covered
Place fillets on baking sheet
Spray tops of fillets with cooking spray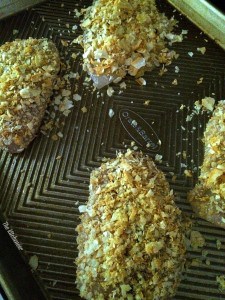 Spray asparagus with coconut oil spray and season with a garlic lemon seasoning ( I used 1 tbs of Flavor God's or Mrs.Dash) and place in oven with tilapia
Bake for 20-25 minutes or until fish is done
While fish is baking, make the sauce
In a medium sized bowl, mix all ingredients until thoroughly combined.
Serve fish with asparagus spears and a side of sauce
Enjoy!
I was compensated with the Quest products for this post. I developed the recipe and my opinions ( as always) are my own*
[yumprint-recipe id='17']