How many of you like snacking? I'm raising my arm high. How many of you are trying to reach for the healthier snack vs the junk food? I have both arms raised high. How about if I gave you the satisfaction of both? Putting arms down to await pending snackage.
Rice cakes are where it's at when it comes to my snacking needs. They are light, crunchy, and when you buy the salt-free version then all the better for your daily sodium intake! I love topping my rice cakes in so many different ways! I put cream cheese, dill, and cucumber, peanut butter and a few dark chocolate chips, hummus and bell pepper strips, or one of my newest creations: Cranberry Chocolate Toasted Rice Cakes. Yup. It includes seasonal fruit AND chocolate!
It satisfies my crunchy and chocolate cravings all at once without the cost of over doing it.
Rice cakes are toasted on the stove, then slathered with chocolate peanut butter, dried cranberries, and topped with some slivered almonds.
Don't let your rice cakes be boring! Think outside the cake!
What are some of your favorite rice cake creations?
Serves 1: Calories: 250, Fat:10g, Sodium: 130 mg, Carbs: 32g, Sugar: 11g, Protein: 6g
You Need:
2 unsalted rice cakes
1 tbs of Skippy's Dark Chocolate peanut butter
1 ½ tbs of dried cranberries
1 tbs slivered almonds
Directions:
In a small skillet turn heat on to medium
Place both rice cakes on skillet until they are lightly browned on both sides (about a minute on each side)
Spread dark chocolate peanut butter on rice cakes
Top with cranberries and almonds!
Enjoy your snack!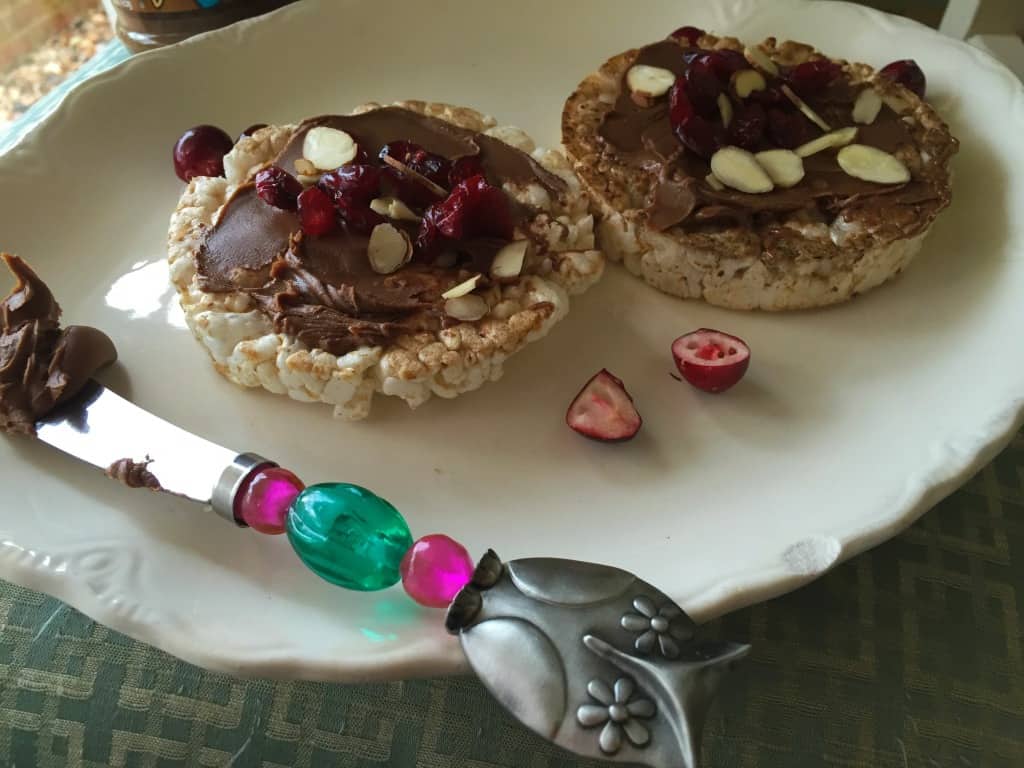 *I am currently a member of the Hormel Foods Extended Blogger Program and
this post is part of my involvement in the Group. While Hormel Foods provides
me material and necessary resources to complete various activities, all
statements and opinions ( as always) in The Kitcheneer are my own