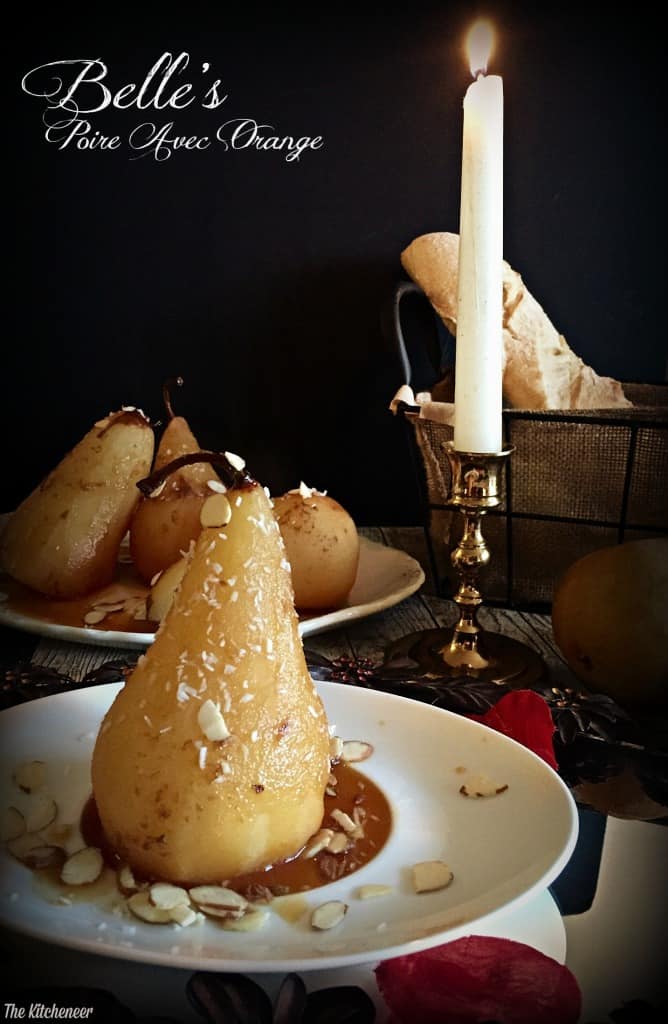 If you have been following my blog for any given time you know I am a Disney geek. I have already done 2 previous posts featuring my favorite Disney characters and I have PLENTY more ideas for recipes inspired by Disney. I want to bring these enchanted places home with you and bring them to life. I try to recreate the scene to depict what the character would actually eat in their home towns!
Poire Avec Orange is a French dessert that usually follows a heavy meal. It is light, simple, and bursting with a mimicked marmalade flavor hat is to DIE for!
Hands down Beauty and the Beast is my second favorite Disney movie EVER. Little Mermaid is and always will be number 1 for me. But Belle holds a special place in my heart. She is smart, book worm, has an adventurous side, and wants nothing more than to share her dreams and ambitions with.
When I was little I wanted nothing more than to live in her world. Play in the gorgeous forest with the sunlight dancing through the leaves, glistening waterfalls, and the dark over bearing entity of the castle begging to be explored. The scenery alone just took my breath away every time I watched this movie. I am a forest lover and anything foresty just gets me.
France is the lucky place that Disney bestowed some of its magic on when they made this film. I would love to go there one day and read a book on a fountain similar to the one where Belle read her fairy tale come true. Except I already have my prince and we are in the happily ever after phase which mean having him in France I can pretend he is my "beast" and maybe have a dance beneath the stars? 😉
And of course I would take a cooking class while I was there 😉
I love the scene where the dancing plates and singing forks are bringing Belle all their dishes and I imagined something amazing for this dish. And that is this simple yet elegant dessert: French Orange Poached Pears.
I can only imagine Belle and Beast coming in after an epic snow ball fight ( Belle won of course) and they sit down to enjoy this simple dessert near their fire.
With the lack of snow, we could not have a snow ball fight just yet, but Jake and I did enjoy these as a treat this weekend under the glow of our Christmas tree.
Wherever you are and whatever you do you are NEVER too old for Disney and should bring their magic home with you always.
Pull up your chair; it's time to relax, as I proudly present…your dessert.
You Need:
4 pears, peeled, bottoms cut off to help with balance
1 ½ cups of pulp free orange juice
1 cinnamon stick or 1 teaspoon of cinnamon
1 cup of dark brown sugar
1 teaspoon cloves
(You can also add star anise or orange zest to this too!)
Unsweetened coconut shreds ( garnish)
Slivered almonds ( garnish)
Directions:
In a medium sauce pan, heat orange juice, sugar, cinnamon, and cloves until boiling.
Ensure all sugar has dissolved then add pears with stems up.
Simmer the pears with the cover on for an hour drizzling syrup over them every 10-15 minutes.
Take pears out carefully as they are hot!
Take syrup back up to a boil until it begins to stick to a wooden spoon (additional 5-7 minutes)
Pour syrup over the pears, then sprinkle with coconut shreds and slivered almonds
Adapted from All Recipes.