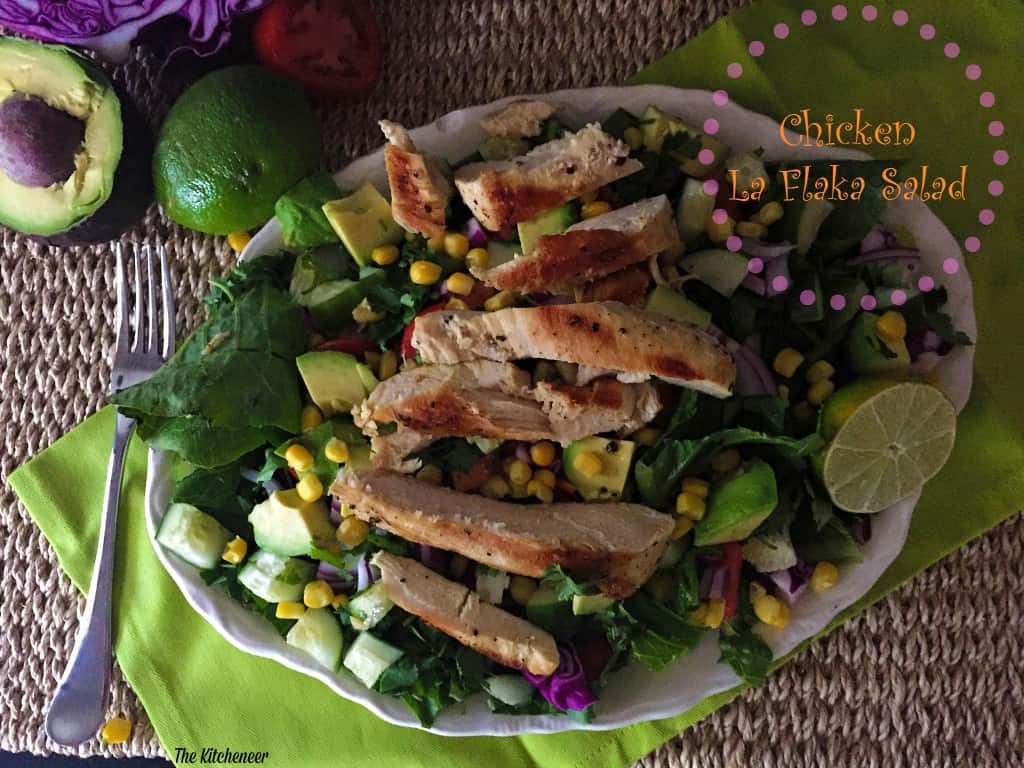 When ordering out at your favorite restaurant, do you order the same thing every time or do you try out the whole menu? Jake and I are completely guilty of ordering the EXACT same thing every time we got to one of our favorite Mexican restaurants.
We don't go out very often, maybe once every other week. But when we do it is this Mexican place where everything is made fresh and from fresh ingredients (which is very important to me). They even make the guacamole right in front of you! I actually have to recreate the guacamole for you guys here because it is THAT good!
Well, when we go Jake orders the steak fajitas and I ALWAYS get their " Chicken La Flaka Salad". Guys, I literally dream about this salad ALL. Week. Long. It's humungous, packed with fresh veggies and grilled chicken. Instead of dressing I just use salsa and some guacamole! It's absolutely delicious.
So, I knew I HAD to recreate it here at home so I can have my "La Flaka Salad" anytime I want! "La Flaka" translates into Skinny Girl…so I love it even more.
I seriously can't get enough of this salad. I made it twice last week and ran out of lettuce! Trust me, this salad is going to make you want to eat all your veggies!
Chicken La Flaka Salad:Simple grilled chicken is laid on top of a bed of lettuce, cilantro, cucumbers, red onion, black beans, and tons of other vegetables. Making this salad one of my top 10 favorites!
Serves 3
You Need:
4 chicken breasts
1 head of romaine, chopped into small pieces
½ red onion, diced
⅓ cup steamed corn
1 can of reduced sodium black beans
½ cucumber, diced
1 medium tomato, diced
1 bunch of cilantro, chopped
½ cup chopped purple cabbage
⅓ cup of queso, crumbled
Your favorite salsa, for dressing
1 avocado, sliced
Spritz of lime juice
Directions:
Fire up the grill or in my case a griddle pan on medium
Rub chicken with salt and pepper and grill unto cooked through (8-10 minutes)
Let chicken cool before slicing (5 minutes)
Start assembling the salads (I like using a large plate)
Per salad:
Add 2 cups romaine, handful of purple cabbage, cucumbers, cilantro, ⅓ of avocado, tomato, onion, black beans, corn, and sprinkle some queso on top.
Add sliced chicken and a spritz of lime juice and enjoy!