Welcome back to another week featuring our weekly meal plan! I hope all of you had a great week and have another one this week!
Did this past week seem like it lasted forever?! It seemed like Tuesday was Thursday... That's always a bummer when the week is like that. But I stuck the meal plan I set out and am proud. And went to Crossfit Monday, Tuesday, and Friday.
In my earlier post, I mentioned that we participated in our Crossfit gym's Chili Cook Off, sadly we didn't win 🙁 But our new Chili King totally deserved it! His was delicious! Next year maybe I will have the crown? 🙂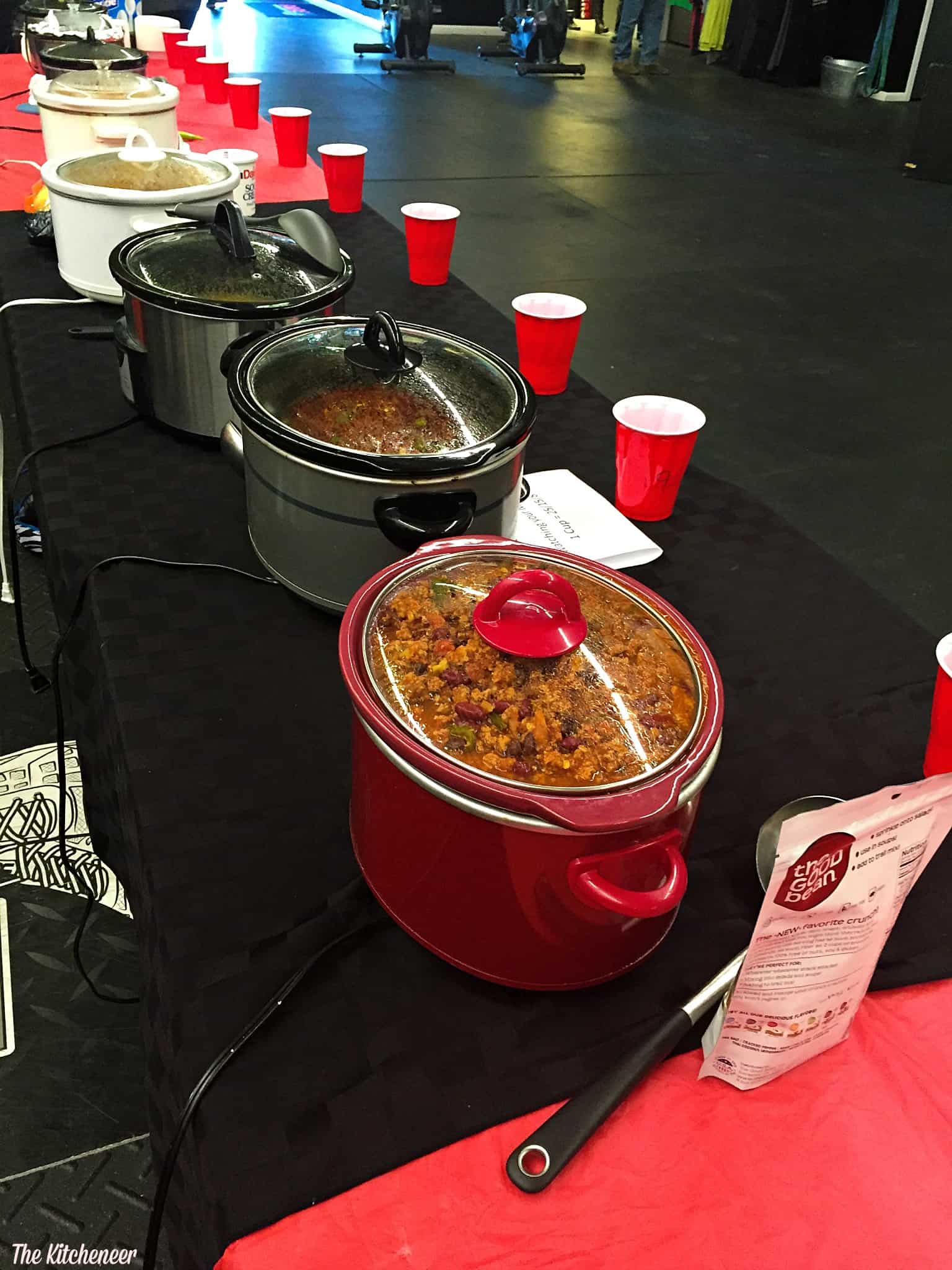 How cool is this "Iron Throne" hehe get it?
Other than that, it's been a pretty laid back weekend. Catching up on laundry, spending time together binge watching Dexter ( our new obsession) do any of you watch Dexter?, and of course having quality time with our fur babies 🙂
My other obsession is this workout shirt: I needs it
And this funky beat 😉 I hope it gets your week groov'n:


Here is our Weekly Meal Plan:
Monday:
Breakfast: 2 hard boiled eggs sliced with ¼ of an avocado, and some diced roma tomatoes
Snack: Apple
Lunch: BBQ rubbed chicken on a bed of arugula, cherry tomatoes, red onion, cucumber, with a lemon mustard dressing
Snack: Larabar
Dinner: Spaghetti Squash Carbonara
Tuesday:
Breakfast: 1 egg, 5 egg whites ( scrambled) , with diced green bell pepper, and roma tomatoes
Snack: 5 oz of non fat plain greek yogurt with some honey
Lunch: Leftover Smoky Triple Pepper Chili from the Chili Cook Off 🙂
Snack: 2 stalks of celery with 2 tbs of hummus
Dinner: Ultimate Taco Meat in a Collard Wrap with roasted Veggies ( coming to the blog soon!)
Wednesday:
Breakfast: 2 hard boiled eggs sliced with ¼ of an avocado, and some diced roma tomatoes
Snack: Blood Orange
Lunch: Collard Taco Wraps
Snack: 1 rice cake with 2 oz of turkey and some yellow mustard
Dinner: Turkey Meatballs and Cabboodles ( coming to the blog this week!)
Thursday:
Breakfast: Proats ( ½ cup rolled oats, 1 cup of water, 1 scoop of chocolate protein powder)
Snack: apple
Lunch: Turkey Meatballs and Cabboodles
Snack: 2 celery stalks + 2 tbs hummus
Dinner: BBQ Salmon BLT Salad from Iowa Girl Eats ( it seriously looks amazing)
Friday:
Breakfast: 1 egg, 5 egg whites, topped with avocado slices and 1 tbs of reduced fat mozzarella cheese
Snack: Non-fat Greek yogurt with some honey
Lunch: Smoky Triple Pepper Chili
Snack: Larabar
Dinner: Stuffed Acorn Squash
And I can't stress this enough: HYDRATE! At LEAST 70 oz a day! Tip: Add some fresh fruit to your water to flavor it! ( lemon slices, lime slices, blood orange slices)