If have been reading my blog the past few weeks, you have probably noticed a theme. Pasta. It's been my obsession and I am all about low carb so pasta and low carb are pretty much enemies.
That's where creativity comes into play!
I have been following a trend on my Instagram account with some of my Paleo folks and have seen something called "Cabboodles". What are "Cabboodles" you ask? They are amazing. That is my answer.
Zucchini noodles were the greatest thing since sliced bread for me; however, cabboodles are definitely drawing a tie between the two.
Cabboodles are thinly sliced cabbage sautéed in some ghee butter, and topped with your favorite sauce that you usually use for your pasta dishes!
AND the great part about it is its SO FILLING! I had this for my lunches and dinners last week/ this week. And I am so full afterwards! Which is a good thing, because I am a snacker (especially in the afternoon) and this definitely keeps me satisfied until dinner!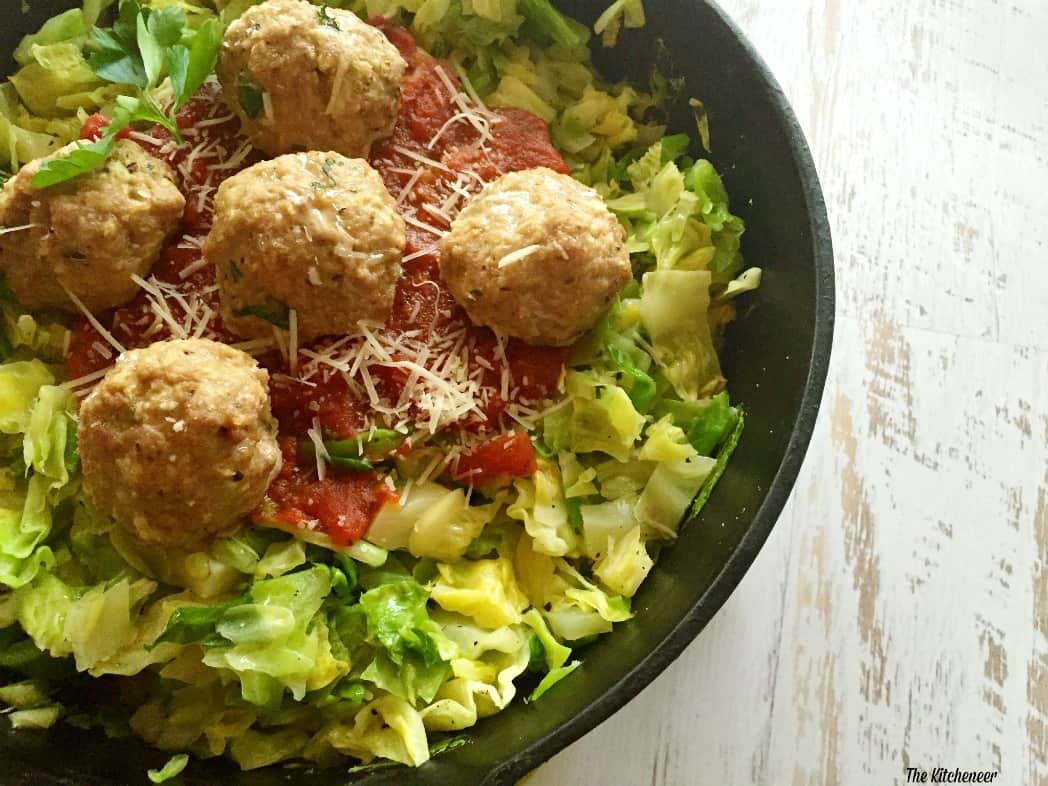 I topped my cabboodles with my favorite turkey meatballs and some marinara sauce and it was perfection.
And for those days where you have worked out really hard, this dish makes for an excellent post-workout lunch! Keeping your body fueled is essential to get the results you want. That's why I try hard every day so I can get to where I want my body to be. I am just excited with the progress I have made so far! I have lost inches in my waist and hips! And am loving my new clothes size! Feeling good 🙂
Cabboodles and Turkey Meatballs: Cabbage is thinly sliced and sauteed in ghee butter, and topped with marinara sauce, turkey meatballs, and some parmesan cheese.
Serves 4: Calories: 321, Fat: 19g, Carbs: 8.5g, Fiber: 2.5, Protein: 30g Sodium: 521mg
You Need:
1 head of cabbage, sliced thin
1 tbs ghee butter (or unsalted butter)Purity Farm Organic Ghee, Clarified Butter, 13-Ounce
1 tbs garlic lover's seasoning (Flavor God)
1 lb of ground turkey
1 egg
¼ cup of flax meal
Salt & Pepper
3 cloves of garlic, minced
2 tbs of shredded parmesan cheese
3 tbs chopped parsley
3 tbs chopped basil
Directions:
Preheat oven to 350
In a mixing bowl, combine turkey, salt and pepper, garlic, parmesan, egg, flax meal, and parsley
Roll the turkey mixture into 1" balls and place on a greased baking sheet
Bake meatballs in oven for 20 minutes
In a cast iron pan, melt ghee butter on medium heat
Toss in cabbage and saute until soft (about 10 minutes) continuing to stir frequently
Add garlic seasoning and some salt and pepper to taste
To serve, put cabbage in bowl, pour marinara sauce (I like Muir Glen's organic) and top with 4 oz of meatballs.
Enjoy!