With everything going on in my life right now, I am all about quick and easy meals. I also was craving popcorn chicken…So you can see where I am headed.
Popcorn Chicken Salad!
If you are in need of a quick dinner that is lean and green nothing is easier than tossing a salad together, and putting a tray of chicken in the oven to bake.
Chicken is diced and coated with whole wheat bread crumbs, almond meal,dipped in sriaccha egg, and baked in the oven. The chicken is then tossed in a bed of spring greens and other veggies to keep you in the "zone".
I feel to stick to a healthy lifestyle it's very important not to make yourself feel like you are deprived of anything. That's how I used to feel following other diet plans throughout my life. Learn to play with your food. Make it your own and you will discover that you are not missing out on anything at all and can still enjoy all the foods you love! Including pasta, pizza, and popcorn chicken!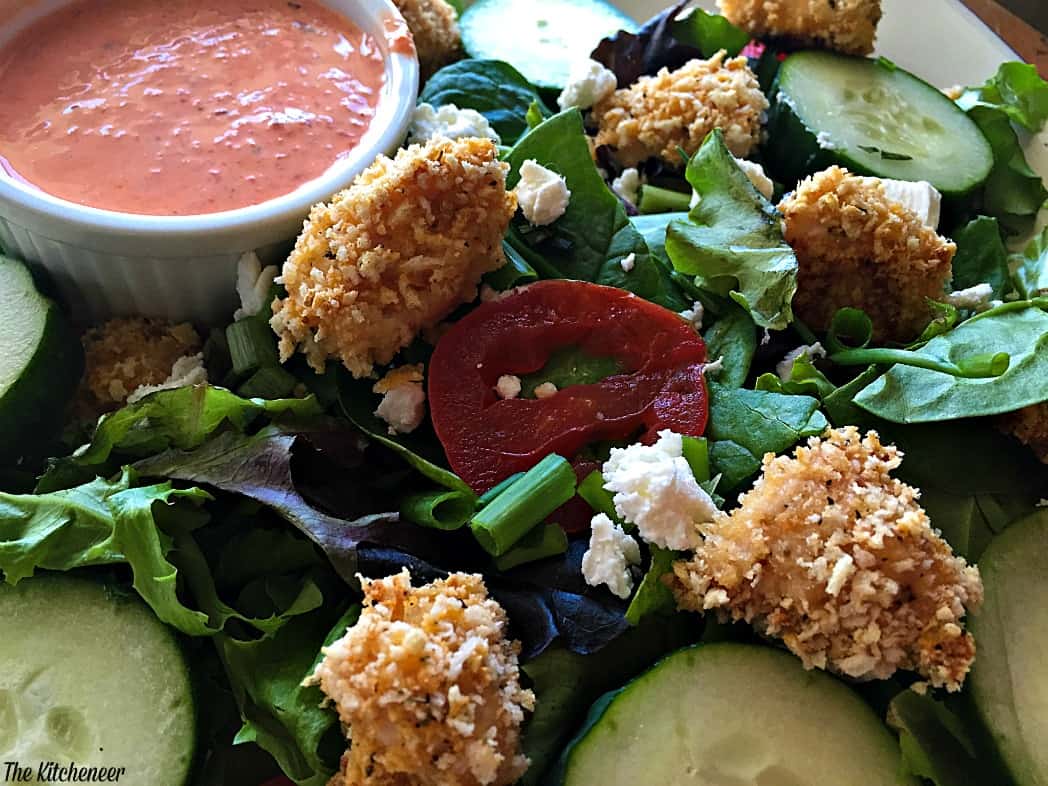 Because if you feel deprived and craving all those bad junk foods, you are bound to cave in and binge. (At least I used to).
I seriously can't get enough of this salad. It's definitely a new obsession of mine.
And I also cant get enough of this box of fun I received from Bob's Red Mill! LOVING IT!
Salads are just a super easy meal to literally throw together and if you mix it up occasionally they are never boring.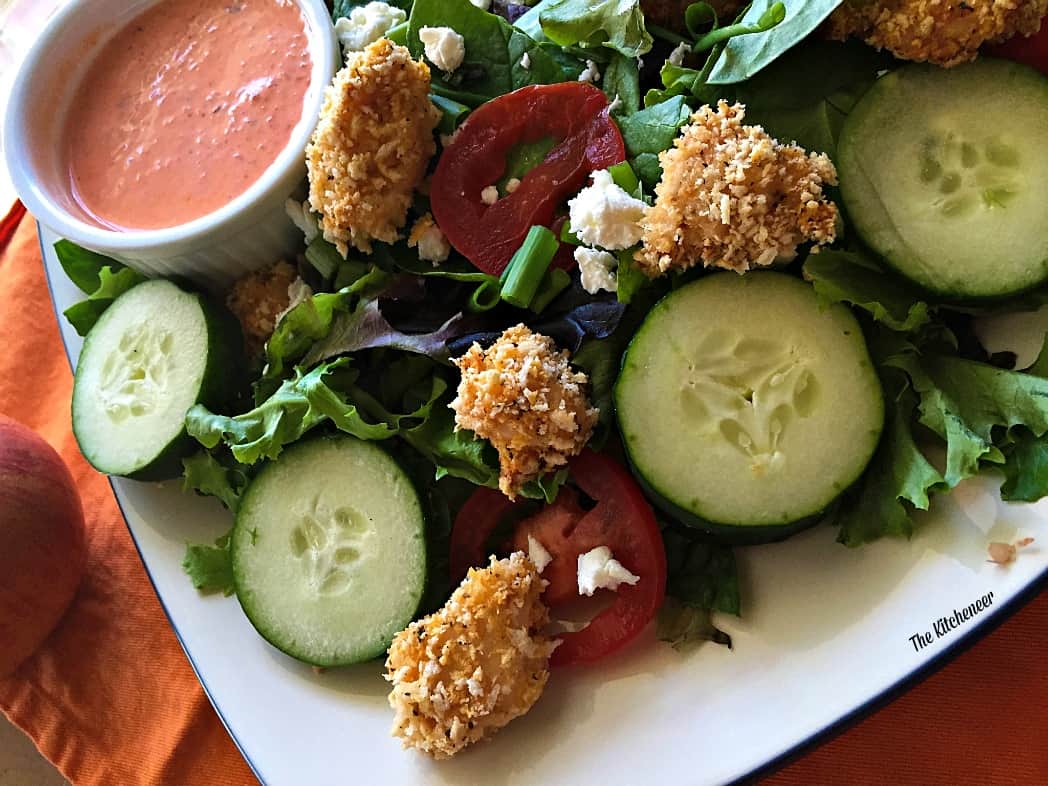 Serves 2: Calories: 531, 31g fat, Net Carbs: 24.5, Sodium: 553mg, Protein: 37.2
Zone: 2C, for 3 tbs of avocado= 3F, 3P( 3 oz of chicken) add one more carb ( i.e. ½ an apple)
You Need:
2 chicken breasts, diced
¾ cup of whole wheat bread crumbs
½ cup almond meal (I prefer Bob's Red Mill) 😉
½ teaspoon cayenne pepper
1 teaspoon of sriaccha sauce
1 egg, beaten
1 package of organic spring green mix
2 roma tomatoes, diced
½ cucumber, sliced
1 avocado, diced
Dressing: Serves 6: Calories: 42, Fat: 1g, Carbs:3g, Protein: 2.4g, SodiumL 164mg
1 jar of roasted red peppers, drained
5oz of nonfat plain Greek yogurt
¼ teaspoon cayenne
1 oz of goat cheese
1 teaspoon of sriaccha
Salt and pepper
1 clove of garlic
1 tbs lemon juice
Pinch of red pepper flakes
Directions:
Cut up chicken and dab with paper towels to get rid of excess moisture
In three separate bowls put bread crumbs in one, egg and sriaccha (beaten together) in another, and in the last one add almond meal
Line a baking sheet with aluminum foil and preheat oven to 415
Dredge each nugget I almond meal, then dip in egg mixture, and finally in the bread crumbs and lay on baking sheet
Repeat last step until all nuggets are used
Bake chicken in oven for about 20 minutes or until cooked through
As chicken cools, prep the veggies and dressing.
Divide veggies among two bowls
For the dressing, add all ingredients to a food processor or blender and blend until smooth
Pour into a mason jar to save any leftovers
Top each salad with the popcorn chicken and drizzle 2 tbs of the dressing on top! I also topped mine with some additional goat cheese!
Enjoy!