The great egg debate is upon me. No; not the one of which came first? The chicken or the egg? The one where you eat too many eggs and the mere thought of another one makes you want to gag.
That's where creativity comes into play. Instead of thinking and moaning about the things I can't have, I make things I want out of things I can. See? I make the system work for me! I do what I want!
With that said I love breakfast sandwiches…I even made them at Panera Bread when I worked there in college. But like I said before: I am so over bread.
Then it dawned on me that anything can be a "bun"! So why not the eggs themselves??? Genius, I know. And like a big messy burger, this is a knife and fork breakfast.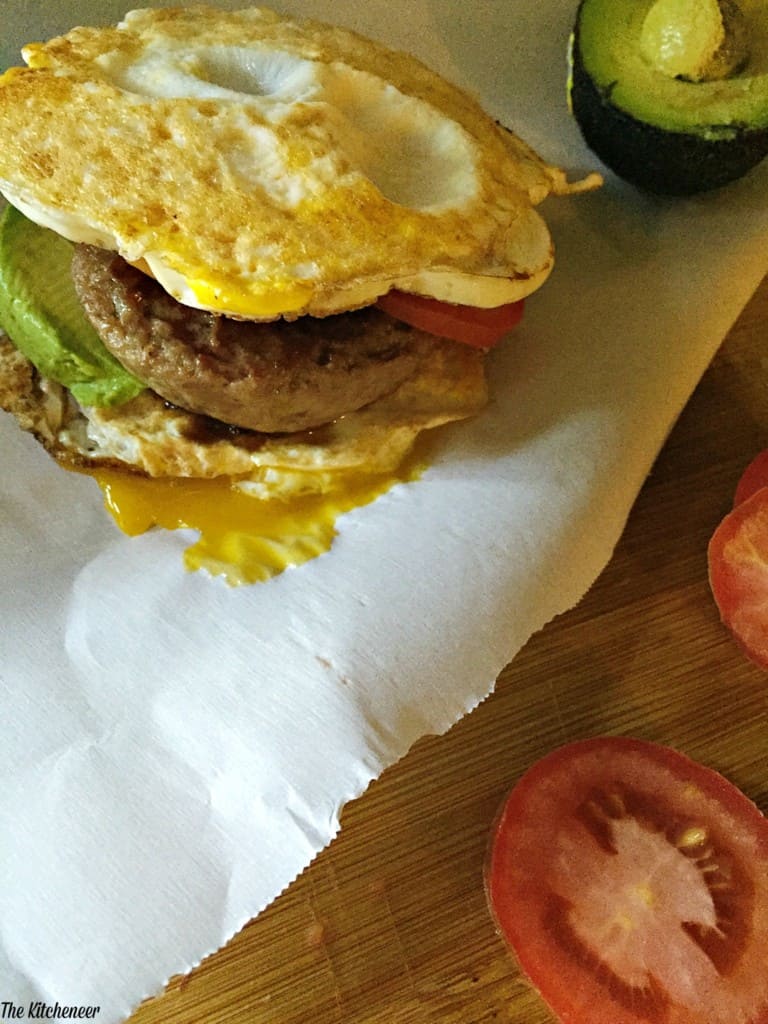 I take these to work, heat 'em up and enjoy my Paleo Egg and Sausage Sandwich!
This came out SO good! I used Jennieo's Turkey Sausage, 2 fried eggs, and added roma tomato slices and avocado! Delish!
I was a little surprised that the turkey sausage was Whole30 compliant! I half expected it to say "sugar" as one of the ingredients on the back, but nope! I was free to enjoy! This made me inexplicably happy!
What's also great about this is it can be whipped up in 15 minutes or less!
Serves:1
You Need:
2 eggs
2 oz of Jennieo's turkey sausage
4 slices of roma tomato
¼ of an avocado, sliced
Salt
Pepper
Directions:
Heat an 8" skillet on medium and spray with coconut oil
Crack egg in center and allow it to cook 2-4 minutes flipping once. Sprinkle with salt and pepper.
Repeat with other egg.
Place eggs on a paper towel to absorb some of the moisture
Slice sausage into 2oz slices
Heat another skillet on medium and place sausage patties in it
Sear patties until cooked through, (about 5 minutes)
Assemble your sandwich!
Place 1 egg on a plate add sausage, tomato, and avocado then place other egg on top!
Enjoy!
*I am currently a member of the Hormel Foods Extended Blogger Program and
this post is part of my involvement in the Group. While Hormel Foods provides
me material and necessary resources to complete various activities, all
statements and opinions ( as always) in The Kitcheneer are my own