Sweet Potato Waffles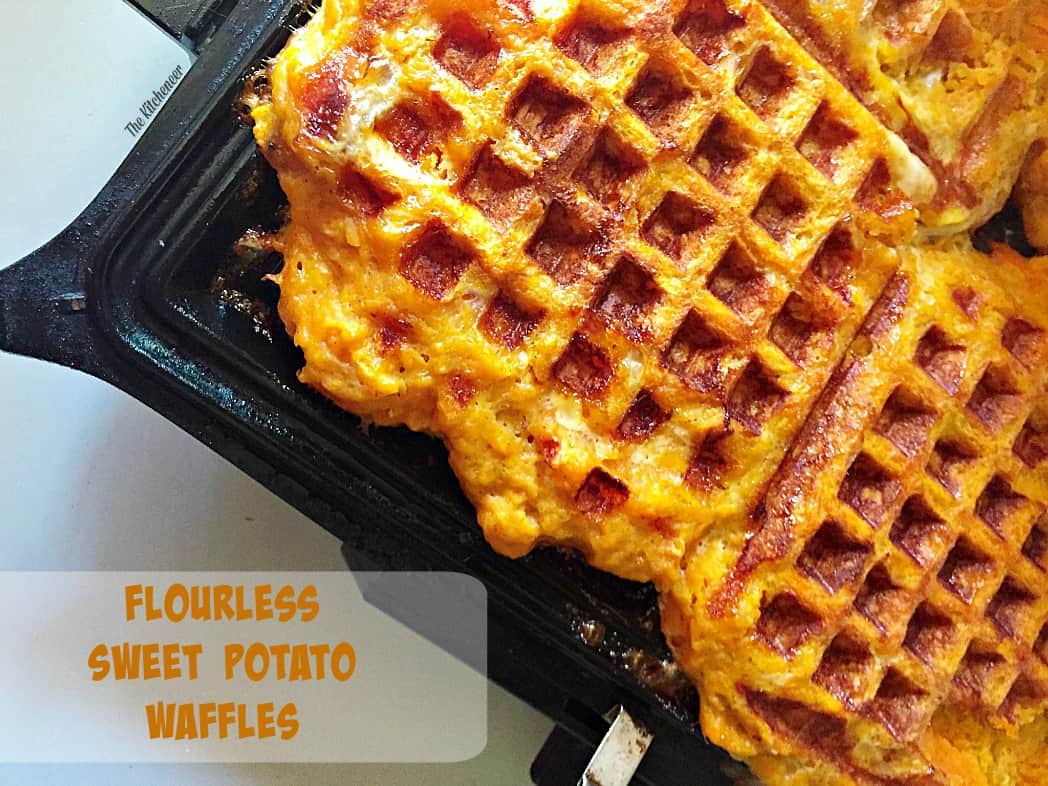 I have had a recent love affair with my waffle iron. Ever since going Paleo, it has sat sad on its shelf longing to be used for…something. Other than the protein waffles I make for Jake every Sunday ;).
I had some mashed up sweet potato from my weekly meal prep. And I thought, "You're going in the waffle iron and become more delicious!"
And that is EXACTLY what happened. Who knew simple mashed sweet potatoes could turn into something magical?
I will admit I was kind of proud of myself. Lol Waffles this good is something totally to be proud of!
They are fluffy, sweet,with a hint of savory. I am a savory gal through and through so this totally works for my mornings with a fresh cracked egg on top and some sliced avocado. DELISH!
There are so many ways to dress up these bad boys. I am even going to give you my four favorite ways to dress them up!
( My favorite) Over easy egg with sausage and sliced avocado
Strawberry Fields: ½ cup sliced strawberries, 2 tbs slivered almonds, and a dash of cinnamon
Monkey Waffles: 1 sliced banana, unsweetened coconut chips, and walnuts
Tex Mex: 4 oz of ground turkey or beef, diced bell peppers,tomato, and sliced avocados or a dollop of guacamole.
These waffles are so versatile that you can dress them up any way you want whether you have a sweet tooth or savory one!
Heck, if its Thanksgiving top it with leftover turkey and drizzle the gravy on top! YUM.
I make these as part of my weekly meal prep for my breakfasts/lunches! SUPER EASY and they freeze well too! So, make a double or triple batch and you should be good for a week or 2!
Sweet Potato Waffles are fluffy, savory/sweet way to start your day or have breakfast for dinner! I only have one question for you: Are you hungry yet? 😉
Makes 4-6 little waffles (as pictured) or 2 large Belgian style ones
You Need:
A handy dandy waffle iron
Coconut Cooking Spray
2 really large sweet potatoes
2 eggs
1 teaspoon kosher salt
1 teaspoon cinnamon
Add ¼ teaspoon nutmeg if you want a sweeter taste 🙂
Directions:
Preheat oven to 405 degrees
Wash and poke each potato with a fork
Wrap in aluminum foil and roast in oven for 40 minutes
Let potatoes cool down (10-15 minutes) and peel off skin
Put potatoes in a mixing bowl and begin mashing them down until smooth
Add in eggs, salt, and cinnamon.
Combine until smooth
Heat up your waffle iron to medium heat
Spray thoroughly with coconut oil
Scoop an overflowing ¼ cup for each waffle (½ cup for larger waffles)
Let cook for 15-20 minutes
Should come off easily with fork
Stack, top with favorite ingredients, and eat!