Going on my second Whole30 ( Day 13), you notice a few things. Like you are more comfortable going into this challenge because you know you can do it. I still experienced the energy slump I got the last time I did this in Week1.
The hardest part for me so far is eating more veggies. I am REALLY good about it at lunch and dinner. More than half my plate is filled with the colorful delicious bastards. But it's breakfast once again where I struggle.
That is why I am forever seeking new flavor combos, spices, or different techniques to incorporate veggies at breakfast. I usually just throw leftover grilled veggies in my omelets but that got old after 3-5 days of that in a row.
And once again Instagram is where I found my inspo. One of my favorite Instagrammers shared she was using Mina Harissa sauce in one of her recipes and I was glued to my screen. The pop of color was what sealed the deal.
I immediately ordered some of their Mild Harissa sauce along with some Whole30 compliant Sriracha sauce ( I HAVE SO MANY IDEAS for the latter) I digress.
The harissa brings the zing to my eggs like nothing else does! So if you are a fan of hot sauce on your eggs then this recipe is for you!
I decided to go with a dish called Shashuka eggs. It's a one-skillet dish that is derived from North Africa and is traditionally served with challah or crusty bread.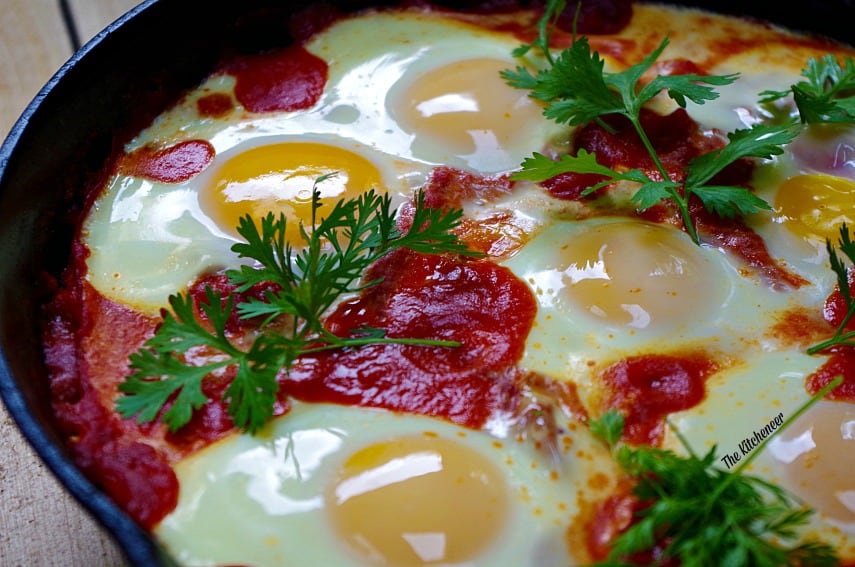 What's also great about this dish is it looks all fancy, but it's incredibly easy! The hardest part is letting the tomatoes sweat out ( 5 minutes) the rest of the sauce comes together quite quickly and before you know it someone is yelling at you to not eat the whole skillet and share some with the rest of us!
Shashuka Eggs with Harissa
Author:
Prep time:
Cook time:
Total time:
Ingredients
½ white onion, diced
5 garlic cloves, minced
1 red bell pepper, diced
1 teaspoon fresh cracked pepper
1 teaspoon salt
1 can of crushed tomatoes (14.5 oz)
2-3 tbs of Harissa
2 tbs of olive oil
6 eggs
Instructions
In a cast iron or skillet with high sides (with a lid) heat oil on medium
Sauté the onion until browned (5 minutes)
Add the garlic and stir until fragrant (1 min)
Add the bell pepper, salt, pepper, tomatoes, and harissa and stir until combined
Let simmer on medium low for a couple of minutes
With a spoon, make a dimple for each egg in the sauce
Crack eggs into each dimple
Cover with a lid until the whites are set (not the yolk)
Try not to eat the whole thing while it's this hot!
Enjoy with some sweet potato to add a healthy complex carb to complete this meal!
Serving size:
⅓ of dish
Calories:
268
Fat:
18g
Carbohydrates:
13g
Sugar:
7g
Sodium:
826mg
Protein:
15g
There are tons of ways to make Shashuka, but since this was my first time experimenting I adapted from Bon Appetit.