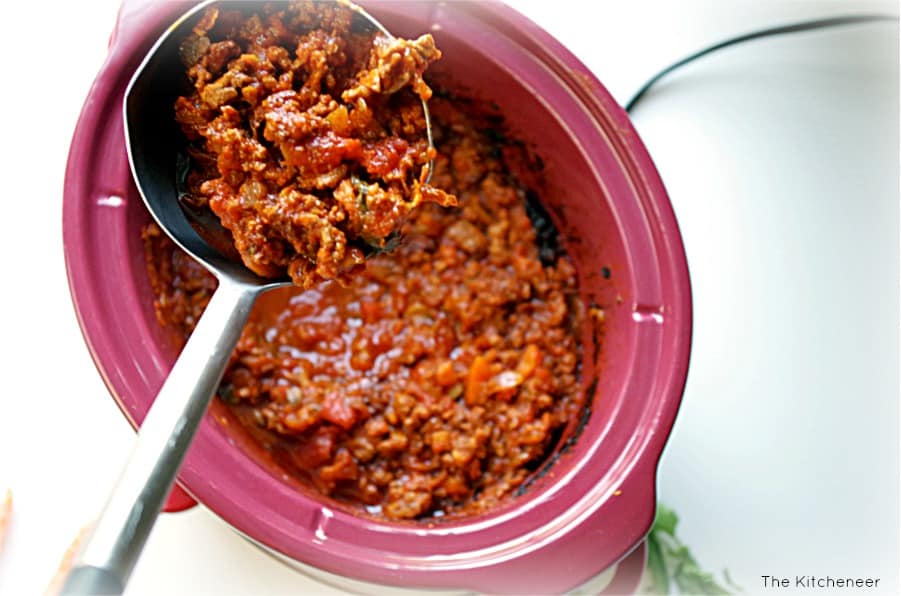 Crockpot Bolognese Sauce is that classic red Italian meat-filled sauce we all love poured over pasta and even spaghetti squash as a healthy alternative! It is also a sauce filled with veggies -get your kids to eat some without them even knowing! 
If you have been reading my blog for any amount of time, you know that I LOVE my Italian food. A good sauce and pasta? Im there.
Now, the term "crockpot" usually means just dump ingredients in pot and walk away. I am sorry (not sorry) that this is not one of those recipes. The meat does need to be browned and the veggies need to be sautéed quickly before going into the crockpot. However, the flavor profile is just not the same without those steps! It's SO worth it! Other than that, this sauce comes together in under 20 minutes and simmers low and slow while you are at the office all day. And it makes a ton, so save some to freeze for later!
Now, if you think I am the Italian food lover you haven't met my younger brother Justin. I swear the kid has two stomachs. I remember watching him eat in amazement of where he would put it all cause there was really nothing to him. Skinny as a post. But he could eat for days if you put Italian food in front of him.
Speaking of Italian food, we are going to be joining him at an Italian restaurant in a few weeks for his HIGH SCHOOL GRADUATION! Guys!!! When did my BABY BROTHER grow up?? I am SO proud of him.
Not many people know this but Justin was diagnosed with Asperger's Syndrome when he was around 10 years old. Prior to that he was nonverbal and had even regressed back into being unable to walk. We went to so many doctors. So much fear and frustration on what was going on with him. Our poor mom went through so much. No one is as strong as her as we went through all of this uncertainty. This was in the late 90's and not too many doctor's were aware of Asperger's and how it affects children and especially an individual over their lifespans'.  Justin has gone through so much in his life and no one; I mean NO ONE deserves this day more than him.
Justin has always been my personal hero to be honest with you. Many underestimate him; but I always knew he was great and literally the smartest human being I have ever met. Growing up, you could just look in his eyes and see that he had it all figured out. The gears were turning and I knew that he would amaze us everyday, and he has.
Justin has accomplished so much so far; such as becoming an Eagle Scout, a member of the ROTC at his high school, an awesome swimmer, AND I am VERY proud to say that he will be receiving the citizenship award PLUS graduating WITH HONORS this year!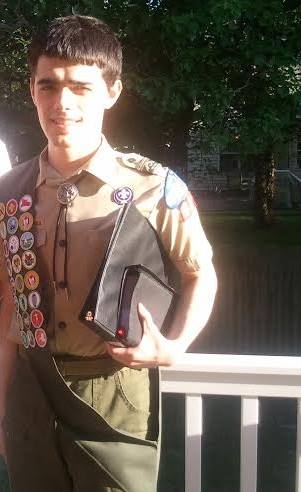 I am so proud to be your big sister and I look up to you with your courage, strength, and understanding. You will do great things and show everyone how wonderfully beautiful  you are inside and out.
Ok. Now that I am bawling… Let's get back to this sauce.
I set out to make this as part of my weekly meal prep. Then decided it was to be half prep half part of a soon to be post! I try to utilize my time wisely when creating recipes on the weekends! 😉
As I said in the beginning, sautéing the veggies and browning the meat brings this sauce to a whole other level. And homemade sauce trumps any store bought sauce. There are a few staples I always have on hand in my fridge/freezer:
a good sauce whether it be bolognese or a good marinara
mayonnaise (post coming soon)
make ahead meatballs (goes perfect with this sauce)
Spiraled zucchini
Planning ahead and creating staples in your kitchen creates an amazing habit: you are no longer tempted to call the Chinese place for food. You planned ahead and made a big batch of bolognese sauce on Sunday and can boil a quick pot of pasta or sauté some zucchini noodles in a hurry after a long day.
Sometimes I even stuff a sweet potato with this sauce for lunch! Don't knock it until you try it!
The key to a great sauce is simple ingredients, just make sure they are good ingredients! For this recipe you will need crushed tomatoes, fresh garlic, onion, celery, carrots, basil, oregano, and ground beef.
Fresh garlic is my jam. It's so worth the energy to crack open a clove and release all that goodness in this sauce. Trust me. I used to say that the jarred stuff was just as good. I was wrong, very wrong.
We start this sauce by heating the oil in a skillet. Then adding the finely chopped veggies. If you have room, add the beef. If not, place sautéed veggies in crockpot. Once beef is browned and crumbled, add to crockpot with crushed tomatoes and herbs. That's it! Dial your crockpot on low for 6-8 hours and come home to a house that smells like an old Italian lady has been cooking all day!
If you make this recipe, don't forget to tag #thekitcheneer and share!
Print
Crockpot Bologonese Sauce
---
2

tbs of olive oil

2

carrots, peeled and diced

2

stalks of celery, diced

1

white onion, diced

2

cloves of garlic, minced

1 cup

of portobello mushrooms, chopped fine

1 tsp

kosher salt

1 tsp

black pepper

3

basil leaves

1

tbs fresh oregano

1

32 oz can of crushed tomatoes

1

lb of ground beef
---
Instructions
In a large heavy bottomed skillet or dutch oven heat oil on medium heat
Add onion, carrots, and celery and sauté until translucent (6 minutes)
Add garlic and mushrooms
Sautee for another minute or two
Pour sautéed veggies to crockpot
Add ground beef to the same skillet or dutch oven
With a wooden spoon stir the beef every few minutes until crumbled and browned (about 5-7 minutes)
Add beef, crushed tomatoes, seasonings, and herbs to the crockpot and stir all ingredients until combined
Set crockpot for low and let cook for 6-8 hours
Enjoy over pasta or zucchini "pasta"
Nutrition
Serving Size:

¾ cup

Calories:

218

Sodium:

158mg

Fat:

12g

Carbohydrates:

10g

Fiber:

2.7g

Protein:

11g