GOOD MORNING!!!
What is new in your world? Not much is new with us other than blog stuff and spending our weekends developing recipes, photo shoots, and photo editing. #foodbloggerproblems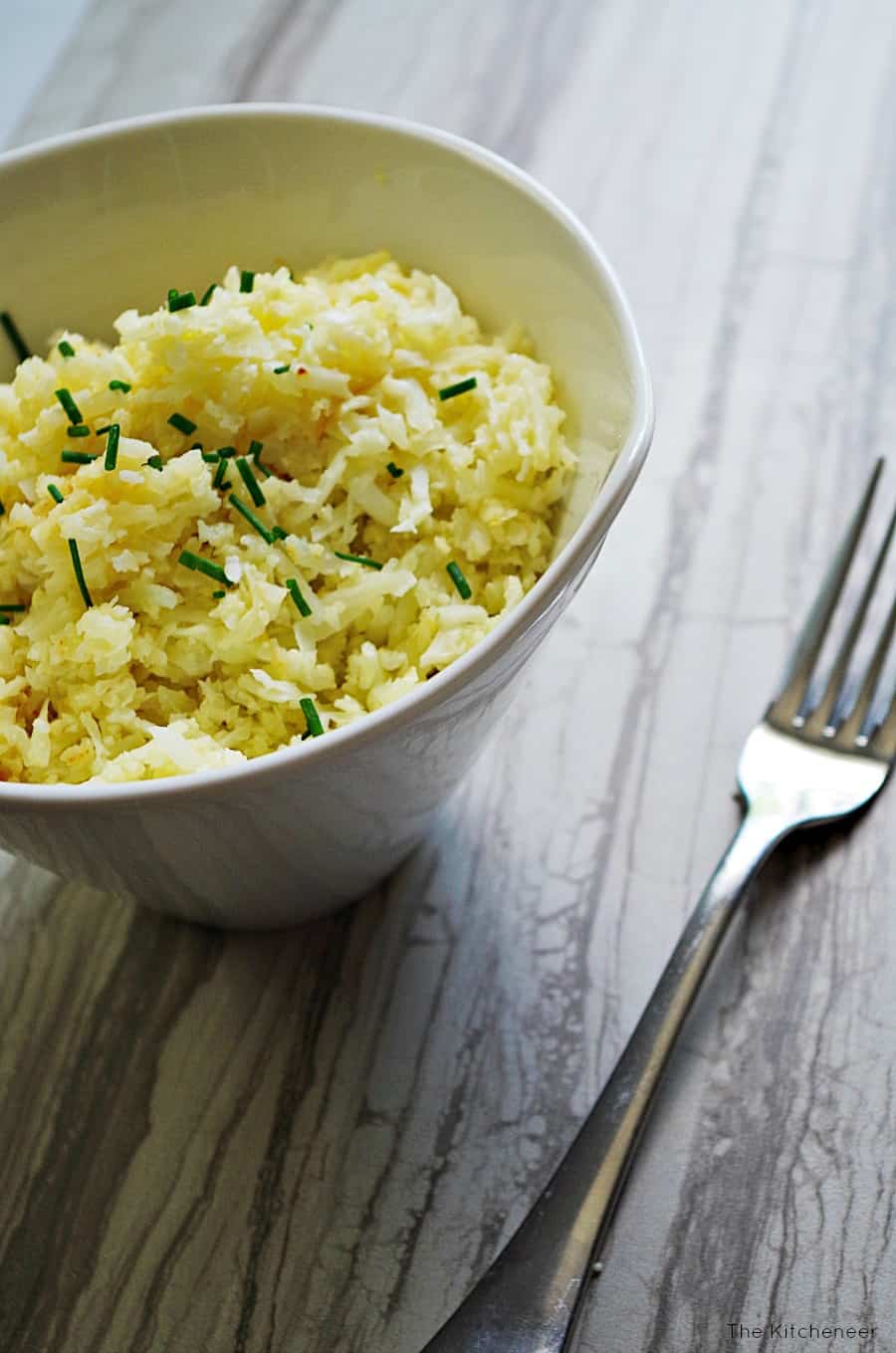 We recently got to check out a local coffee shop down the street called Agora's. As you know, I am an avid coffee snob. I love dark roasts that feel super smooth going down. My coffee tastes have changed over the years from dumping 20 packets of Splenda plus French Vanilla creamer to just a few spoonfuls of coconut cream and vanilla extract in a blender (my Whole30 Bulletproof coffee). I have now ventured into the world of black coffee -gasp- it has been a process of gagging,choking, making weird faces that I hope no one sees as I take sips,to actually being a tolerable taste. I want to like it. I am trying.
Anyways, back on subject Agora's was GREAT. I love finding local places to park myself at! Especially COFFEE.
Now that I blew my own mind drinking black coffee, I am about to blow your mind.
Check it out. Cauliflower rice.
If you're already familiar with cauliflower rice then you have experienced one of the greater joys of cooking low carb/paleo. It is fluffy, buttery, savory, and sticky! All the things you love about rice already.
And it is so much FUN to make. Need a stress reliever? Chop into a head of cauliflower, then shred it in your food processor. It is so much fun pressing down and creating cauliflower "snow". Is it weird that i want to make cauliflower angels?
Cauliflower is one of those amazing vegetables that has many hats and can be made so many different ways. You can mash it, rice it, make pizza with it, grill it, steam it, soup it, I am starting to feel like Bubba now. Cauliflower is also pretty smelly. This is due to the fact that it actually has sulfur compounds in it. To reduce the smell, try not to boil it. Steam it with 1-2 tbs of lemon juice or sauté it. I can pretty much eat this vegetable any day of the week and not get tired of it!
I made my first VIDEO to show you how quick and easy cauliflower rice is! Please subscribe to my channel while you are visiting YouTube!
How easy is cauliflower to rice? So easy it changed my last 3 Whole30 rounds. I eat cauliflower rice at least once a week now.
Simply chop the head down the middle, remove the core and leaves
Cut into large florets
Get food processor out with the shredding attachment
Pop a couple florets and pulse pulse pulse!
Now you should have a mound of riced cauliflower
Now what?
The most basic way to cook it is to heat a sauce pan with some ghee (clarified butter) and some salt and pepper
Cook for about 6 minutes
Do not over cook or it will be gross and soggy
Another way I have used cauliflower rice are these Cauliflower "Grits" Cups! They are perfect for on the go breakfast prep!
Ricing the cauliflower is also great to do for meal prep in general. Just rice it and store it in the fridge for up to 5 days (uncooked)
Rice it up!
Ingredients
1 head of cauliflower, core removed and cut into florets
1 teaspoon salt
1 teaspoon black pepper
2 tbs ghee or unsalted butter
Instructions
In a food processor with the shred attachment installed pulse florets until all cauliflower has been processed
Discard all unprocessed pieces (there may be a few the blade didn't catch)
In a medium sauce pan melt ghee or butter on medium heat
Add rice (may need to do in batches)
Season with salt and pepper and stir to combine ghee, rice, and seasonings
Cover and let cook for 5-8 minutes until it has the rice-like consistency you desire
Serve immediately or refrigerate for up to a week
Tip: Raw uncooked cauliflower rice can be frozen in a re-sealable freezer proof gallon bag for 3-5 months
Make it a Meal!
Fried "Rice"
Serve with light green salad and some roasted chicken
Have a tex-mex night and make a burrito bowl (post coming soon)
Serve alongside your favorite steak and some roasted cherry tomatoes!
How To Make Cauliflower Rice
Author:
Prep time:
Cook time:
Total time:
Cauliflower RIce is fluffy and delicious and a wonderful low carb substitute to grain! Make it today!
Ingredients
Ingredients
1 head of cauliflower, core removed and cut into florets
1 teaspoon salt
1 teaspoon black pepper
2 tbs ghee or unsalted butter
Instructions
In a food processor with the shred attachment installed pulse florets until all cauliflower has been processed
Discard all unprocessed pieces (there may be a few the blade didn't catch)
In a medium sauce pan melt ghee or butter on medium heat
Add rice (may need to do in batches)
Season with salt and pepper and stir to combine ghee, rice, and seasonings
Cover and let cook for 5-8 minutes until it has the rice-like consistency you desire
Serve immediately or refrigerate for up to a week
Tip: Raw uncooked cauliflower rice can be frozen in a re-sealable freezer proof gallon bag for 3-5 months
Save
Save