I've got something pretty souper today for you!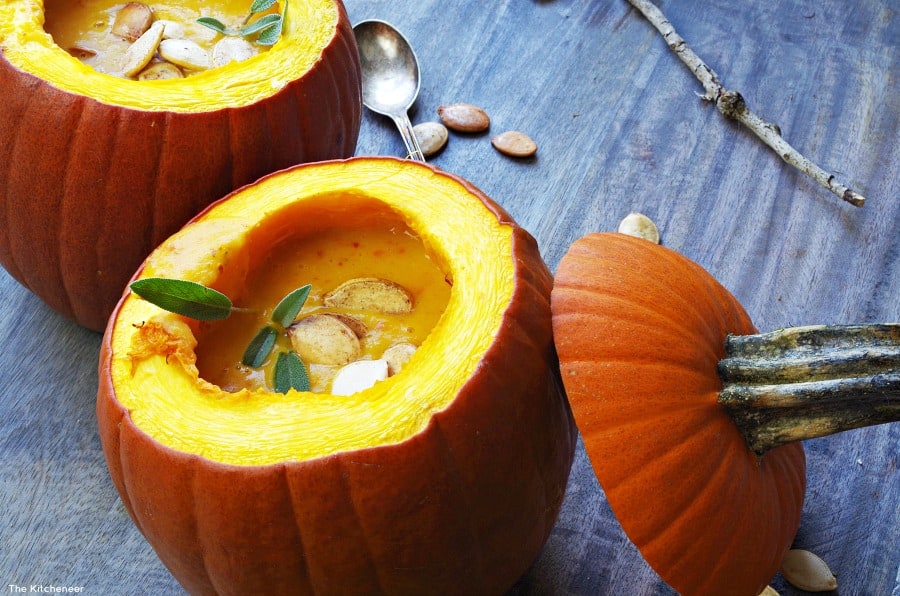 Ok ok no more cheesy puns…for now 😉 And as you can see from my last few posts, that I am squeezing as much pumpkin as I can into this month. And I'm LOVING IT.
Thing is, I have SO many recipes in my brain right now and too many of them are in the "MUST MAKE" pile. And this month has gone by too fast to get to this year. Silently makes note to self to save for next year.
I'm about to turn your winter into the coziest one yet! I know it sounds pretty cliché to say I love soups this time of year. But guys, I REALLY do! By now Jake is probably soup sick from how much I have been making it every week.
This soup is SO creamy! That touch of coconut milk really is mandatory here!
So let's dive right into this soup!
First, we have real roasted pumpkin that have been browning in the oven WITH a whole head of garlic!
YESSSS!!!! For all you garlic lovers out there, this soup is FOR YOU! I personally love garlic. And when a recipe calls for only 2 cloves I giggle and add like 3-4 more. Although, I have heard somewhere that it's really good for you too! WIN!!!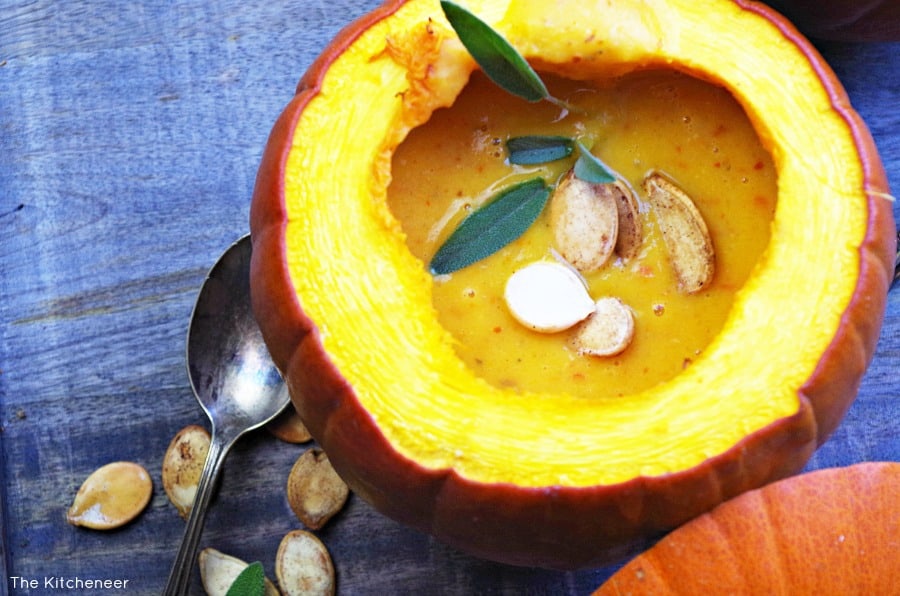 Once the pumpkin has been roasted all toasty, it goes into a big pot with sautéed onion, red bell pepper, ghee, and sage!
Oh! And a dash of cinnamon! It really helps bring out the savory pumpkin flavor of this soup.
Add some chicken stock plus coconut milk and that's it!
Souper easy!!!! Hahahahaha I kill myself.
This soup makes your WHOLE house smell amazing! I am actually making this as an appetizer for our Thanksgiving this year! Everyone LOVES this soup I make every year; but I have a feeling this one is a winner too!
And being on a Whole30, this soup made me REALLY full. Like for hours. Maybe it's all the fiber!
To make this a meal your whole family will enjoy, I love have a big boule of bread in the middle of the table for everyone to rip into and use for dipping into the soup!
Or I like to get a rotisserie chicken on the way home and serve it alongside of that!
To top of the soup, I go with more pumpkin! Yes! Roasted pumpkin seeds are a great crunchy topper for this soup! I made Sweet Cinnamon Roasted Pumpkin Seeds (blog post coming).
This soup + warm fuzzy socks+ the new Gilmore Girls = heaven
Please tell me I am not the only one excited about the new Gilmore Girls episodes?!
I know Rory and Lorelai would totally be diving into this soup with bread of course! Because; carbs.
Save