Whew! Christmas is over and I feel sad-relieved-deflated-joyous and refocusing to getting excited for New Years!
Can ya'll believe it will be 2017 on Sunday?! Seriously, 2016 was a blur!
Can we have some real talk?
We accomplished so much this year with a few bumps like the sickness and ultimately the loss of our beloved Max.
Our Maxiepoo, Maxie-pudding pop, Maxwell Silver hammer, Maxie, Mr. Bubble. Guys, I called him so many different names that I am sure he was confused all the time! But he always came when called!
We competed in our first and second CrossFit competitions! It was so much fun and boy was the adrenaline pumpin!
We ran our first half marathon…while on a Whole30! I mean I was on a Whole30 Jake wasn't having it.
We did SO many things this year, and the best thing about it? We did it all together. I love you babe <3
What are your New Year's traditions?
Last year, Jake and I were EXHAUSTED from having so many family trips that we both passed out on the sofa and missed the ball dropping. I know, super lame!
[convertkit form=4955604]
But usually we are with friends or family, with Time Square on in the background playing Risk, Monopoly, or Cards against Humanity. With a little fizzy boozy concoction of course. So FUN!
So. Any who, point is to toast and reign in the New Year with this fizzy, sweet, tart, and overall amazing mock tail! (Of course you can totally make it boozy if you'd like!) I think a splash of bourbon or vodka would go great here!
This is a beverage for those on a Whole30 or for anyone! I couldn't get enough of this!
Basically most of my breakfasts and lunches this week have had this in a tumbler next to my plate.
And basically we should all be bringing in the New Year with something red, sweet, citrusy, and fizzy bubbly in your hands!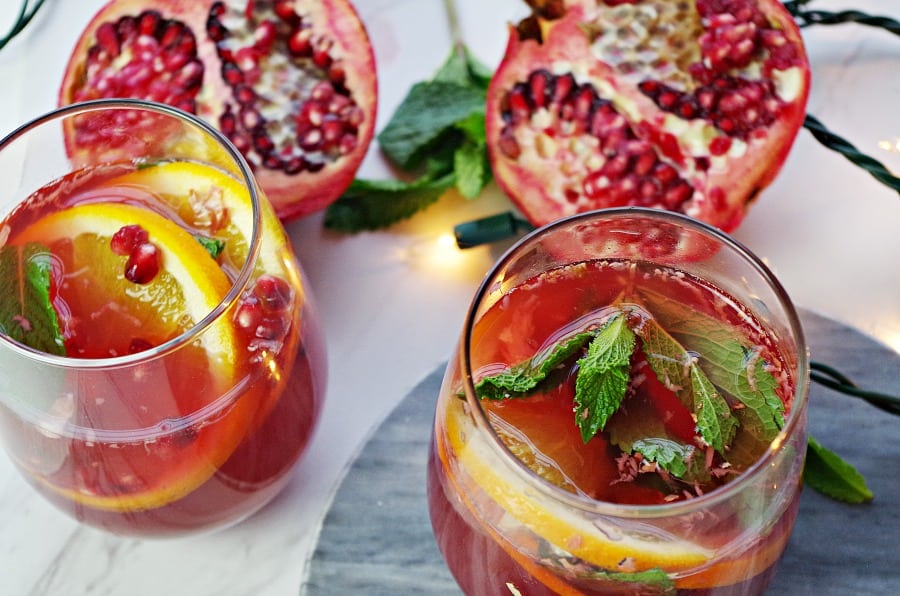 Bring on 2017! I know it's going to be AMAZING.
Save
Save