Winter is coming.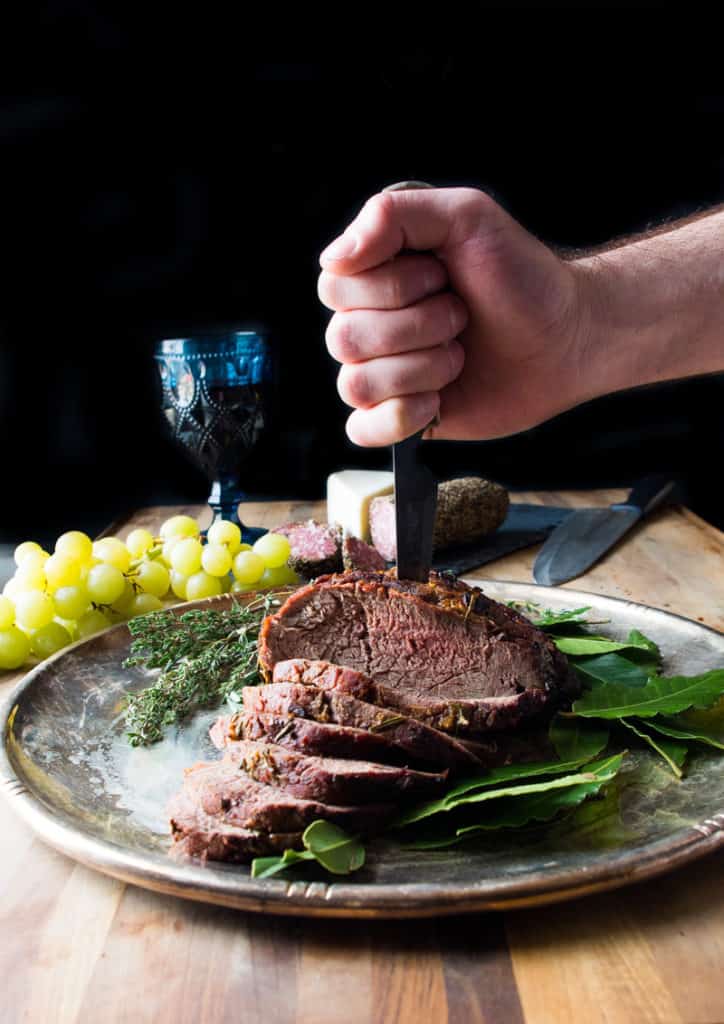 "Cersei Lannister: You should have taken the realm for yourself. Jaime told me about the day King's Landing fell. He was sitting on the Iron Throne and you made him give it up. All you needed to do was climb those steps yourself. Such a sad mistake.
Eddard Stark: I've made many mistakes in my life, but that wasn't one of them.
Cersei Lannister: Oh but it was. When you play the game of thrones you win, or you die. There is no middle ground."
If, you can't tell I CANNOT wait for the next season of Game of Thrones. Like I.Can't.Even. That's why when I received this gorgeous cut of bison from The Honest Bison a vision of a royal feast came into my brain. One that even Cersei couldn't turn her nose up at.
And there is wine involved, so you know Tyrion will be there. Because he apparently absorbs more knowledge the more he drinks. Because he drinks then he knows things, it's what he does. I wish that were the case with me. –sigh-
And what a royal feast this is. The top sirloin roast is marinated in a mixture of honey, salt, fresh herbs, pepper, and garlic. And honestly? I don't know why I never tried putting honey on red meat before! Once it's fully cooked, the honey leaves no trace of sweetness but rather enhances the meatiness of this cut of beef. I was blown away!
I actually researched the process of marinating beef with honey. This is a practice that has been done for centuries over in Europe! There was also a practical reason too. This marinade helped keep the meat tender and last longer!
This meaty entrée has SO much flavor. Once it has soaked the marinade in, I add a little MORE magic to it.
My favorite trick to a more flavorful roast? I slice little holes all over it and rub more garlic and spices into them. This way the flavor seeps inside the bison even more! Then I add a spoonful of melted ghee over top because bison is such a lean cut that it needs a little cooking fat.
Best part? This feast is completely paleo! I roasted the beef over a bed of mushrooms (not pictured) which absorbed all those delicious drippings with a splash of red wine. Ummmm yesssss.
This is the ultimate King's Landing feast and completely healthified to suit your healthy lifestyle. I mean you have lean protein (bison), roasted veggies,cheese, and grapes (plus the fermented kind ;)). And it's nice to have red meat once in a while! Ok, it's decided! Let's do this!
Game of Throne's recipes ALL THE WAY!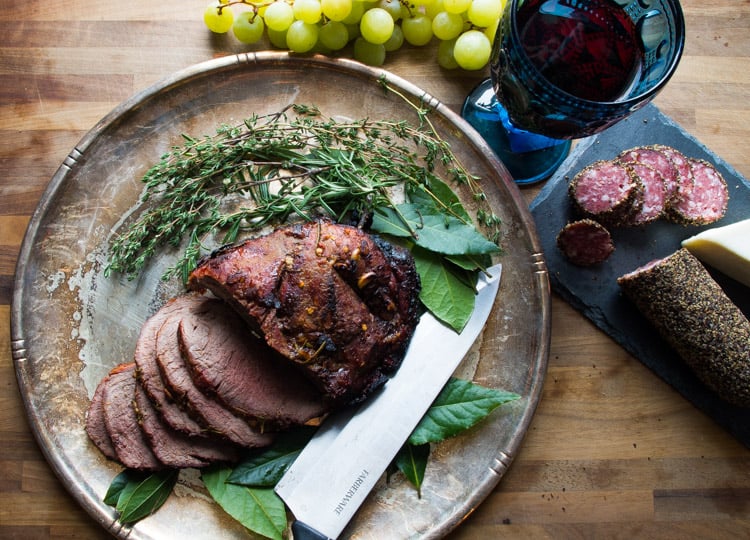 So I hope your mouth is watering and that I think you NEED to make this on the Game of Thrones premiere night!
Save
Save