You guys, I seriously have the easiest spring breakfast recipe EVER
Lately, I have been experimenting with my sprializer. AKA a MUST have make-your-life-easy kitchen gadget. It makes vegetables into pasta. WHAT.
But I have been thinking about Easter brunch recipes and decided these needed to make an appearance here on the blog.
Basically the idea is to make sweet potato noodles. Soften then up in a pan. Make into a nest shape and top with an egg. THAT'S IT FOLKS!
I get excited for Easter every year. Everyone getting dressed up to go to church or to family's houses in their Sunday best. And besides eating an early dinner on Sunday, brunch is about the only other meal I get out of the day. Plus my MANDATORY Cadbury Creme Egg. I HAVE to have one every year. I'm not a huge sweets person, but this is my ABSOLUTELY favorite candy of all time. It's chocolate with a creamy gooey center. YUM.
Ok, back to these nests.
Jake and I are definitely meat and potato kind of people. And usually sway to the savory side for breakfast most of the time. So I usually make some sort of potato hash on the weekends with a side of eggs.
But as I said, these spiralized potato noodles have been my obsession and I can't stop won't stop making them. Thus, cute little paleo potato noodle breakfast nests were born. And honestly, make the perfect Easter brunch. No one will be able to resist these. They are crispy, salty, noodle-y, with an egg on top. Me likey.
And if you want to make it more of a meal, I love serving mine over some sauteed kale or fresh spring greens. Because as I keep saying, I NEED more green in my life. And besides, you have to admit it looks even CUTER on top of greens.
And would it sell you even more on this recipe if I told you it's done in less than 30 minutes???
Spiralizing anything takes like a minute, softening the noodles takes 7 minutes, popping them in the oven to crisp up with an egg on top takes another 10-15 minutes. DONE.
Can't you just picture your family digging into these adorable yet healthy nests? And since its good for you, that's one less thing to feel guilty about eating besides the chocolate bunnies and grandma's homemade potato salad. <-- my grandma makes the BEST potato salad. *makes note to get recipe from her*
So there you go, Paleo Easter Brunch perfection. You're welcome.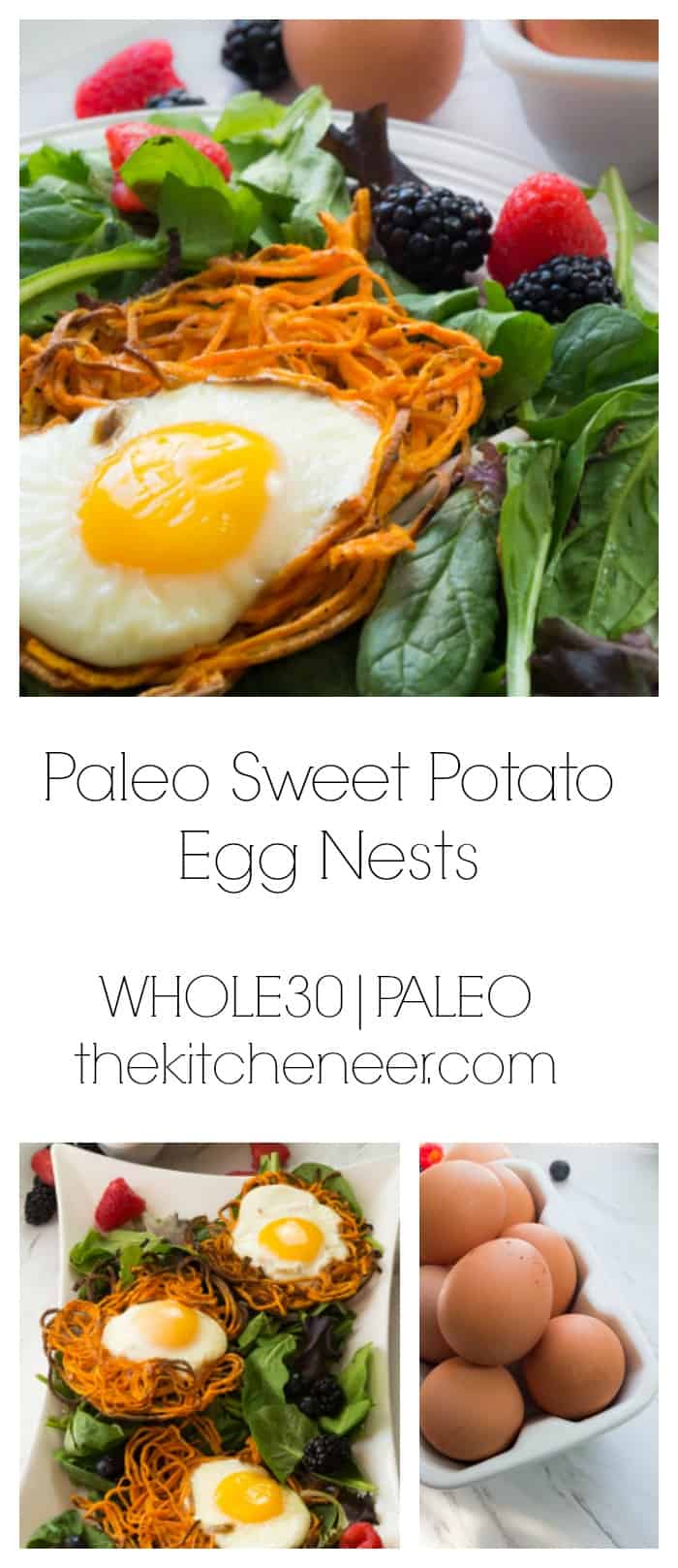 Save
Save