[This post is sponsored by ZUPA NOMA drinkable soups. I used their Beet Orange Basil Soup to make this amazing dressing for this spring salad. Thank you for keeping The Kitcheneer in the kitchen!]
Spring has officially sprung folks!
And I really couldn't be more excited! The tulips are in full bloom around our neighborhood. Except in our backyard…I'm looking at you squirrels.
And I know as cliché as it sounds, I crave salads like CRAZY this time of year. And if you have been an avid reader on The Kitcheneer. You know I like my salads big, with lots of color, and never EVER boring!
And actually? Salads are kind of my favorite food. Please don't inwardly eye roll at that.
I'm actually serious. Especially if you have like a salad bar kind of deal going on in your fridge.
I like to have chopped veggies in individual baggies or containers so I can kind of use my fridge like a salad bar and assemble something super quick yet healthy and oh so delicious.
The chicken is very simply flavored. But oh so good. And it's basically my foundation chicken. A little oil, oregano, lemon, and a pinch of cayenne. Cause I like a little spice 😉 And it helps balance out the rest of this flavorful salad.
The base is a blend of arugula, micro greens, and spinach (which means you have just hit your daily green food goal!)
Then load on the veggies! Roasted asparagus is the in season star right now and must be present! I simply put these pretties on a sheet pan with a little olive oil and garlic and grilled the chicken while I was waiting for them to be done. Then it's cherry tomatoes, grilled zucchini, cucumbers, radishes, and sunflower seeds. And edible flowers. Which I am absolutely OBSESSED with at the moment.
But the dressing. OH MY GOSH this dressing is key to bring this salad to earth. I used ZUPA NOMA's Beet Orange Basil soup and turned it into this savory yet sweet balsamic dressing. Their Beet Orange Basil is PACKED with nutrients and wholesome ingredients. In this flavor alone it has superfoods like raw apple cider vinegar and fresh herbs like basil and mint, which combat anxiety and soothe indigestion.And absolutely mandatory on this springy green bowl of goodness.
ZUPA NOMA soups also provide FOUR servings of whole organic veggies,so you're getting filling fiber in addition to the vitamins and nutrients. Basically this salad became twice as good for you and twice as tasty.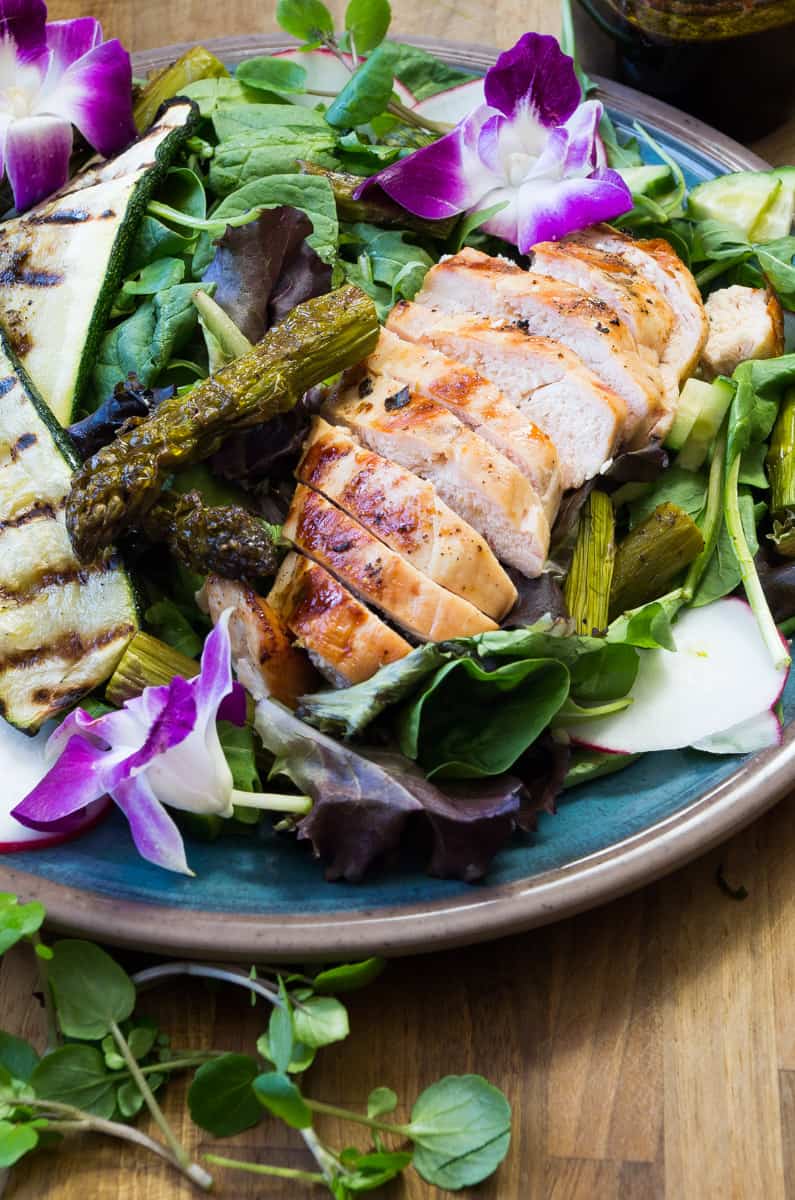 Basically this salad is spring in a bowl! I bet some bunny wouldn't mind eating the whole thing….HAHAHAHAHA
Ok, come on. That was a knee slapper and you know it.
And if you are craving salads as much as me here are a few more to check out:
Greek Chicken Salad Meal Prep Bowls
Save
Save