[This post is sponsored by ZUPA NOMA. A superfood soup packed with nutrients that I used as the key ingredient in this salad recipe. Thank you for keeping The Kitcheneer in the kitchen!]
Jacquimo, this is silly! This is a weed patch!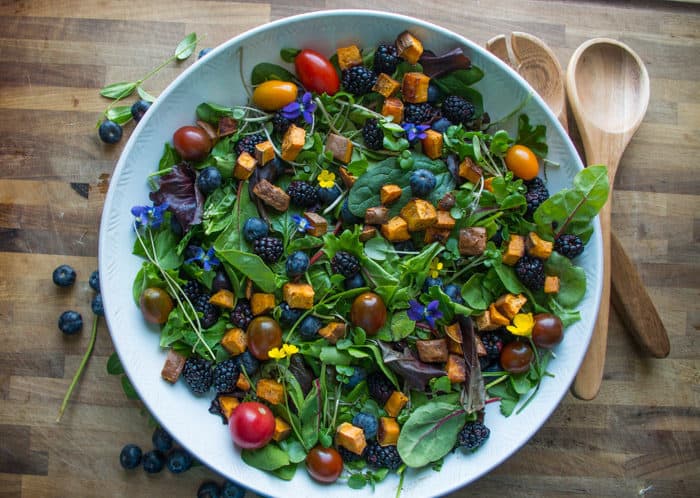 This is ze Vale of ze Fairies!
Thumbelina: Let's be practical. This isn't the Vale of the Fairies, and Cornelius is never coming back!
Prince Cornelius: [comes up behind her, singing] And I'll never let you fall!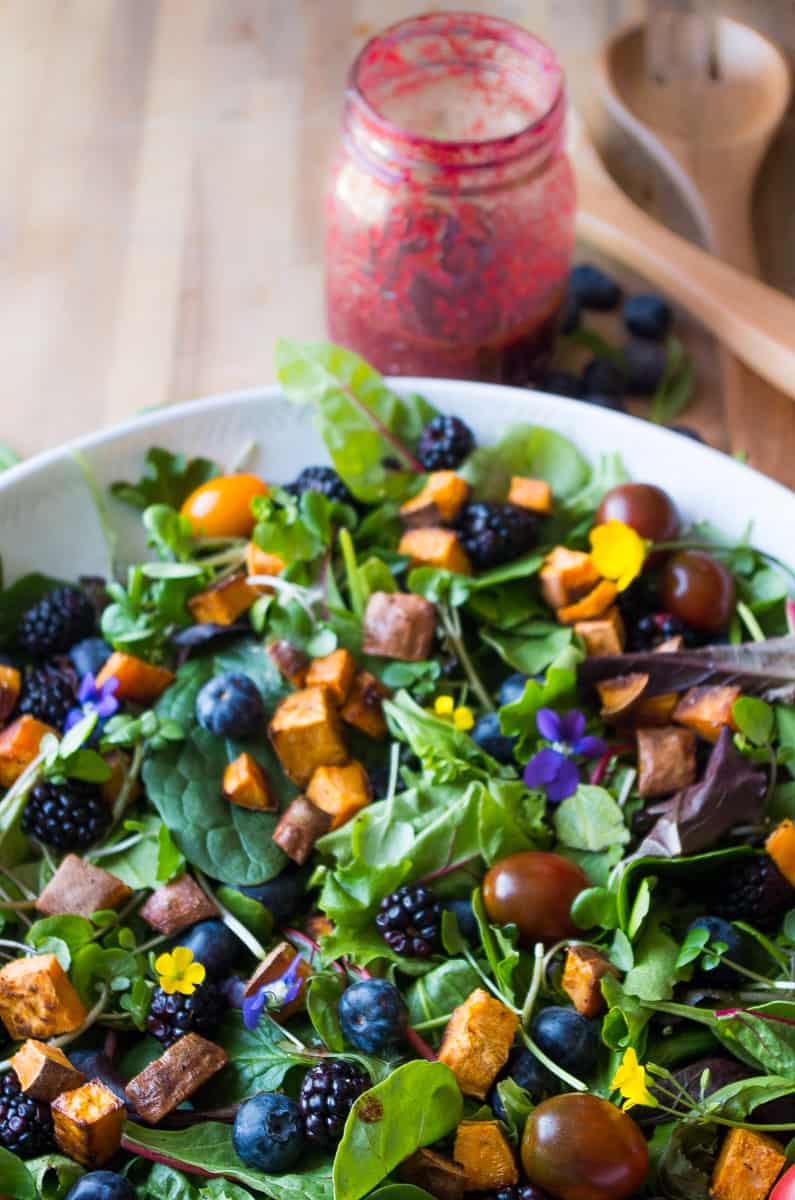 Pretty much the swooniest part of of your 90's childhood. I swear I could watch Thumbelina over and over. And I may have sort of watched it the other day. Which had me thinking of the Veil of the Fairies. Which led to me thinking of all things fresh and colorful and bright. Which leads me to this amazing salad.
Please tell me someone else loves this movie as much as I do???
So if you are feeling nostalgic, grab a bowl! And if you have no idea what I have been talking about, grab a bowl!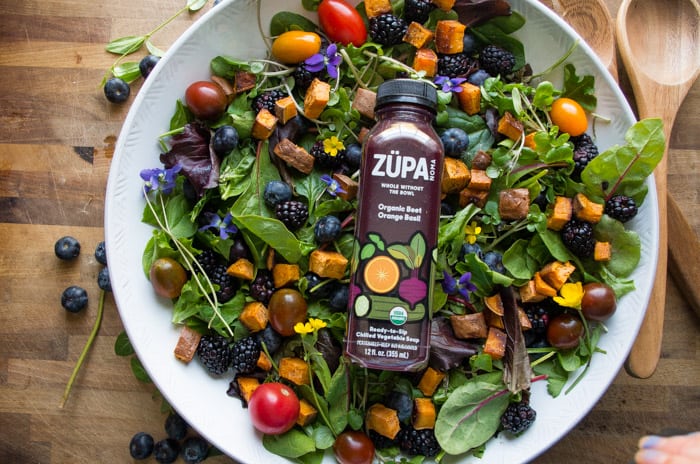 And since Jake and I have been slowly building up our mileage again for our upcoming half marathon I have been making salads like crazy. We usually work in 2 runs a week plus 2-3 days of CrossFit. Yea, my squat game is still strong. Do you guys want to hear more about my fitness routine? I have stepped away from mentioning it so much since most of you have seemed to be enjoying all of these fresh and healthy recipes. But please let me know if you want to hear more about my half marathon training/crossfit life. And you know what they say about people who CrossFit, you will never hear us shut up about it!
But anyways, Jake and I have been adding more miles to our weekly long run. This past week we did 8 miles. My biggest issue at this point is breathing technique. I guess I forget after a while and start taking shallow breaths which causes me to get fatigued sooner. So, I'm working on that!
We also spent this past Easter Sunday with Jake's mom because it was also her birthday. I made the CUTEST cake EVER. I saw it in Country Living and HAD to make it. It looked like a robin's egg! Squeee! I am not a baker so when things turn out right I get pretty excited!
Back to all things green and good.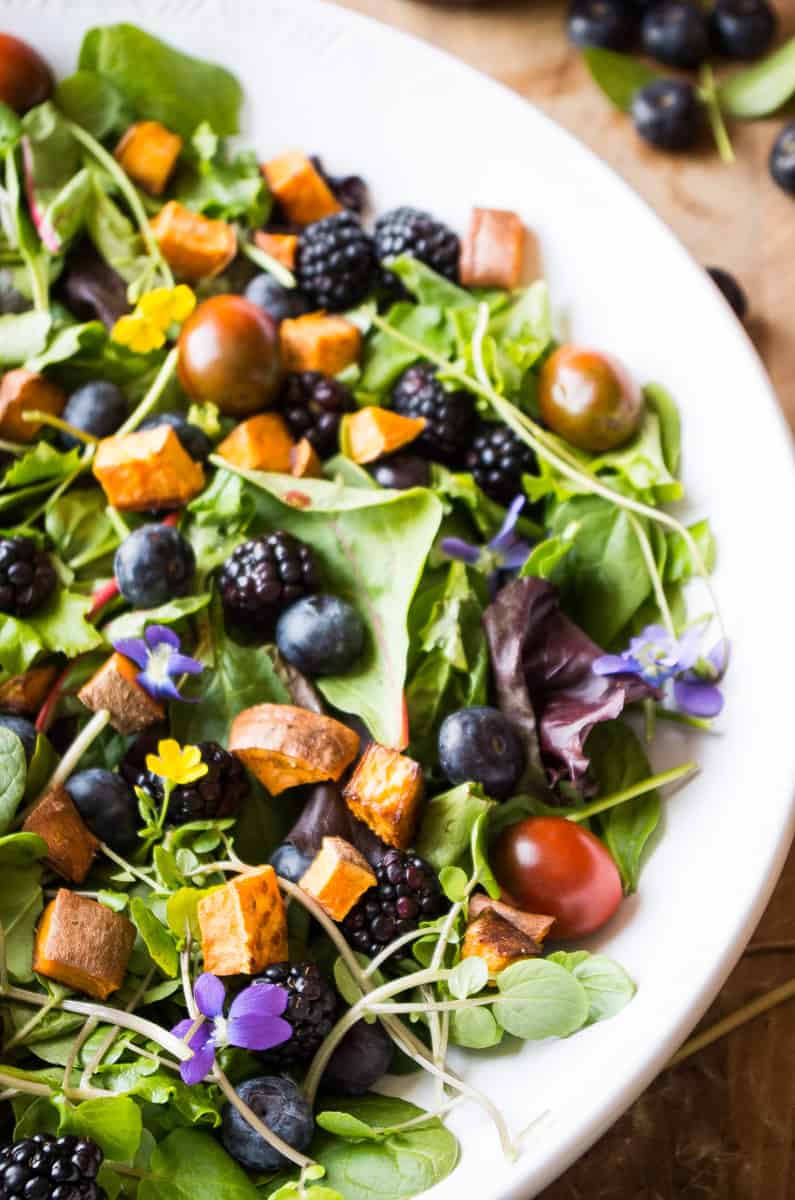 When I made this salad I was definitely thinking of adding all the garden greens. I really wanted to bring the essence of this childhood nostalgic place to life.
Which meant that the base had to be made of dandelion greens, arugula, and micro greens.
I topped it off with all of my farmer's market and forest favorites: blueberries, blackberries, cherry tomatoes, roasted sweet potato, sunflower seeds, and edible flowers. Basically your typical fairy garden all in one bowl.
I also decided to make a killer dressing to go with using my favortie ZUPA NOMA soup- the Beet Orange Basil aka superfood soup.As in PACKED with antioxidants and energy inducing whole foods.
A Blueberry Lemon Beet Basil dressing <-- As in EVERYTHING.
It's the kind of dressing that MAKES you CRAVE salad.
Which I mixed with some avocado oil, red wine vinegar, lemon juice, and blueberry reduction sauce.
I put the blueberries in a sauce pan and let them get nice and hot until they started to burst. After muddling them a bit, I poured them through a strainer to catch all of the sweet juice. And added all that blueberry goodness to the dressing. SO SO GOOD!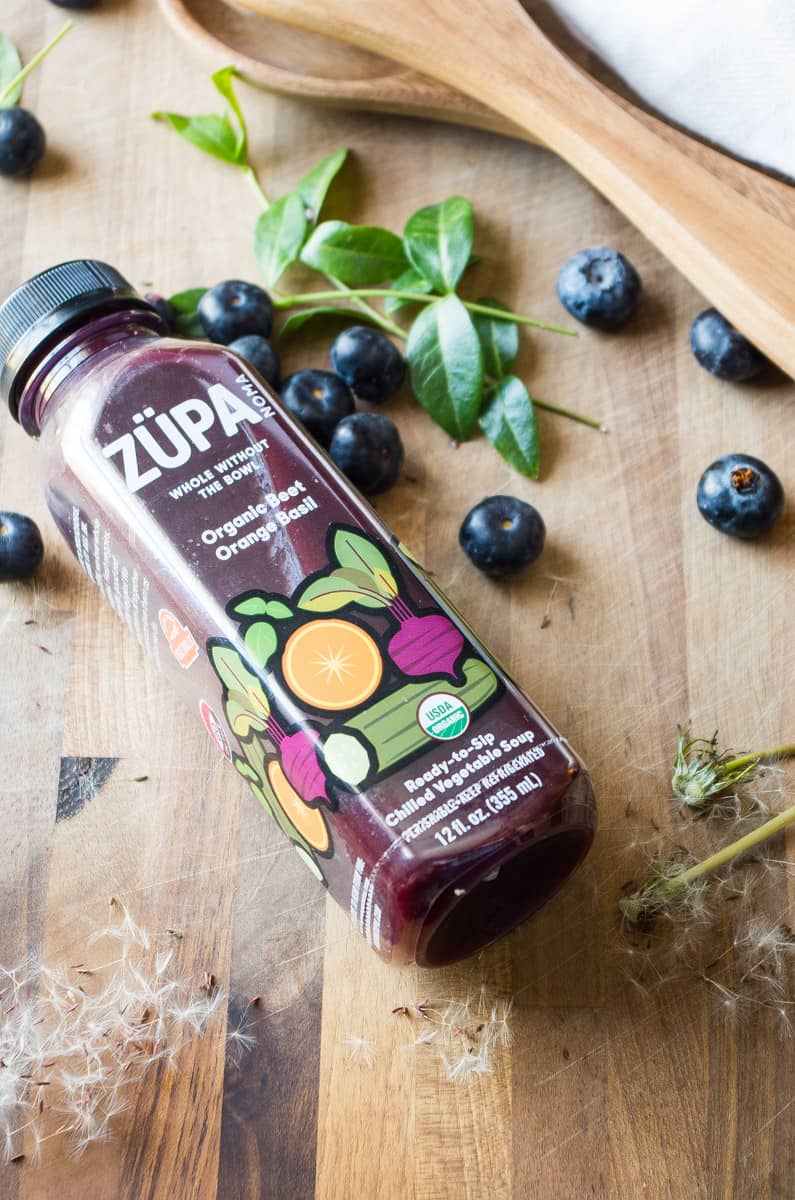 This vegetarian salad is the absolutely perfect addition to bring to pack for lunch, bring to a picnic, or to your friend's summer dinner party.
This salad is everything. And so very easy to throw together in a bowl and the salad dressing can be made ahead of time! But it's best if used within 3-5 days.
It's almost summer time which means I will be sharing with you easy fresh recipes that can be made in no time so you can get back outside and enjoy the sun!
Want to know another cool fact about this salad? It's vegetarian AND Whole30 compliant!
Save